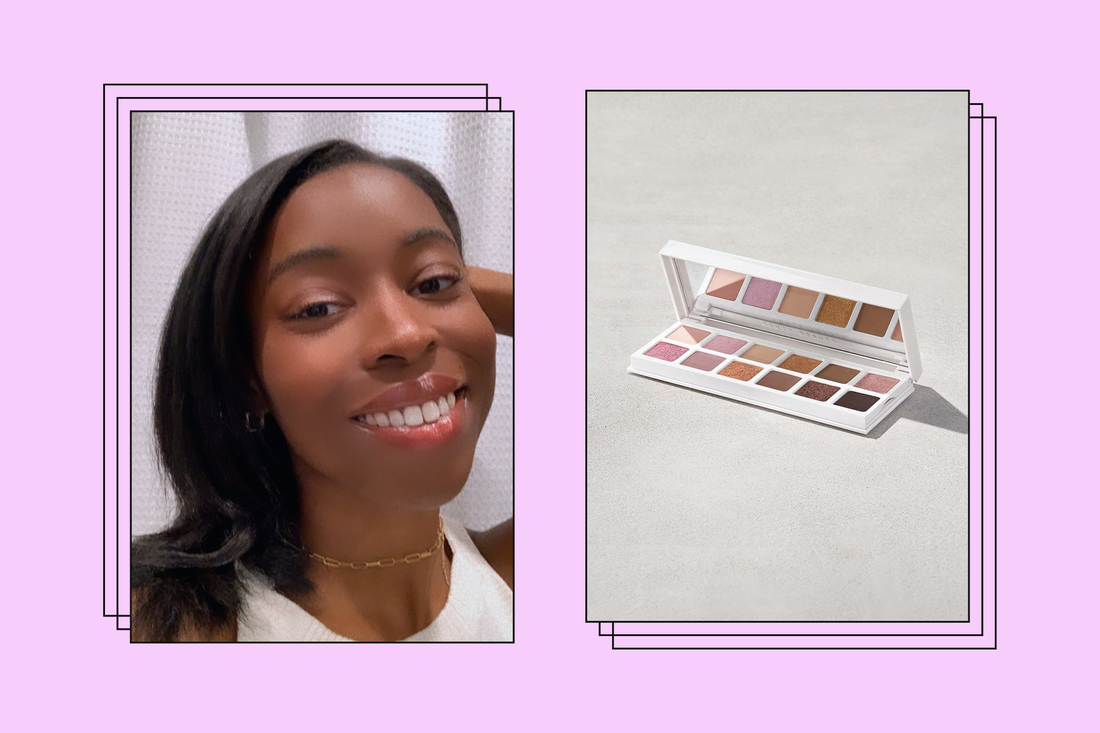 Photo-Illustration: Ashlie Juarbe
Let me be completely honest here: I've chosen to love my deep chocolate brown skin tone and learned to hold my Black Girl head up high. But, last year, I realized my beauty routine wasn't reflecting that at all.
After industry backlash and eye-opening personal accounts (some of which documented the difficulties of Black models finding matching makeup backstage) went viral in 2020, it became apparent that there was still plenty of work to be done in the beauty industry — on the smallest scale and the biggest. Although Black consumers spend nine times more than non-Black shoppers on beauty products and haircare, many Black-owned brands never receive the spotlight and backing they deserve. Sephora has been a pioneer in changing that, as one of the first major retailers to take the 15 Percent Pledge, a promise to support Black-owned brands by giving them more dedicated shelf space in stores.
Spending some coins on Black-owned businesses is a small way to make a significant impact. I don't know about you, but my beauty routine needed a refresh that incorporated more Black-owned products that pack a punch. As I looked for the perfect products, I cleansed, blended, and scrubbed my way to a sparkling new routine with products from Sephora. Ahead, an overview of 10 worth-it products (and brands) that deserve more than a highlight on social media. P.S.: These goodies work for everyone.
Danessa Myricks Colorfix Eye, Cheek & Lip Cream Pigment
There's nothing a beauty fan loves more than a multi-purpose product that actually works. This award-winning pigment comes in a plethora of pretty colors that'll flatter any skin tone — my favorite was Dusty Rose. The long-wearing hues can give your eyelids, cheeks, or lips a subtle but significant burst of color.
Pat McGrath Labs Love & Lust Gloss Duo
At one point in my life, I gave up on pigmented gloss. I could never find the right color, and the brands available left my lips looking ashy and pale. So I was delighted to wear PMG's Love & Lust lip gloss set, which comes with colors that complement deeper skin tones. After applying for a day out in the city, I quickly fell in love with the lightweight feel and moisturizing effects. In addition, the antioxidant-rich gloss didn't create any of the stickiness we all try to avoid.
Fenty Bomb Posse Mega Mix & Match Eyeshadow Palette
Rihanna was a pioneer for color palettes that work for every skin tone, hair color, and eye color. Fenty's offerings were seemingly endless, and we're still impressed. I instantly knew this eyeshadow palette would be a hit: Every color complemented the others, and every shadow could double as a highlighter for the daring. Ideal for the fall, the glimmery shades made every makeup look I wore easier to accomplish.
BREAD BEAUTY SUPPLY Everyday Hair Oil
Hair oils aren't everyone's favorite. Many women worry about oil buildup or a greasy appearance, but this one does the opposite. Ideal for straight, curly, wavy, or kinky hair, the silicone-free blend is enriched with kakadu plum — and it leaves hair glossy and shiny without the added heaviness. It worked wonders on my dry scalp.
Adwoa Blue Tansy Treatment Mask
As a 13-year-natural gal who wears curly and straight hair, breakage is a real issue I aim to avoid. So beyond salon appointments and hot oil treatments, a hair mask is essential for maintaining strength. Even after one use of this mask, I noticed my hair was shedding less during the styling process, and the usual frizz was nowhere to be found. The lightweight cream features plant protein extracts that seal moisture and help with curl definition — the perfect product for curly bun days.
Briogeo Scalp Revival Charcoal + Coconut Oil Micro-Exfoliating Shampoo
If you've never tried an exfoliating shampoo, then you're going to want to add this to your cart ASAP. It's formulated with charcoal, coconut oil, and a complex of peppermint, spearmint, and tea tree oils to cleanse and balance the scalp while lifting impurities. I use many oils on my scalp to deter dryness, and Briogeo's product quickly removed the excess while soothing my itchy head.
Fashion Fair Iconic Lipstick
I'll admit, I was pretty hesitant when this arrived at my doorstep because many brands have a history of not getting a vivid pink shade right. Still, I was proven very wrong. The legendary cosmetics brand Fashion Fair is back with renewed vigor, and their line of lipsticks is both sophisticated and punky. This bright fuchsia lipstick, which is vegan and hydrating, highlighted my skin in the best way.
Pattern Styling Cream
By now you've probably heard of Pattern, the brand developed by the beloved Tracee Ellis Ross after she noticed the lack of haircare for curl-heads on the market. On my wash days, it provided a boost of moisture and a touchable hold when setting twist-outs and wash-and-go's.
LYS Beauty Higher Standard Satin Matte Cream Blush
There's a fine line between dewy and greasy when it comes to cream blushes, but LYS Beauty strikes the perfect effect. Made with a blend of kaolin clay, avocado oil, and vitamin E, this satin-matte pigment is a creamy formula that gives skin a natural flush. One balmy afternoon, I even dabbed mine on my eyelids and cheekbones for a subtle kiss of color.
FORVR Mood Caked Up Candle
Jackie Aina wanted women to feel the way they deserve: spoiled, pampered, and surrounded by luxury. That's exactly how I felt every time I lit this Caked Up Candle. Aptly named, it smells of sweet almond cream and vanilla bean, combined with a spicy edge that quickly spread through my entire apartment. Sure, it's not technically a beauty buy, but it's a great Sephora pick to make your space more beautiful.
This advertising content was produced in collaboration between Vox Creative and our sponsor, without involvement from Vox Media editorial staff.