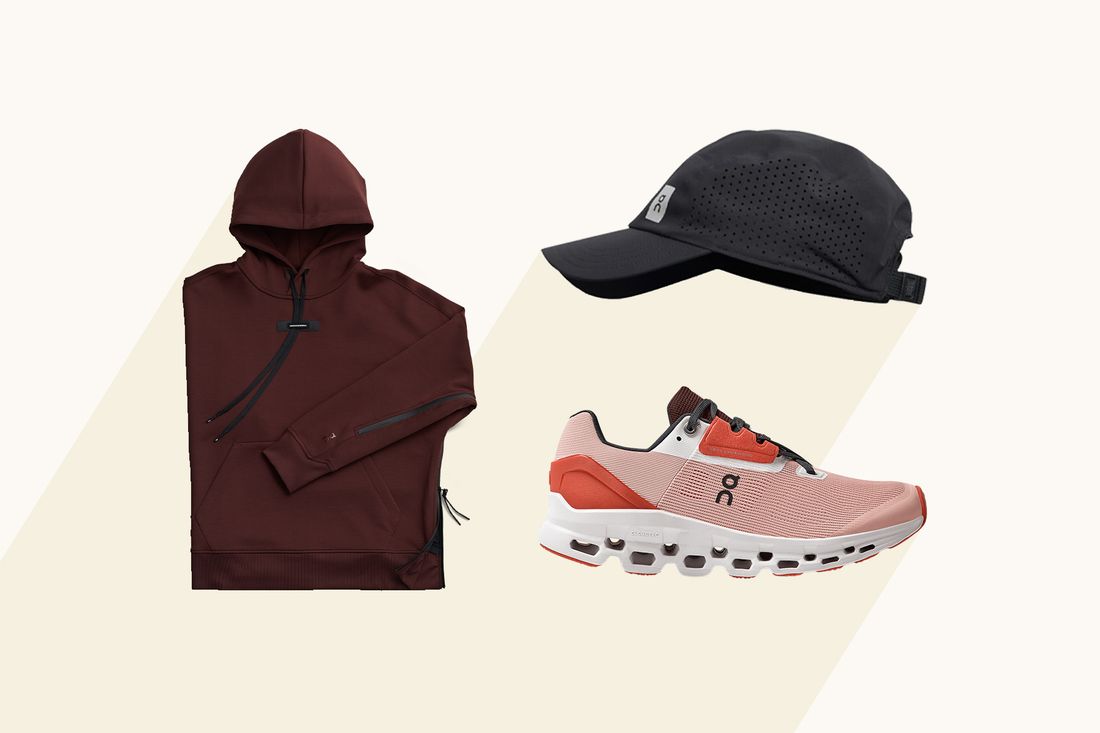 Photo-Illustration: Ashlie Juarbe
As any runner will tell you, no two runs are ever exactly alike. Experience level, distance, weather, location, and even your mood can all affect how you feel when you lace up your shoes and get out there — whether you're a seasoned ultra-marathoner or you're just completing your first-ever jog around the block. Because running isn't a "one size fits all" sport, what you wear to run shouldn't be either. So we partnered with On to put together head-to-toe running looks for different scenarios, from a short run in the blazing heat to a mixed-terrain trail run. The Swiss brand is best known for their performance running shoes, which feature a high-tech, cloud-like sole, and for their commitment to sustainability. Aside from their famous shoes, they also design breathable performance wear including tees, tanks, shorts, and socks. Read on for the best On gear for every type of run — and every type of runner.
For When You're Hitting the Mid-Week Slump
Exercise can fall by the wayside when motivations are low and stress is high, so the mid-week is a great time to switch up your usual running route for a scenic trail run instead. The change of scenery will get you inspired, and it'll feel like an adventure instead of a chore. On's versatile Cloudultra shoe is a must-have for trail runs: It includes extra cushioning for support, as well as an outsole that's designed to help give you the traction you need. (It also works well on pavement and is a great choice for runs that include multiple types of terrain.) Meanwhile, the Active-T Breathe top has soft, cooling fabric, as do the Running Shorts, which are partially made with recycled materials. The inner brief on the shorts gives you just enough support, and they're quick-drying too. Finish the look with the performance High Sock, which includes paneling that helps balance your foot's temperature.
For When It's Too Hot to Think
When you're facing hot and muggy conditions, stick with lightweight, breathable apparel — and keep your runs short. On's Cloudflow shoe is the best option here. The ultralight shoe is made with comfort and speed in mind, and the right amount of support for those shorter to mid-length runs. Meanwhile, the Tank-T shirt is made with sweat-wicking, fast-drying material and a stripped back, minimalist design to help cool you down further. The Sprinter Shorts are ideal for shorter runs, and include a built-in mesh belt and pockets to carry your essentials. The Lightweight Cap is the ideal finishing touch — the laser-cut ventilation helps cool your head, and the fast-drying fabric helps keep the sweat off your face. (And in case of a summer rainstorm, it's got you covered there too.)
For When You're Marathon Training
After a year in which most major marathons cancelled their races, it's finally marathon season again. If you're currently in the midst of an intense training schedule, look to workout gear that will help keep you comfortable and supported as the distances you run get longer… and longer… and longer. On's brand-new model of the Cloudstratus shoe is the optimal choice for those extra-lengthy runs: It's their most-cushioned model to date, with two layers of On's CloudTec® technology. The shoe (partially made with recycled materials) is designed for long distances, though it's also great for shorter training runs. Meanwhile, the Performance T and the Active Shorts are both breathable, lightweight apparel options, so you don't have to worry about distracting itching or rubbing on your long runs. The shorts come with two layers that can be worn separately or together, depending on your comfort. Add the Mid Sock (another lightweight option, with mesh that helps regulate temperature) to finish the look.
For When You Don't Feel Like Running at All
We get it — not everybody likes to run, and even those of us who do can get sick of it sometimes. For those who'd rather head to the gym, or go on a walk, or do literally anything else besides go on a run, this outfit is both functional and comfortable. The Active Tank and Active Tights are suitable for different types of exercise, and both feature fast-drying fabric that helps wick moisture from your skin. Pair them with the super-comfy Low Sock and On's new Cloud X shoe, a lightweight footwear option that's ultra reactive and suited for just about any workout. Finally, top off the 'fit with the brand-new Hoodie. (The women's hoodie drops on Sept. 30, though the men's version is available now.) The hoodie is made to perform during a workout, but it also feels nice as a cozy treat to curl up in after finishing your gym sesh. Plus, it was made with about fifty percent recycled materials.
As evidenced above, there are so many different types of runs and different reasons why you might be throwing your hair in a ponytail and heading out. Maybe you're training for a big race, spending time with a friend, or just looking to clear your head with a brisk jog. On has an outfit combination for every running occasion — but even more importantly, they care about your success outside of the workout too. Their products are made with sustainability and performance in mind, so that you can use exercise and movement as a way to tap into the human spirit, to get inspired, to dream bigger and better than you thought possible. The effects of that go far beyond the physical, and will linger long after your workout is over.
This advertising content was produced in collaboration between Vox Creative and our sponsor, without involvement from Vox Media editorial staff.