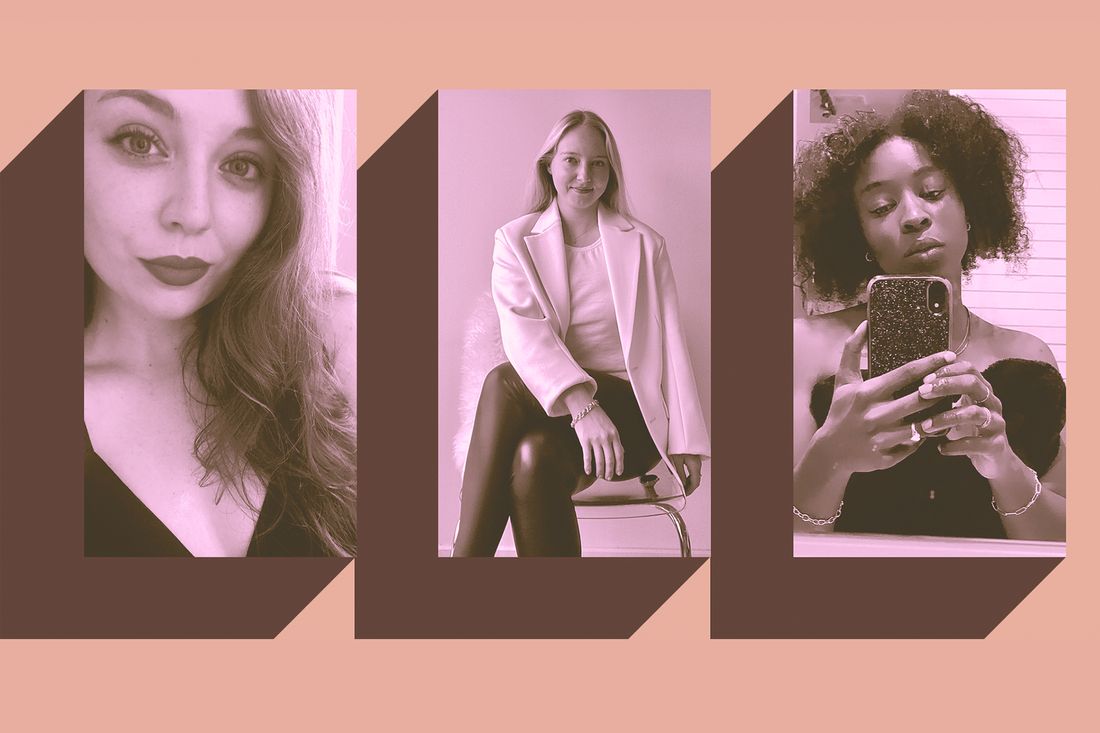 Photo-Illustration: Callum Abbott
Ah, Ulta Beauty, the veritable temple to all things that help us look and feel our best, where we can find solace in swatches of lipstick, clouds of perfume, and endless bottles of hair products.
We all have our tried and trues, but there's nothing more fun than trying out a new hair product, especially if it helps bring about more good hair days than bad. And now that Ulta Beauty's Gorgeous Hair Event is here (and a whole host of hair care essentials are 50% off), we're loading up our shopping carts in a quest to find our new favorites, from blowout brushes to repair masks.
Read on for the gorgeous-hair products that our coworkers count on (and are eyeing) to fulfill their hair commercial fantasies.
Cortne Bonilla, Branded Content Editor
Cortne is a branded content editor who is focused on finding the right products to nourish her self-proclaimed "curl-fro" and prevent breakage. "I always was obsessed with straightening it and over straightening it," she says of her younger years. "But that's probably because I was one of the only Black people in my entire school." All that heat led to a lot of hair damage. Now, she's healing and maintaining her head of 3C curls. "It's really just trial and error. You just have to figure out what works for you," she says. "Learn to love the hair that you have, and don't try to force it to be something else."
Ouidad Curl Quencher Shampoo, $18

50% off on Oct. 16th
"Getting into the shower, I use the Curl Quencher shampoo first. If you want a curly style, it gives so much moisture that I almost don't need to use a leave-in conditioner after. It gives back a boost of moisture, instead of leaving it dry."
50% off on Oct. 11th
"I've been using that CHI Iron Guard forever, I love CHI products. It's good for thermal damage, and it's weightless, so it doesn't build up. I have gone to hairdressers where they said that my hair was growing back in, wasn't breaking off, and didn't have any damage to it from straightening and blow-drying, because of the thermal protector. If I'm going to straighten my hair, I put [Iron Guard Spray] on and I flat iron it afterward."
Biosilk Silk Therapy Shine On Spray, $18
50% off on Oct. 18th
"My hair is literally jet black. I have to have shine because if your hair is really, really, really, really dark, it can look super dry and sad, so it has to be shiny. I spray this on top, and brush through it after that."
tgin Butter Cream Daily Moisturizer, $15
50% off on Oct. 22nd
"I've heard so many good things from people with similar hair types to mine, raving about the Butter Cream! For people with dry scalps, the ingredients sound soothing and nourishing."
BaBylissPRO CryoCare The ColdBrush, $150
50% off on Oct. 22nd
"I'm all for a product that nourishes hair while making styling easier. I've been wanting to try the CryoCare brush for a while — as we all know, cold air has benefits for both skin and hair."
Living Proof No Frizz Instant De-Frizzer, $29
50% off on Oct. 13th
"I've tried some other Living Proof products and I can't wait to test out this one. Frizz is my ultimate enemy after a rainy day or early-morning humidity."
Lee Musho, Branded Content Editor
Lee is also a branded content editor, and has let her fine, thick, naturally wavy hair grow long during the past year — in her words, she could "Lady Godiva-it" if she wants to. She's "very lazy" when it comes to her hair routine, and only learned how to properly use conditioner during quarantine through videos on social media. Now, she does a bit more to treat her hair than she used to, but is always trying to get the best results with the least effort.
Revlon Hair Dryer & Volumizer, $60
50% off on Oct. 9th 
"There's a certain confidence that comes with a blowout — big blowout energy. And I've never been able to achieve that same feeling and look until I bought the Revlon Hair Dryer and Volumizer. I've been using it for the past two years when I want to go the extra mile, and it only takes 20 minutes to turn my hair from a sopping wet mess to a head of hair that gives me a bit of extra bounce in my step."
It's a 10 Miracle Hair Mask, $32
50% off on Oct. 10th 
"I've been using It's a 10 products for years and years now. Even though I have a ton of hair, my hair itself is very fine and gets weighed down quite easily, so I stay away from hair oils and anything that can make it greasy. It's a 10 never feels too thick or heavy."
Biolage Coconut Infusion Spray, $22
50% off on Oct. 19th
"Any product that delivers a ton of benefits at once, I'm in! I'll spray this after the shower and it'll protect my hair while I blow it out, as well as making it look shinier and healthier than if I went without it."
50% off on Oct. 3rd
"I don't apply heat to my hair too often, so I'm not sure how much breakage I have to repair, but I absolutely love the idea of one mask fixing all of my hair's woes! I'm going to try this hair mask next."
50% off on Oct. 7th
"Now that I'm working remotely for the foreseeable future, my brown hair has felt more and more… blah. Personally, there's no better time to have a bit of fun and add a colorful highlight or two — now I just have to decide if I'm going with blue, pink, or red."
Briogeo Apple Matcha Shampoo, $28
50% off on Oct. 3rd 
"I'm still guilty of using drugstore brand shampoos, but I've heard so many amazing things about the Briogeo brand that I'm itching to make the switch. Plus, it looks like a green juice for my head. I could definitely use a bit more of that in my life."
Katie Hendrickson, Ad Effectiveness Manager
Katie is an Ad Effectiveness Manager with really fine, naturally blonde, long hair, which she's let grow past her usual length the past few years. (Relatable, no?) She forgot just how much maintenance longer hair can take, though, so she's constantly trying new leave-in masks, shampoos, conditioners, and hair oils to keep her hair tangle-free, strong against breakage, and ice-blonde.
Klorane Shampoo with Mango, $20 and Klorane Conditioner with Mango, $20
50% off on Oct. 2nd
"When I was an exchange student in college, I lived in Switzerland and I accidentally went to a really expensive apothecary. It was my first time living in a foreign country, and I didn't understand where to buy shampoo. I bought a bottle of Klorane, and I was like, 'Oh, this is actually fantastic.' Ever since it's been my favorite indulgence when it comes to shampoos."
50% off on Oct. 11th
"I really love the Invisibobble because it doesn't tear out any of my hair. I did ballet all through my teens and as a kid, so I always used the really harsh rubber elastics and tied my hair really tight, but it always led to breakage. They're great because they don't leave as strong as a ponytail crease: there's nothing worse than when you take your hair down and you have that crease around your crown."
Drybar The Brush Crush, $150
50% off on Oct. 17th
"I've always admired people who can do their own blowouts. I'm terrible when it comes to holding a round brush while angling a hair drier. The DryBar Brush Crush solved this for me, and with a few strategic swipes, I'm able to give my hair a bump of volume and a sleek look that mirrors my best blowouts."
Pravana The Perfect Blonde Shampoo, $20, Pravana The Perfect Blonde Conditioner, $2o, Pravana Blonde Mask, $23
50% off on Oct. 12th
"I really rely on purple shampoos to keep my hair from looking too yellow, and when it comes to purple products, I do really find that having the full suite is helpful in ensuring that you're actually getting the tone that you need.
I've tried many purple shampoos, but I'm excited to try Pravana because of the focus on adding moisture and strength on top of toning my color. I tend to find that with longer hair I experience a lot of breakage, so getting extra mileage out of any product is a plus!"
This advertising content was produced in collaboration between Vox Creative and our sponsor, without involvement from Vox Media editorial staff.