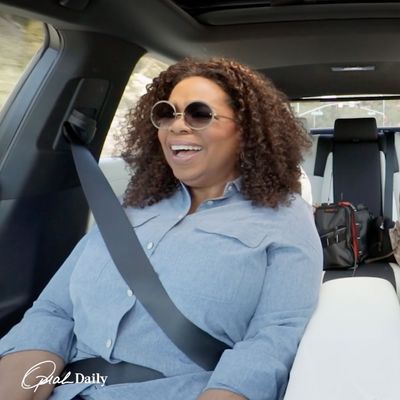 The world sure loves to watch celebrities drive around in cars. It's the premise of multiple shows, including the new web series from Oprah Daily, The OG Chronicles. Besties Oprah Winfrey and Gayle King, the titular O and G, are taking another road trip 15 years after their infamous cross-country drive in which Oprah got so sick of Gayle's singing, she asked her security to buy her a football helmet to drown out the sound. Well, they're back for round two, and hopefully, Oprah remembered to bring her helmet.
In the first episode of The OG Chronicles, Oprah is sitting shotgun with Gayle behind the wheel because, as Gayle put it, "You don't like to merge! You don't like to pass cars! You don't like to be on the highway!" Once on the road, they do the thing all good celebrity car shows do: a little game. "Questions from best friends for the OG Chronicles: Joy Ride," Oprah reads off a piece of paper before asking, "Is that what this is?" (Yes, Oprah. That is the title of the first episode of the show you are currently filming.) After answering a question from fellow famous BFFs Andy Cohen and Anderson Cooper, Gayle and Oprah talk about more regular-people things, like their lack of social life during the pandemic. Oprah says she loves Zooming and not having to get fully dressed. Gayle prefers to see people in-person and has started to miss people she doesn't even like. "That's the difference between you and me," Oprah responds. "That's why I love America." Is it though, Oprah? What does that even mean?
Their banter is cute and fun, but far less entertaining than the topics Gayle and Oprah discussed on their previous road trip. At one point during that trip in 2006, Gayle asked, "Would you rather urinate through your nose or smell things with your genitalia?" To which Oprah responded, "You are talking to yourself. I'm not talking to you."
Eventually, Oprah and Gayle arrive at their destination: the house of an unsuspecting "Oprah Insider" named Arlene Ramirez. Oprah Daily describes Ramirez as "a charter member of our Oprah Daily Insiders community," and I still don't really know what that means. Does she run Oprah message boards? Does her magazine subscription come with an extra fee for potential meetings with Oprah? Regardless, Oprah and Gayle show up and surprise Ramirez. When she answers the door, Ramirez is understandably shocked and says, "I'm gonna pee myself." "Don't pee on yourself," Gayle responds.
"What is happening?" Ramirez asks. "Did I win the lottery?" To which both the women say, "No." They are merely there to thank her for being an Oprah Insider (???) and bring her some flowers and vegetables from Oprah's garden. If any famous person unexpectedly showed up on my doorstep with some avocados, I would simply say, "Thanks, I hate it." I don't want to be surprised by rich, famous people! What if I were wearing my big sleep shirt from my high-school production of Beauty and the Beast? What if I were aggressively hung-over? I want fair warning before any and all celebrities arrive at my home.
The show is essentially a glorified Lexus commercial. There's even a piece of paper sitting on the center console that also has a picture of the $45,000 car they're driving. (A mistake? A not-so-subtle product placement?) Still, it is fun to watch these two rich and famous people pretend to be regular like the rest of us. The next episode of The OG Chronicles comes out Thursday, September 16, and appears to feature Katy Perry bouncing on a toy animal. Will the three of them talk about the time Bradley Cooper had to help Katy Perry out of a boat and Oprah laughed and laughed? I guess we'll have to tune in and find out.