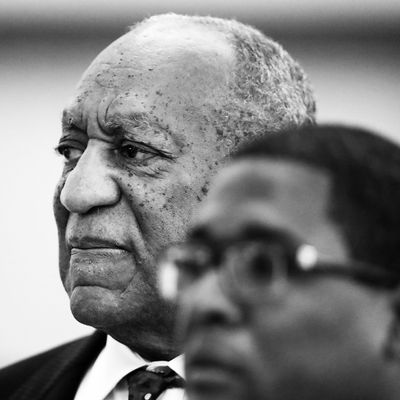 Bill Cosby
Photo: David Maialetti/Getty Images
If you are going to be a comic, you need to know how to read the room. You need to familiarize yourself with the crowd's attitude if you want to make them laugh, clown! Well, it appears that after decades spent working as a professional comedian, known rapist Bill Cosby has finally learned this basic skill. His rep, Andrew Wyatt, told TMZ that, actually, Cosby will not go on tour now that he is out of prison, at least not just yet. Though Wyatt previously claimed that Cosby was "just excited by the way the world is welcoming him back" — was it? — he has since realized that media coverage of such a stunt might be brutal; scathing, even. That, and he is not finished being sued.
That Cosby has availability to do a comedy tour at all is due to the surprise reversal of his sexual-assault conviction on July 1. More than 60 women have openly accused the 84-year-old of forcing himself on them (often after slipping them drugs) and in 2018, a jury found Cosby guilty on three counts of felony aggravated indecent assault for his abuse of Andrea Constand. Cosby served three years in prison before the Pennsylvania Supreme Court vacated his sentence on a technicality. For many people (though certainly not for everyone), the moment prompted outrage and utter confusion — particularly when Wyatt announced Cosby's plans to get back on the road. "The world wants to see Mr. Cosby," he said, which: no! Nope. Absolutely not.
Now it appears Wyatt may have internalized some of that sentiment. Though he maintained that lots of promoters still want to book Cosby, he told TMZ that the media's focus on Cosby's crimes could eclipse the substance of the comeback tour. That, and Cosby has to head back to court ca. April 2022, now that another of his accusers has revived a civil lawsuit against him. Judy Huth maintains that Cosby assaulted her at the Playboy Mansion in 1974, when she was 15, and as TMZ notes, Huth's lawyers could use anything Cosby says in his act. Wyatt indicated that fear of self-incrimination was not a driving force behind their decision, but maybe that old joke about drugging women before sex is sitting somewhere in the back of his mind? Who knows! Retire, bitch!