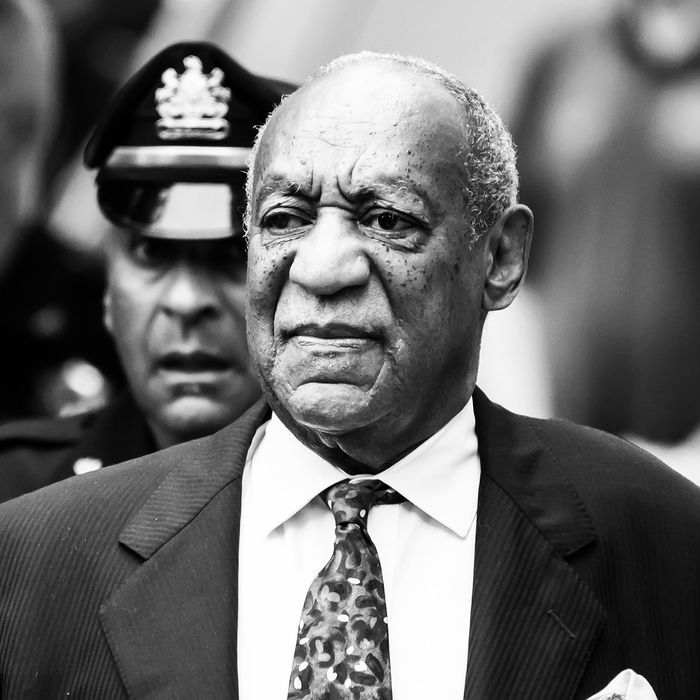 Photo: Gilbert Carrasquillo/Getty Images
On Monday, R. Kelly was found guilty on all eight counts of sex trafficking and one count of racketeering in his sex-crimes trial. For his 11 victims — plus countless others who have accused Kelly of varying degrees of sexual assault — his conviction is a sliver of long-overdue justice for predatory behavior that allegedly dates back nearly 30 years. For fellow convicted sex offender Bill Cosby, however, the decision is a consequence of Kelly getting "railroaded" during his trial. Who is asking Bill Cosby for his opinion on anything, let alone sexual-assault convictions? Apparently the New York Post.
In July, Cosby — who has been accused of sexual assault by more than 50 women — was released from prison based on what was essentially a procedural technicality: The court ruled that a non-prosecution agreement between Cosby and a previous district attorney should have prevented him from being charged. On Tuesday night, the Post spoke with Andrew Wyatt, a spokesperson for Cosby, about Kelly's recent conviction. Per Wyatt, Cosby believes Kelly "was screwed" and that "he wasn't going to catch a break" during the trial. "The deck was stacked against Robert," Wyatt told the Post. "His constitutional rights were grossly abused. I don't know anywhere but in this country, in the United States, that a documentary can bring criminal charges against someone." The documentary in question is the 2019 Lifetime film Surviving R. Kelly, which details years' worth of sexual-abuse allegations against the singer.
"No one fought hard for him," Wyatt said, adding that Kelly's attorneys didn't "humanize him." They did, however, compare him to Martin Luther King Jr. "This is a guy who made the song 'I Believe I Can Fly' when there were rumors about young girls," Wyatt continued. "The song played at every wedding and in every church. He was doing music with Lady Gaga!" Following the 2019 documentary, artists who have worked with R. Kelly, including Lady Gaga, apologized for their collaborations and removed the songs from streaming services. Additionally, none of this disqualifies Kelly from being a rapist. Over a dozen people gave harrowing testimonies during the monthlong trail detailing countless acts of physical abuse, sexual abuse, coercion, and bribery specifically perpetuated against minors.
It seemed Cosby had finally read the room when he said earlier this month he would not be going on tour immediately following his release from prison. Wyatt had previously claimed that "the world wants to see Mr. Cosby." If anything, this interview with the Post is another desperate attempt to keep Cosby in the cultural conversation. But Wyatt needn't worry: Bill Cosby will always be front of mind when we talk about the ways the legal system has failed survivors of assault.