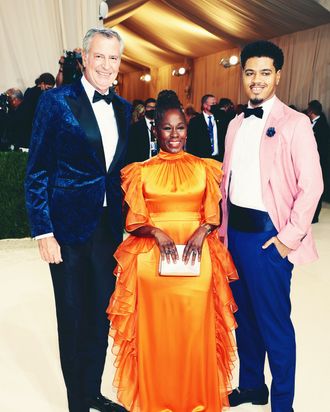 Photo: Dimitrios Kambouris/Getty Images for The Met Museum/Vogue
Like Timothée before him, Bill de Blasio took to the streets of Manhattan to enter the Met Gala. While protesters were arrested outside the event by the police they were protesting, the soon-to-be-outgoing mayor swanned on in, with his wife and son.
"I'm not an elite guy. Let's make it real simple, it's just not my thing," de Blasio told NY1 about the Met Gala in 2019.
But times have clearly changed. There are fewer than two months until the election for New York City mayor and then at the end of the year he will be moving out of the Gracie Mansion; Democratic candidate Eric Adams is expected to take his place. Despite outlasting his nemesis in Albany, Andrew Cuomo, de Blasio is still widely disliked for many, many reasons, including by community advocates who are angry about his inability to manage the NYPD.
Though New York's first lady, Chirlane McCray, looked exceptional in a bright-orange gown, and their son, Dante, was charming in casual evening wear blue-and-pink separates, the Mayor opted for a pool-table-blue lounge-singer suit with aggressive peak lapels. He could have done with a cummerbund maybe; Eric Adams would never.
In any event, he was not only pre-upstaged by Representative Carolyn Maloney, who wore a totally wild Equal Rights Amendment–propaganda dress, but was also undone by Alexandria Ocasio-Cortez, who appeared in a blinding-white gown emblazoned with the bright-red words "TAX THE RICH." Say hi to Adam Mosseri!
See: All the Looks From the Met Gala