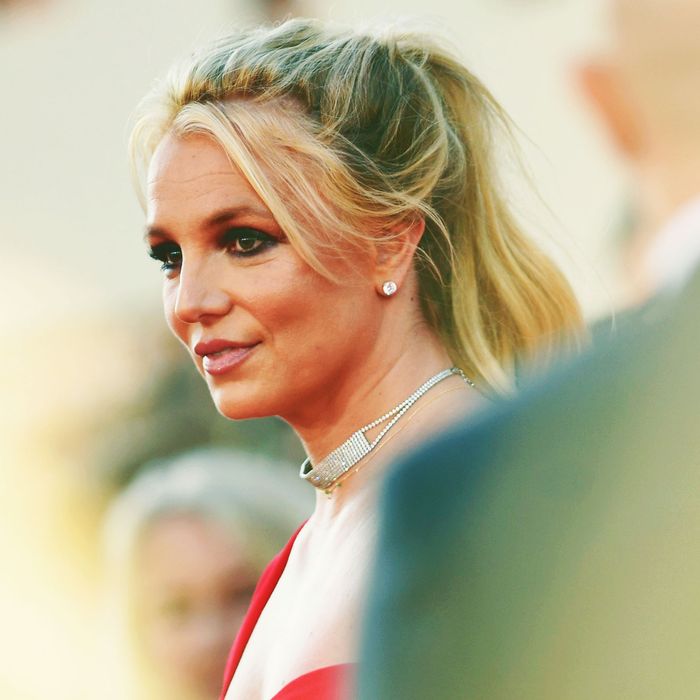 Photo: Valerie Macon/AFP via Getty Images
If you've been overwhelmed by the slew of Britney Spears documentaries released over the past year, so has the subject herself. In an Instagram post on September 27, the singer shared a video of herself posing in all white with a caption expressing her distaste for these films focused on her life. "I watched a little bit of the last documentary and I must say I scratched my head a couple of times," she wrote. "I really try to disassociate myself from the drama." While Spears doesn't specify which documentary she's referring to — three have debuted this week alone: Controlling Britney Spears from the New York Times; CNN's Toxic: Britney Spears' Battle for Freedom; and Netflix's Britney vs. Spears, which comes out on Wednesday — an unnamed source told TMZ Spears was referring to the CNN documentary, which came out on Sunday.
Spears went on to list a few reasons she's tried to separate herself from these documentaries: "Number one … that's the past !!! Number two … can the dialogue get any classier 🤷🏼‍♀️🤓😭 ??? Number three … wow they used the most beautiful footage of me in the world 😳 !!!" She added a sarcastic "What can I say .. the EFFORT on their part 👏🏼🙄 !!!"
She went on to talk about the Rose Project, something she often references in her Instagram posts but has yet to give further details on. In a since-deleted post from earlier that day, Spears shared the same video with an almost identical caption. However, per E! News, the first line read, "It's really crazy guys … I watched a little bit of the last documentary and I hate to inform you but a lot of what you heard is not true !!!"
This isn't the first time Spears has spoken out against the documentaries about her conservatorship. In March, she wrote on Instagram that she didn't watch the New York Times documentary Framing Britney Spears, but said, "From what I did see of it, I was embarrassed by the light they put me in." She added the film left her so distraught, "I cried for two weeks and well …. I still cry sometimes!" In May, she appeared to reference BBC's Battle for Britney: Fans, Cash and a Conservatorship, calling out the hypocrisy of the documentary. "They criticize the media," she wrote on Instagram, referring to the relentless scrutiny early on in her career, "and then do the same thing 🤔🤔🤔 ????? Damn." In July, she again shared her frustration with these documentaries that focus on "humiliating moments from the past."
Spears's fiancé Sam Asghari has also shared his disapproval of some of these documentaries. "Past docs left [a] bad after taste," he wrote in a recent Instagram Story, per Buzzfeed News. "Im hopeful this one will be respectful," he wrote, though it's unclear which films he was referencing.
Asghari went on to say, "I dont blame CNN, BBC or NETFLIX (wich got me thru lockdowns) for airing them because as an actor i tell other peoples stories too." However, he added, "I question producers who made them 'just to shed light' without input or approval from subject." He concluded, "Any credit for light being shed should go to #freebritney."
Britney ended her post by noting that she was "wearing WHITE for NEW BEGINNINGS." Her next court hearing is tomorrow, during which Judge Brenda Penny will address Jamie Spears's recent request to end the conservatorship. It's expected that Judge Penny will agree to the request.