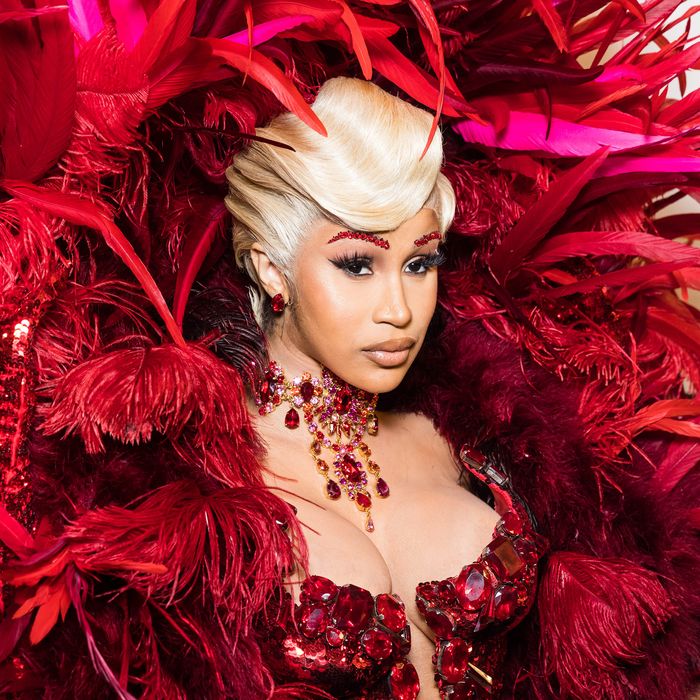 Photo: Richard Bord/WireImage
Cardi B gave birth to her second child a few weeks ago, but it's fitting that her return to the spotlight would be during Paris Fashion Week. Even more fitting? It was at Thierry Mugler's opening of his exhibit, "Thierry Mugler, Couturissime" at the Musée des Arts Décoratifs. The exhibit explores the journey of designer Thierry Mugler and his glory years, between 1973 and 2002, when he left the business. Cathy Horyn wrote in her review: "I am reminded that whatever else Mugler was as a designer, he was above all human. He revered the body." His archived designs full of fantasy and sex appeal are on display at the museum, including an array of fashion photography.
Cardi is known to appreciate Mugler's archives, the most memorable instance probably being when she wore a 1995 couture collection, oyster-like Mugler ensemble for the 2019 Grammys. Mugler's use of body-hugging bustiers, brilliant feathers, and overall drama fits right into the style of Cardi B and her longtime stylist, Kollin Carter. "Back like we never left," Kollin captioned one of his Instagram posts. "Truly one of my favorite creative minds in the WORLD! I'm mind blown looking at your collections from over the years. A true genius!" Cardi posted to Instagram on Mugler and the exhibit.
Cardi wore two looks for the historical night. First, the rapper wore a molded red sequin gown featuring a plunging neckline with matching gloves from Mugler's fall '95 couture collection. To top it off, she threw hooded feathers over her for excessive drama. She bedazzled her eyebrows with red jewels to complement the dress. There's nothing more Cardi than that.
For her second look, the Grammy-winning rapper opted for a black Mugler look from the spring 1997 couture collection. The look included a textured bustier adorned with feather-trimmed sleeves, which were removable, worn with a long mesh black skirt.
Cardi also debuted a short blonde wig — a mix of curls and waves — almost flapper-like in its appearance. A style that was fitting for both of these bodice-encrusted looks, which is no surprise for Cardi. Her past Paris Fashion Week looks include a Richard Quinn head-to-toe covered floral look in 2019 and an Adrienne Landau fur coat draped over a mesh catsuit. Amusant!