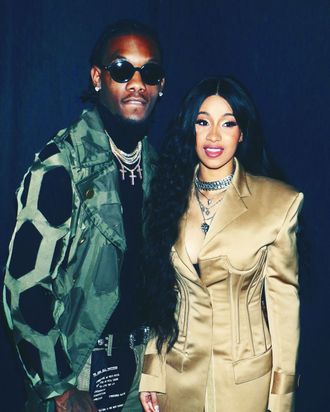 Photo: Gregory Pace/Shutterstock
Bardi baby No. 2 has arrived! Cardi B and Offset welcomed their second child together over Labor Day weekend — a very fitting time to have a baby. The rapper shared a photo of herself, her husband Offset, and their newborn son on Instagram with the caption, "9/4/21." Baby Bardi shares a birthday with Beyoncé, proving that he already has impeccable timing.
"We are so overjoyed to finally meet our son," Cardi and Offset said in a statement to People. "He is already loved so much by family and friends and we can't wait to introduce him to his other siblings." Their son — whose name the couple has yet to share and I will continue calling "Baby Bardi" — is Cardi's second child. She and Offset also share a daughter, Kulture, who turned 3 earlier this year. This is Offset's fifth child — he has an 11-year-old son, a 6-year-old daughter, and a 6-year-old son from previous relationships. He posted an Instagram photo announcing the arrival of his newest son with the caption, "Chapter 5," which, to me, implies there are … more chapters/children to come?? (Fear not, Nick Cannon, you still remain the most fertile man with your seven children.)
Cardi announced her pregnancy back in June during a BET Awards performance with Migos. In extremely Cardi fashion, she came onstage in a black bedazzled one-piece with a mesh stomach, pregnant belly on full display. Keeping up with the pregnancy couture, her Instagram photo announcing the birth of her son showed her holding her newborn while snuggled under a Louis Vuitton blanket. Perhaps this will be Baby Bardi's lovey blanket, which he will keep until it is old and tattered or until he turns 3 and gets a designer watch like his sister.