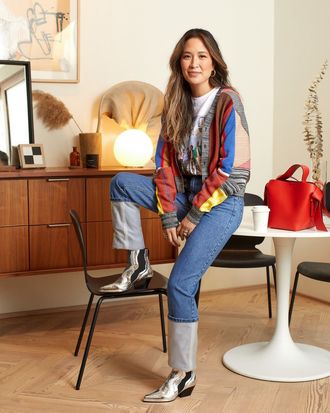 Photo: Courtesy of Caroline Maguire
Caroline Maguire wanted to work in fashion because of Friends. "Watching Rachel Green when she was a buyer for Ralph Lauren really got me excited about the prospect of being a professional buyer," she says.
Now, with over 15 years of industry experience, Maguire is the fashion director at Shopbop; her duties include working with buyers, as well as the public relations and marketing teams to figure out what direction to take the company. That being said, she sees a lot of trends, emerging brands, and designers.
While it is her area of expertise, she genuinely finds joy in it all. "I am a firm believer that fashion should be fun and to make the most of it — the clothes, the shoes, mixing the highs and the lows, being creative with your wardrobe, and coming up with different ways of wearing things," she said.
We spoke with Maguire about her favorite jeans, what she's currently reading, and eating chicken under a brick.
What's one piece on Shopbop that's especially meaningful to you?
This pair of R13 jeans are my most favorite! I am a big fan of R13. I purchased this pair years ago and still wear them on a weekly basis. I love that Chris Leba, R13's creative director, creates new versions of this silhouette almost every season, so there is always a reason to buy an updated pair. Personally, I love a good drop crotch, and this pair goes with everything in my closet.
How do you thank someone for a gift?
I always try to send handwritten thank-you cards, as it feels more personal and meaningful.
What would you never wear?
White jeans! I think I own a single pair but have only worn them once in my lifetime.
What's your dream vacation?
Definitely a warm beach vacation! Just lying on a beach in the shade is relaxing to me. I would love to go back to Bora Bora or Tulum, hopefully sometime soon.
What's a good book on your coffee table right now?
For my coffee table, I collect lots of Assouline books. I am obsessed with the colors of their covers. They really brighten up the home. For my nightstand, I'm currently reading Ali Wong's Dear Girls and Demi Moore's Inside Out memoir. 
Last show you binge-watched?
I am a big Netflix fan and just finished Working Moms, LUPIN, and Atypical. I would highly recommend all of them to anyone looking for a good binge-worthy show.
What's your guilty pleasure?
Peanut butter and chocolate — in any shape or form.
Secret to hosting a good party?
Great food with even better company.
What is a trend that you like right now? 
This isn't a fair question. I live for all trends.
One you don't understand?
TikTok. I wish I could.
Favorite restaurant in New York?
Marc Forgione. My hubby and I have our set menu there whenever we go. We start with the hiramasa, then the chili lobster, as well as the chicken under a brick. Their food is some of my favorite in the whole city, and each dish tastes heavenly.
What's the one thing you could eat every day for the rest of your life?
Dumplings and dim sum.
Shoes you wear most often?
Vans, specifically the UA Classic Slip On Sneakers.
What are five inanimate objects that bring you joy?
"We love SIKA at Shopbop. This dress has a beautiful print, and the silhouette is so chic and effortless."
"I swear I douse my entire face and neck with this!"
"We just launched Hillier Bartley jewelry at Shopbop, and I love the novelty of this earring."
"I never leave home without hand sanitizer anymore, and this one from D.S. & Durga is my favorite. I love the eucalyptus scent."
"I received this beautiful and timeless Panerai watch for my 40th birthday from my sister, and I smile every time I put it on!"