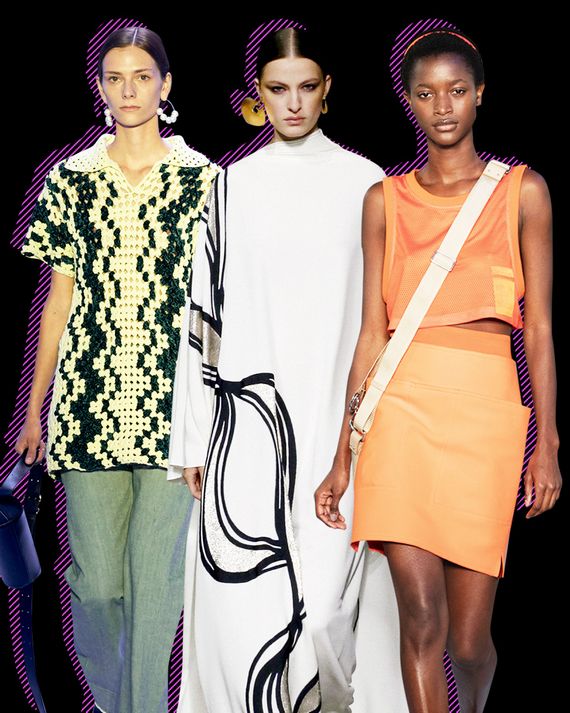 Left to right: Jil Sander, Fendi, Max Mara.
Photo-Illustration: by The Cut; Photos: Courtesy of Jil Sander, Fendi, Max Mara
The Milan collections are not exactly back to normal — everyone must wear a mask and present proof of vaccination — but at least they are out of the box. For the past year and a half we've viewed clothes through the screen of a laptop or phone. Instead of a front-row perch or a hurly-burly encounter with a designer backstage, journalists have been squares on a mass Zoom press call, waving from our bedrooms. When a brand would send me fabric swatches, I'd rub the samples between my thumb and index finger, expecting to feel something more than the texture of the wool or denim.
Needless to say, I did not. That's the thing about a fashion show. In order to feel something, you have to be there.
Now that live shows have mostly resumed, how are designers themselves responding to the difference? The most ambitious plan comes from Francisco Risso of Marni. Not only is he outfitting models for his show on Saturday night, but he's also dressing his entire audience of editors and friends, whom he refers to as "interpreters." All week long, these "interpreters," numbering in the several hundred, have been stopping by Marni's offices, where dressing rooms were set up to speed them through their fittings. I got a hand-painted blue pantsuit, with a striped turtle to pull up over my surgical mask, and was out in 20 minutes flat. To my knowledge, no designer has attempted to incorporate the audience in this total fashion.
But it isn't necessary to go to such lengths to arouse a feeling. Lucie and Luke Meier, in an absorbing Jil Sander show, did it with sly textures and a shifting view of femininity. They opened with the quintessential Sander garment: the minimalist pantsuit, now with bulky-looking jackets made lighter by sorbet shades of mango, pistachio, and banana, with one version in dark forest green and jade. Jackets and trousers didn't match, though the suits still had a formal quality (thanks to the superb tailoring), and each jacket closed in a slightly different way, as if to recognize the individuality of the wearer.
If many of the fabrics in the collection seemed purposely rigid — you wondered if a white denim coat flecked with pink had been waxed or something — others emphasized an airy lightness. One of the most striking looks was a floaty coat, or a coat dress — your choice — in a pale pistachio blend of silk and viscose. Though the coat was obviously light, the barrel-shape cut and the weight of the fabric gave it structure. As for that pink-flecked denim, it was actually superthin lambskin bonded on brush-dyed white denim, a process that somehow allowed the texture and color of the inner fabric — the denim — to be almost imprinted on the creamy surface of the lambskin.
That's not something you could see on a digital screen, much less feel.
The Meiers also believe, plainly, that minimalism should progress. It is still largely defined by its great interpreters, including Sander, Helmut Lang, and Narciso Rodriguez. But the Meiers are opening up the form without losing its fundamental properties. One example were straight-line knit polo tops and dresses in a broken zig-zag pattern — or maybe the design was inspired by a QR code — that were done in combination of wool and velvety chenille yarn. Another example were simple, flattering dresses that had a small, oblong circle of pin-tucking on one side. Or the nightie-style dresses embroidered with tart shades of pink and green sequins that closed the show. Of course, in the process of redefining minimalism, the Meiers are also addressing many types of personalities, and not just one type of Sander woman. That in itself is a huge departure from the past.
If you don't know that the very graphic patterns and bold colors in Kim Jones's Fendi show — a white caftan streaked with a black and gold paintbrush swirl, a white pleated coat with the repeated profile of a model's face — came from the artwork of the late great Antonio Lopez, it doesn't matter. Certainly, the Lopez elements helped tell a more layered story at Fendi — Jones's best effort since he became creative director in late 2020 — but the collection was stronger for what it implied, not what it declared. The silk fringed dresses, the sharp off-white pantsuits with bras or pared-down vests, and a cherry-red shearling mini coat all were a nod to Paris in the 1970s, when Lopez and his creative partner, Juan Ramos, hung out with Karl Lagerfeld, then at Chloé and Fendi, and together helped create a kind of fashion family. Yet the clothes, in part because of the modern materials — shearling instead of too much fur, new, lighter jacquards — and the restraint that Jones showed, were undeniably for today.
Fausto Puglisi, in his first runway show for Roberto Cavalli, might have been better served if he had presented his many animal-print separates and punk-slashed gowns in a digital format rather than on a runway. They would have come across as graphic and sexy, in fact they may still seem that way to consumers on Instagram. But in a live show, with the walls weirdly draped in construction plastic — a work in progress? — looked exceedingly formulaic, as if Puglisi were appealing to the lowest common denominator of tastes. Vintage Cavalli is apparently hot at the moment. Couldn't he have struck a more real note — that is, more human — with a touch of that bohemian glamour?
Before the Max Mara show on Thursday, creative director Ian Griffiths told me, "The thing I've been intrigued by is the idea of where we can go in our imaginations and how clothing can help get us there." I dearly love a good ride, but as you look at the clothes — the loose-fitting tank tops and ankle-length dresses in sandy tones, the plain boxy jackets, the deck-chair stripes — cast your mind back to Paris in the 1950s.
No, not wasp-waist Dior ensemble, darling! Griffiths's guiding light in this direct, satisfying display was the beatnik style of Françoise Sagan, the author of the existentialist coming-of-age novel Bonjour Tristesse. "Sagan was a very bourgeois woman who enjoyed a high society existence but she dressed in a beatnik way," Griffiths pointed out. "In jeans and worker shirts."
In other words, the existentialists were already crossing gender and class lines. Like Jones, Griffiths has a skillful way of taking just what he needs from a historical reference, and nothing more. The breezy denim separates, the soupy-sexy tanks, and the chore jackets, including some in leather, look just right for stepping tentatively into next spring.