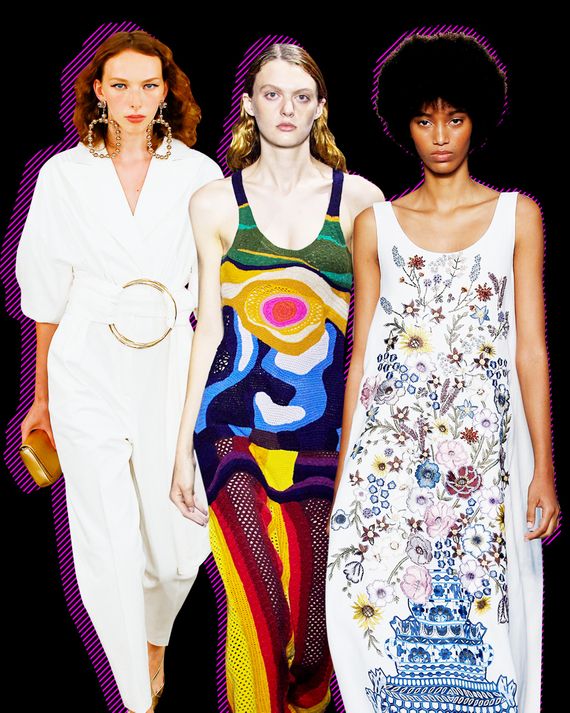 Left to right: Carolina Herrera, Gabriela Hearst, Adam Lippes.
Photo-Illustration: by The Cut; Photos: Courtesy of Carolina Herrera, Gabriela Hearst, and Adam Lippes
New York is hardly back in top form, but tell that to Wes Gordon, of Carolina Herrera, who perked up the Upper East Side with a siren-red evening dress that had to be seen from the rear. Or Jeremy Scott, who brought the spunky Italian label Moschino to Bryant Park for an alfresco runway show. Or LaQuan Smith, of the namesake label, who last night took over the observation deck of the Empire State Building for a parade of his sexy scraps of dresses, plus one fancy poodle. On Friday, Michael Kors will be at Tavern on the Green. The choice of landmarks, along with panoramas of New York City, is exactly as it should be. Things are opening up, swirling around. Fashion is simply reflecting that.
You can feel the change in the quality of the designs. It's the difference between a designer presenting a collection in a digital format — for a screen — and again having contact with a live audience. Smith's clothes, always uninhibited, now came across as warmly intimate, especially his dips into lingerie. I've been a little bored with Gordon's collections for Herrera: too stodgy in their socialite glamour or too awkwardly realist. But on Thursday night, in the spacious rooms of Salon 94, he recaptured my eye.
Gordon opened with 11 black-and-white looks, a froth of tulle and polka dots and graphic stripes, and a nod perhaps to Cecil Beaton or Truman Capote (think Black and White Ball, 1966). But tucked in the middle of the splendor was a crisp white cotton shirt and a pair of full-cut black shorts, worn with black loafers. For every grand gesture, there was a countervailing example of New York practicality — most notably, fresh-looking shirtdresses (and a jumpsuit) in black or white cotton with a large, gold O-ring closure in front. Yet the sensibility was the same throughout the collection — and that clear thought line has been the missing ingredient in Gordon's work.
So he riveted my attention this time, and another way he did that was with his forms. Extravagant balloon sleeves could have been sliced off an 18th-century frock, but the gesture looked right on a black polka-dot mini-sheath with printed yellow flowers. We've already seen plenty of evidence of people partying and stripping down, but after more than a year of physical confinement, and also obvious limits on self-expression — masks, Zoom — I wondered if designers would respond with huge volumes. Gordon did. But he cut things close to the body, too. That red silk dress mentioned above? The addition of red tulle along the sides makes it seem soft from the front, but from the back, the tulle becomes a frame, heightening the curves of the model's body.
The Moschino show was something of a dud. First of all, it was drizzling and I was concerned about a front-row guest who had on an extremely cropped jacket exposing her breasts thinly covered by pasties. I was afraid she'd catch a chill under her dainty umbrella — which was more than the rest of us had. Surely, a fashion forecaster like Scott knew to expect showers yesterday. Still, I don't think any covering could have improved this collection, a tiresome loop of cartoonish socialite suits and minidresses in candy-floss shades and featuring bathtub toys as motifs, set to a skull-driving soundtrack.
In an austerely beautiful Greenpoint warehouse, Gabriela Hearst presented a low-key collection of classic trouser suits, trim coats, and knitwear and woolen ponchos that showcased the traditional methods of artisans from the Navajo Nation, as well as Uruguay and Bolivia. The pieces ranged from cashmere separates with colorful hand-crocheted insets to a full-on, many-hued poncho/dress. The results were fascinating, certainly distinctive, but you'd obviously need a particular setting to wear such a capacious, woolly garment.
Two other collections deserve mention: Adam Lippes, for his dreamy cotton separates seemingly inspired by Dutch painters, with an emphasis on flowers (a trend this season); and Maria Cornejo's exquisite use of volume for uncomplicated dresses in denim, white cotton, and one in cream silk crêpe that featured ruching. She did a digital presentation, but her amazing form shined through nonetheless.