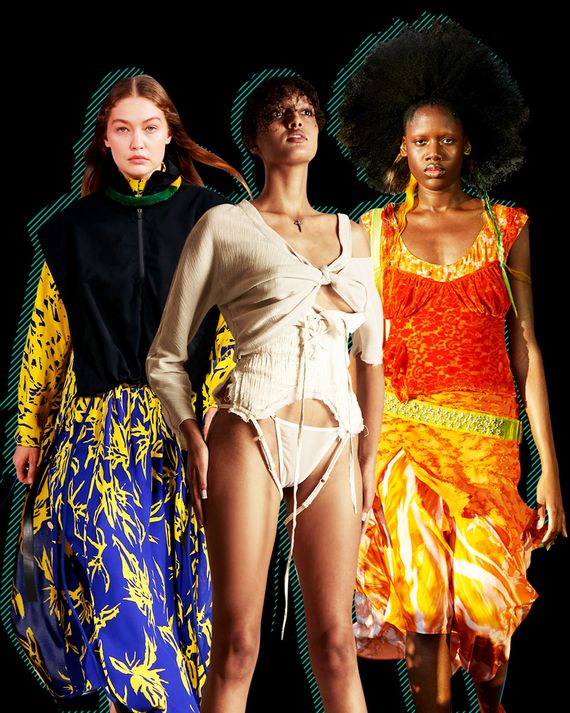 Left to right: Proenza Schouler, Elena Velez, Collina Strada
Photo-Illustration: by The Cut; Photos: Courtesy of Proenza Schouler, Loft Creative Group, Collina Strada
Twenty years ago, on the eve of what became 9/11, the New York shows were mostly held in tents in Bryant Park. The shows weren't called Fashion Week then; they were just "the shows," and those who attended knew each other, like members of a club. There were outliers. That particular September, Marc Jacobs, for example, showed at night on the Hudson River waterfront, the lights from lower Manhattan and Jersey City casting their opulent glow. No doubt some designer that season expounded on "the strong American woman."
As the shows resume, I've been struck by the extreme differences between then and now, and not only because of the havoc the pandemic continues to cause. The changes are generational. Today, the rhetoric is around community, sustainability, authenticity. One designer, Hillary Taymour of Collina Strada, used the rooftop farm of the Brooklyn Grange, in Sunset Park, to advocate for green infrastructure, since roof gardens reduce both greenhouse gas emissions and stormwater runoff — big problems of late. I suspect that the number of guests traveling between Manhattan and Brooklyn in cars probably defeated that argument. I took the D train one way and then shared an Uber to West 137th Street, for the Harlem Fashion Row street party and style awards. Still, I understand Taymour's zeal, which was reflected more believably in her clothes and models — the free-for-all layers, the veggie palette of oranges and greens, the hospital-style booties, and a cast that would delight Wes Anderson. "You dress for the mess," as Taymour put it.
In Harlem, almost all the speakers commented on the rapid changes of the past year or two, the fact that more people of color are represented across the fashion industry. That diversity was also reflected in the huge turnout. Aside from fanning out across the city — thereby rejecting the notion of a central, cohering location — younger designers also want to acknowledge their roots. Peter Do, who staged his show with a view of the Manhattan skyline, in a parking lot covered with parachutes, alluded to being a Vietnamese émigré and then traced the lush, embroidered flowers on his spare dresses and fine tailoring to "memories gleaned from our parents' photographs." In his press notes, Do recalled his father making pho, the traditional Vietnamese soup, and the process of reducing the broth to "an essence," to suggest of course that his collection, his seventh, underwent a similar reduction. It did — up to a point.
And Elena Velez, who is from Milwaukee, where she maintains her studio and a close collaboration with local artisans and craftspeople, relates her spare, weather-worn-looking designs both to her upbringing, as a daughter of a single mother who is a Lake Michigan ship pilot, and to images during the Second World War of women making do with little because of rationing. "I hate to bring up the word minimalism," Velez told me yesterday, "but I think things are so much more significant when you can make decisions in a short amount of time. It's problem-solving on the body with the least amount of effort."
This kind of attitude — determined, autonomous, maybe naïve — is the hallmark of this generation of fashion creators. And I hesitate to say if it sets them apart from their peers in Europe (I think it probably does), but it certainly makes the world of 2001 seem very distant.
But are they any good? Beyond the rhetoric of community and diversity, do the designs move the needle of fashion change? Mostly they did not. But there is still reason to pay attention. Let's look at a few closely. What you see in the work of a number of designers, including the well-established Maryam Nassir Zadeh, is a wonderful stripped-back quality that feels new and powerful. You have to remind yourself that it wasn't all that long ago, maybe a decade, when the sight of see-through tops and skirts on a runway practically caused editors to cross their ankles. Now such exposure means freedom. Zadeh does her best work, in my view, with a little: a scrap of striped, off-white linen for a camisole and a pair of cropped pants, and over both something that resembles an apron. Another dress, in a black crinkly cloth, could have been based on a nightie. These are American vernacular elements. Claire McCardell, the American sportswear legend, drew inspiration from everyday domestic items, and clearly some designers this season are channeling her, in sync with the new American exhibit at the Met. (In a collection that bounced from deb to drag, Prabal Gurung's playsuit seemed a clear McCardellism.) Yet Zadeh doesn't allow her work to be weighed down by references, or indeed too much significance. That's what I loved about this easy, well-thought-out collection. She is also a quiet master at designing clothes for a woman's body.
What I love about Velez's mostly deconstructed shapes, and pieces like a boiler suit coated in plaster and rigid, almost cardboard-like boots, is that they project a gutsiness that doesn't feel New York or London, where she studied at Central Saint Martins (and where deconstruction remains big). The aesthetic is coming from its own place — from the industrial Midwest. It's so new and evolving that it's hard to quantify. I also like the fact that Velez is resisting editors and retailers who might want to mold her, make her clothes more commercial. That means her success will be limited, but clearly creative integrity matters to her. "I'd like to be as autonomous as I can be," she said.
As different as they are, Velez and Do can learn a lot from the example of Jack McCollough and Lazaro Hernandez of Proenza Schouler. Do, who drew a big crowd of prominent editors and retailers for his first runway show, is the latest "bright young talent." And he is extremely skilled. The problem with this collection is one many designers have faced: They show too many styles and they get trapped in old styling tricks (in Do's case, with clunky shoes, dragging trouser hems, and damp-looking hair). I wanted him to pare everything back just a bit, get closer to the body in a natural way, and bring out his very fine color sense.
The same criticisms were once made of Proenza Schouler. Brands take time to evolve, some longer than others. This was Proenza's best showing in a while, in part because it imagined sporty dressing — biker shorts, slim slacks, rain ponchos, athletic-style sandals — in a polished urban way. It was a great updated expression of what American sportswear can be, and thankfully without the McCardellisms. Much of the collection was in some type of jersey, and one of the newest looks (and a nice substitute for a pantsuit) was a tunic shaped over the hips and worn with slim trousers. The designers added puffed sleeves or a bit of beaded fringe for some versions, if that's your thing.
But the point is the collection, shown on Little Island, nimbly cut through the new and old rhetoric around fashion, and it took time, heaps of time.