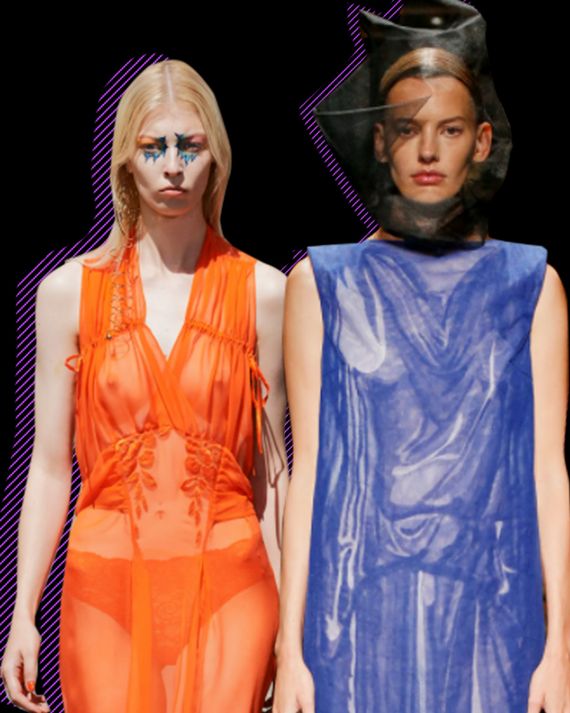 Left: Rodarte. Right: Thome Browne.
Photo-Illustration: Left: Greg Kessler / Courtesy of Rodarte. Right: Serichai Traipoom / Courtesy of Thom Browne.
Maybe because of the pandemic, 9/11, and the distance they've come, many designers this week seem clearly aware of their own histories. Rachel Comey had models and dancers pushing each other across a slick floor in office chairs (remember them?) or hugging or exchanging clothes, some of which she designed for her very first collection, in September 2001. Between then and now, Comey became known as the plucky, independent designer who brought all kinds of people together — most memorably at the dinner shows she held in Red Hook, Brooklyn. That was way before big brands discovered Brooklyn.
For their finale on Saturday morning, in the sunny courtyard of the Westbeth Artists Housing, Laura and Kate Mulleavy of Rodarte sent out about 30 models in identical plain dresses colored in subtle earth tones, to form a ring around a display of neon lights arranged on the ground. Other models, all barefoot, stood at attention nearby. My first thought was: Cult! Or sun worship. But the Mulleavys, who live and work in California, have done somewhat similar things in the past. Performance is part of their story, which began in 2005. And by the way, this was a magical collection.
Few American designers have come as far as Thom Browne has. When the Pennsylvania native and one-time fledgling actor started his men's label in the early 2000s, people sniggered at his shrunken preppy suits and flood pants. The reaction to his first women's clothes, in about 2014, was even more severe. The historical-looking costumes seemed a poor man's McQueen. Yet Browne kept refining his style while raising the craftsmanship to remarkable levels. He went to Paris. In 2018, the Zegna Group in Italy acquired his business, and today the label does about $250 million a year in sales.
On Saturday night, in the performance space at Hudson Yards, Browne staged his first New York City show in some years. Although he returned to support his partner, the curator Andrew Bolton, who has been organizing the new American fashion exhibition at the Met, the designer used the moment to consider his own sartorial roots, and also to make a key leap forward.
The setting was classic Thom Browne: a huge, make-believe garden with the stick-frame outlines of a mansion set in the middle. It was an imaginary, if abstract-looking, block in old New York. The S-curve silhouette of the costumes on the two male models in the house were a call-back to 1900 and its corsets, which flattened the front of the body and extended the rear. Within a decade or so, in Paris, couturier Paul Poiret would wipe away the body-deforming corsets and give fashion its modern, straight-line look. At that time, the area around Hudson Yards would have still smelled of horses, and of course the stench from slaughterhouses. In Browne's gray garden, shrubs were models cloaked in flower-embroidered capes. They stood to drop the capes and reveal tailored suits. Meanwhile, two men on penny-farthings wheeled around the runway, wearing mock horse heads. A nay to the abattoirs?
Most great fashion is archeological. As a second round of models appeared, now in plain, straight-line dresses done in gray suiting fabric or seersucker, with what looked like plaster or dust on their faces, I had the feeling they were specters, the past looking at the present. Browne is a genius at embedding that sense in his designs.
But more remarkable was the transition he made in the third act of the show, when another round of models appeared in plain, solidly colored dresses made of five or six layers of tulle. The trompe l'oeil draping and torso details, and the fact that some sleeves were stitched to the side of a dress, were obviously taken from ancient statuary (Browne said afterwards that he looked at statues at the Met). But Browne has never done this kind of elegant American simplicity, nor a palette that included jade, pale blue, and rose pink.
When I asked him about this new turn, he laughed and said, "So scarily new for me. Because I like things"—he spread his arms wide, to suggest big—"and this is simple." The dresses, whose layered shading he described as "almost topographical," were hand made in Japan.
The Mulleavys's collections are often ultra romantic or ultra naive and rustic. In short, they rarely do fashion in moderation. What struck me about their show on Saturday was how tempered the designs seemed, without losing any of the Rodarte sensibility. Movement and lightness seemed to be the driving idea—registered in the first outfit, a long white airy dress with a black collar. There were short silk dresses with loose, cocoon-shaped backs that caught the breeze, simple see-through dresses in lace or gauze (all in lush colors), and all-over fringe dresses. That feeling of lightness also came across in silky pants with a slightly oversized shirt drizzled with frills. Almost every piece was not only distinctive—like a deep blue satin blazer covered rodeo-style with fat white embroidered flowers or a gorgeous, slim pink party dress with a draped bodice and sleeves—but they also kept your attention riveted.
In contrast, it was difficult to focus on Comey's clothes. Once the models and dancers began to really move (the choreography was a collaboration with Beth Gill), they were rolling, leaping, sliding on the floor. One older beauty removed her top and, in her underpants, climbed a tall ladder and straddled the top step while she put on a new zigzag-patterned one. Comey, who has recently started a peer-to-peer resale market on her website, wanted to acknowledge that new venture, and also salute her friendships and work over the past two decades. I laughed when I saw Waris Ahluwalia wheeling out a canvas construction bin. He was in Comey's first show, holding a guitar. Still, if you look closely, there were new trajectories in the performance—spare, body-clinging knitwear, a soft men's ensemble in a juicy shade of yellow, and a lovely weird granny dress in a washed blue print.