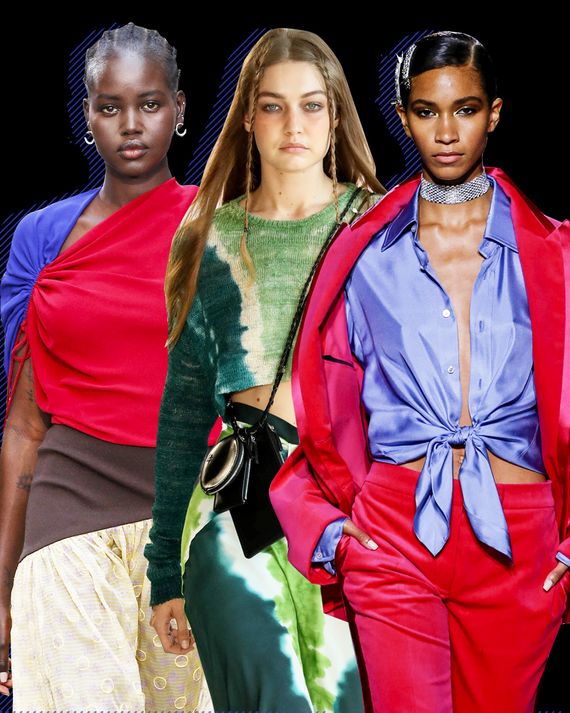 Left to right: Tory Burch, Altuzarra, Tom Ford.
Photo: Getty Images
At the beginning of this century, high fashion was still about the craft tradition. It was also about image and conquering new global markets, above all, China, but at its core it was still propelled forward by great design and a solid footing in craft. Think of the enormously influential fashion of Alber Elbaz at Lanvin or Nicolas Ghesquière at Balenciaga. Since 2010, however, and the birth of Instagram, that dynamic has changed drastically. Today, things are erupting so quickly that the key measure of a collection's success is whether it nailed down the moment, because by next season that style or mood will have evaporated.
That's what I thought looking at Tom Ford's show last night in the atrium of the David Koch Theater at Lincoln Center. On its face, a spree of tank tops and track pants is not remarkable design for a luxury brand, but consider the glossy fabrics, the saturated shades of aqua, raspberry, and green, and the opulent piles of gold chains, and the luxe athletic duds suddenly look right. They have an energy that squares with a post-pandemic attitude and, at the same time, the relaxed style doesn't take you too far out of your comfort zone.
Crucially, Ford recognized that showing your body matters today. Those tank tops virtually function like oil on the body, especially a silver tank for evening with a skinny gold skirt, and knotted shirts at the navel. It's far more interesting to look free and relaxed and sexy than it is to look "dressed." Indeed, apart from a satin blazer or maybe a gold-studded jean-style jacket, there was nothing in the show that would qualify as structured. Even his evening looks were restricted to a drizzle of metallic separates.
"Increasingly people don't dress in fashion for day, but only for night," Ford said in his show notes. "Or for social media. Instagram may actually be what saves fashion in the end."
A little old-fashioned Fordian stagecraft certainly takes the sting out of that reality.
Ford invited his roughly 225 guests to an airy room with his brand of low, upholstered lounge seating — now in cream, the better to set off the colors on the runway. He opened with "Respect." (Jennifer Hudson, the star of the Aretha Franklin biopic, was in the front row.) And he juiced up the tracksuits with gobs of new accessories, including gold-heel satin pumps with a wide ankle strap, that had lots of people murmuring approval afterward.
The shows have sprawled all over New York, from Little Island to Bushwick to Harlem, and often you had no idea why you needed to spend fifty bucks on an Uber, given the blandness of the venue. Earlier yesterday, some of us attended a Telfar press conference, to announce Telfar TV, at Pier 17, in South Street Seaport. The whole loony-tune episode, including wait time, lasted two hours, and caused people to miss subsequent shows.
I felt that Catherine Holstein of Khaite missed the moment, and that Joseph Altuzarra mostly captured it. Holstein quoted Émile Zola, the French novelist, at the top of her show notes: "If you shut up true, and bury it underground, it will but grow." Well, Zola, through no fault of his own, has never been in a dark basement on Delancey Street on the Lower East Side. Despite a jungle of flowers stuck on the ceiling, Holstein's collection didn't seem to blossom. There was too much emphasis on tailoring, "enveloping trenches," to quote the notes, and outdated methods of layering. There is little doubt in my mind that many of these pieces were "featherweight" in their construction, as Holstein put in her show notes. What I missed from Holstein was a lightness of attitude.
Altuzarra, by contrast, did put that across in his long summery dresses and two-piece sets, in fresh-looking tie-dye, delicate prints, white cotton, and a plissé fabric that came in glossy black or matte gold. There were also knitted pieces and dresses with crocheted bibs or collars, along with tasseled streamers. Flat leather sandals were the rule. The clothes had a Greek island vibe, though maybe that because Altuzarra distributed copies of Homer's The Odyssey to guests. The only snag in this Homeric idyll were some somewhat boxy, office-style suits and thick, bathrobe-style coats. Let's leave them in Ithaca.
Oscar de la Renta did not put on a runway show this season, and after seeing Fernando Garcia's fabulous video, I can't decide if that's a good decision or a bad one. Garcia and his design partner Laura Kim designed a superlight, youthful collection that really transformed the label. In the past, I've wished they would do less embroidery, a little less homage to Oscar, and get their clothes out of the grand settings they choose. Well, this time they did that. The frothy-yet-simple party dresses, the cute shifts in overscaled pink gingham relate to the city and a new sense of energy and, most of all, wit. De la Renta would actually adore it.
Although I missed Tory Burch's show, thanks to the Telfar presser, I saw the collection during a preview with her and, of course, in images. Burch explained that Claire McCardell, the mid-century American sportswear pioneer, was her starting point, but that she didn't want to get waylaid in literal interpretations. McCardell loved the double top-stitching used for workwear; Burch used it for the opening curvy white jacket. And McCardell loved stripes; Burch included a lovely blouson top with drawstrings and contrasting chevron-striped bands, and paired it with a matching dirndl. While some of Burch's looks seemed a mash-up of ideas, rather than driven by a single clear aesthetic, the long, breezy silhouette of her dresses was their saving grace.
So Telfar Clemens plans to launch a public-access channel, Telfar TV, which will reveal product drops — or "drips," as one of the organizers kept chanting — and also host videos and other content. The format of the press conference was so actual and yet so seemingly fake that, on the one hand, it constituted a brilliant piece of performance art — a dig at the media's often silly methods and the fashion industry — and, on the other, a perfect case of hubris.
After the eight or so organizers were introduced on the podium by a DJ, amid many electronic bleeps and chimes, a guest in the audience — obviously a plant — asked Clemens: "What is Telfar TV?"
"Yeah, that's a good question," Clemens replied.
"I can answer that," a woman on the stage interjected. "Starting literally right now, all of us here in this room, at the table, are starting a 24-hour linear TV station. It's live and it's right now. And by TV, I mean TV TV. You don't watch it on your phone … You actually watch it on your TV. You can't flip forward, you can't go backward. You can't leave comments. And there's no content. There's no content because it's part of a shell, a void. It's something that is and something that is not. A capacity, let's say. A capacity to represent, a capacity for community, a vessel, a totem …" The woman went on in this vein for a bit longer and concluded by saying that Telfar TV would allow the brand to be "out of control" of the industry, stores, and so forth.
By now, I was convinced the whole thing was a kind of performance piece. And maybe we'll never know, exactly. The event ended with some people wheeling a couple of carts draped in black cloth up to the stage and plopping Telfar's latest bags — a duffle — onto the table.
A roar of delight followed.
Then Clemens and the other organizers, each with a bag in arm, sallied down on the aisle and out of sight. No garments were shown.