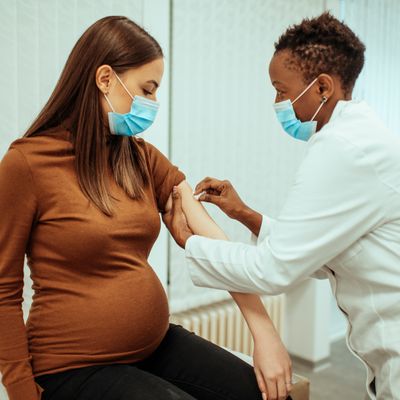 Get the shot!!!
Photo: Getty Images
The outcomes of severe coronavirus infections in pregnant people can be devastating for parent and baby alike, from escalated risk of hospitalization, intubation, and death to preeclampsia, premature birth, and even stillbirth. Though the Centers for Disease Control and Prevention began recommending the COVID vaccines for pregnant and lactating people beginning in April, by August its data showed that only 23 percent of this group has received even one shot. Now that it is late September, that number has improved only slightly, with 31 percent of pregnant people fully vaccinated against the coronavirus. With the hypercontagious Delta variant (still) surging all across the country, the CDC is (still) urging pregnant people to please get vaccinated. As are the American College of Obstetricians and Gynecologists and the Society for Maternal-Fetal Medicine, for that matter!
"The benefits of vaccination, and the known risks of COVID during pregnancy and the high rates of transmission right now, outweigh any theoretical risks of the vaccine," epidemiologist Sascha R. Ellington, team lead for the emergency preparedness response team in the CDC's division of reproductive health, told the New York Times in August.
As of September 27, the CDC had confirmed over 125,000 COVID cases in pregnant people nationwide, more than 22,000 of which required hospitalization, and 161 of which resulted in death. Of the fatalities, 22 occurred in August alone. The agency reports that pregnant people experiencing COVID symptoms are twice as likely to be admitted to intensive care and 70 percent more likely to die. Infection in pregnancy also correlates with an escalated risk of preterm birth, stillbirth, and neonatal COVID, plus, with the Delta variant continuing to blaze through unvaccinated communities, it's worth noting that 97 percent of the pregnant people hospitalized with COVID had not received a vaccine. This all tracks with the available data: According to a recent CDC report, unvaccinated people are ten times as likely to be hospitalized with — and 11 times more likely to die from — COVID than their vaccinated peers.
For some holdouts, hesitation stems from the apparent speed with which the vaccines were developed — though mRNA technology has been successfully tested for decades, otherwise it would have taken a much longer time to deliver all these options within a year. And the available data does not bear out these concerns: A study of over 2,400 pregnant, fully vaccinated participants — who received either Moderna, Pfizer, or BioNTech during their first 20 weeks — found miscarriage rates remained the same as for the general population, affirming previous research on people vaccinated in later trimesters. Similarly, a study of 827 vaccinated, pregnant patients suggested that immunization against COVID does not raise the risk of adverse outcomes before, during, or after birth — neither for the parent nor the infant.
Meanwhile, the data seems clear that people who are pregnant face a much higher risk of dying from COVID compared to people who are not. So please, the CDC is begging: Everybody who can get vaccinated should get vaccinated.
This article has been updated.