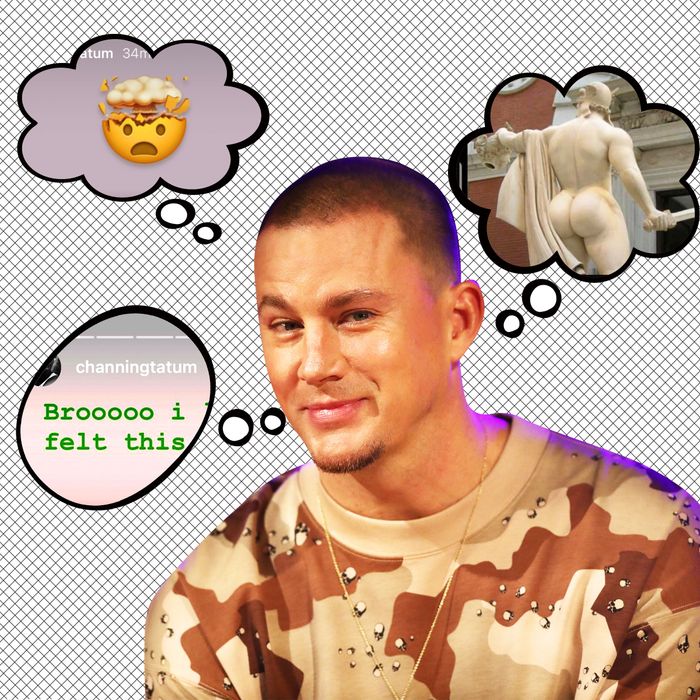 Photo: by The Cut; Photos: Getty Images, @channingtatum/Instagram
What do we know about Channing Tatum? He's a 41-year-old actor originally from Cullman, Alabama. He started out in the entertainment industry as a male stripper, and then he played one, very convincingly, in Magic Mike and Magic Mike XXL. He wrote a best-selling children's book titled The One and Only Sparkella about a unicorn-loving princess who sparkles. As of recently, he is reportedly dating Zoë Kravitz, and he enjoys riding little BMX bikes around town with her. And perhaps most importantly: He loves memes.
Have you noticed this? I started following Tatum on Instagram earlier this year, due to my interest in his relationship with Kravitz and curiosity about the ending of Sparkella. (For the record, the titular character "learns the importance of just being herself, no matter what other people say.") What I have learned about Tatum by following his journey on the social-media platform is that most nights, when the sun sets on Hollywood and he is snug in his $5.6 million mid-century farmhouse, there is nothing he likes more than viewing and sharing memes. Stars: They're just like us (in terms of being addicted to social media).
Sometimes, he posts his memes to the grid, such as this classic "to-do list" image:
But more often, Tatum shares his favorite memes of the day on Instagram Stories. His taste is varied and encompasses many categories, including "Funny Videos," "Crazy/Emotional Quotes," and "Nostalgia for Old Hollywood." Here's one of those crazy quotes, which, as you can see, blew Tatum's mind:
And here's a little joke about Greek mythology from an account called @fuckyocouch85 that had Tatum going "Bahahahahahaha":
I bet he laughed out loud, too.
Sometimes, Tatum seems absolutely blown away by the videos he finds online, like this video of limbo skater Shristi Dharmendra Sharma posted by the official Guinness World Records account:
And sometimes, he is more pensive and reflective, like when he posted this photo of 19-year-old pop star Billie Eilish at the Met Gala with the comment "Mood …":
(For the record, Tatum attended the Met Gala himself alongside Kravitz, but it's nice to see him posting like a regular fan at home.)
Tatum seems to be particularly inspired by actors from the past, like Paul Newman. Or, as Tatum likes to call the late Cool Hand Luke star, "Dat boy!":
Where do you think Tatum finds this stuff? The Paul Newman one is easy to figure out: Tatum follows a fan account, @paullnewman, and regularly reposts its photos. He also follows 1,856 other accounts, including meme-based accounts like @educatedmindspage (crazy quotes), @magickvisuals (crazy photos), @bipolar_girlfriend_ (crazy memes), and @vintagelart (vintage art). It's fun to imagine him scrolling through his feed at night, finding just the right offerings to share with his 16.9 million followers.
(Tatum also follows several Zoë Kravitz fan accounts, which is nice.)
Perhaps what delights me most about Tatum's Instagram posting strategy is that he doesn't seem to have one. As other celebrities post forced, soulless TikTok dances and their own versions of month-old viral challenges in ham-fisted attempts to gain relevance with Gen-Z consumers, it seems that Tatum simply posts what he likes. A nice photo of an Old Hollywood star. A statue with a big butt. And a video of a sunflower blowing in hurricane-force winds set to "Survivor," by Destiny's Child:
Bro. Thank you for sharing.