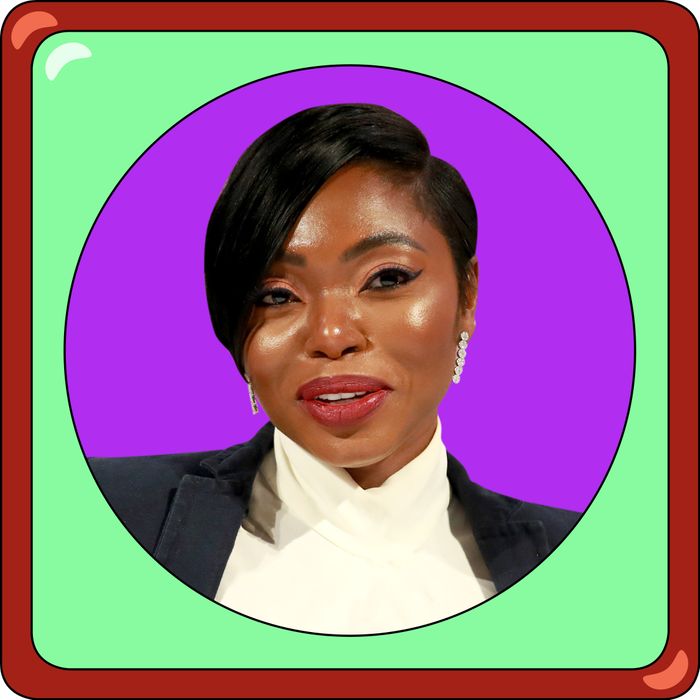 Sharon Chuter
Photo-Illustration: by The Cut; Photo: Getty Images
Last summer, during unprecedented global lockdowns sparked by the COVID-19 pandemic, internet usage surged as communities grappled with a surreal new reality. It seemed like everyone was waiting for the proverbial other shoe to drop and then 17-year-old Darnella Frazier posted a video to Facebook. In it, the Minneapolis teenager captured the last moments of George Floyd's life, cut short under the weight of now-convicted officer Derek Chauvin. International outrage was ignited as Frazier's video spread online, and the flames were fanned as more instances of police brutality came to light. Communities across the country — and worldwide — came together to protest, unknowingly setting a record as the largest movement in United States history. And though it started in response to law enforcement's unjust and sometimes life-threatening treatment toward Black people, it quickly expanded to encompass the full breadth of systemic racism — from its influence over education and corporate America to its mark on the beauty industry. Uoma Beauty founder Sharon Chuter made a commitment to address the latter, launching Pull Up for Change.
The initiative called on beauty brands to disclose the number of Black employees at the corporate and executive levels. At the time, brands from LEGO to Louis Vuitton were churning out messages in support of the Black community, but "you can't tell us Black lives matter publicly when you don't show us that Black lives matter within your own homes and organizations," Chuter had told the Cut.
"We saw more change after the death of George Floyd than we've seen in maybe the last decade," says Dr. Mia Moody-Ramirez, chair of Baylor University's department of journalism, PR, and new media and professor of gender, race, and media. "It was very comprehensive. It was just not only companies; it was just across the board. Everyone had to evaluate whatever the product was that they were selling." For beauty brands, this meant taking a long, hard look in the mirror.
For the record, it should be noted that the Black community holds significant buying power in the beauty industry. In a 2018 study conducted by Nielsen, Black consumers spent "considerably more money" on beauty in contrast to their white counterparts, making up nearly 23 percent of the fragrance market, 19 percent of the skin-care market, and a whopping 86 percent of what Nielsen referred to as "ethnic" hair and beauty aids. Moreover, a year earlier, Nielsen reported that Black women specifically were cultural trendsetters who employ massive influence over mainstream taste. Let's not forget that Black women were the first to popularize the reemergence of the modern-day natural-hair movement and similarly led the way for the surge of '90s-esque ultraglossy lips and glittery lids that have become all the rage for TikTok beauty influencers.
Speaking to Vox last summer, Chuter explained of Pull Up for Change, "This is not a witch hunt. If you have not been employing Black people, just say now, 'We know, yes, we do profit from the Black community, and we do have an obligation to hire Black people.'"
Over the past year, Chuter's call to action has been met with rare transparency. In recent weeks, it was disclosed that out of an internal team of 39, two employees at Supergoop! are Black, while at Amika, 8.4 percent of total employees are Black, and zero Black employees hold an executive position; at Benefit Cosmetics, one percent of total senior leadership roles are held by Black people. From June 2020 to today, industry giant Coty increased Black employment on the U.S.-based leadership team — at the director level or above — from 5.3 percent to 8.2 percent. Milani increased the number of POC working at its U.S. headquarters across the board and doubled the total percentage of Black employees from 6 percent to 12 percent within the past year, while M.A.C announced an expansion of internal mentorship and training programs to "elevate Black talent" and will now require "a diverse slate of candidates" for open positions and succession lists for senior leadership positions. Though some of these numbers are sobering — and some goals are rather vague — prior to 2020, they would never have been released to the general public.
In addition to releasing diversity statistics, Sephora became the first company to sign Aurora James's 15 Percent Pledge. Additionally, in January of this year, the retailer announced extensive policy changes. It plans to double the number of Black-owned brands in stores, reduce police-officer and security-guard presence, and enact new customer-greeting protocols to ensure that all consumers are treated equally. On the flip side, many brands have seemingly gone back to business as usual; a quick scroll through your Instagram feed will point to this. In a study conducted by Quartz measuring skin tones in 27,000 images from the feeds of 34 fashion and beauty brands before and after June 2020, researchers found that any increase in diversity of skin tone among beauty brands was only marginal, even among brands that made sweeping promises to increase their diversity.
Statistics like those are among the reasons why, as Black consumers have taken note of the efforts brands are making, not all are convinced of their authenticity or longevity. "It's clear that a lot of brands are content with overlooking Black women until it's time to leverage our spending power, art, and influence — or until it's no longer profitable to continue to ignore us," says Janeil Darnell Dickens, a student at the University of Illinois Chicago. When asked if there were any brands that either donated or spoke out in solidarity with the Black Lives Matter movement in a way that resonated with her, Dickens responded candidly: "Honestly, nothing about last summer resonated with me. People have protested the same issues for decades, and any 'resolve' brands decided to make was for their own sake, not for the sake of actual social progress or accountability. If the protest never picked up the way [it] had, no brand would have felt compelled to announce their support of Black lives." It was a sentiment echoed by Catalina Garcia, a Black content creator and micro-influencer from Brownsville, Texas. "I definitely think some of it is performative," she tells the Cut. "Why did it take so many people — customers, specifically — to bully a brand into being anti-racist and inclusive? Why wasn't it always a goal or part of who they are?"
It's a fair critique and one that Chuter has given a lot of thought to since starting Pull Up for Change.
"The point I was making to people is yes, the initial intent is going to be for PR, but that's why we must stay on it," Chuter says. "Intent doesn't really matter sometimes; we just need it to happen." It's Chuter's belief that as beauty companies normalize hiring Black people for leadership positions — regardless of motivation — it'll become a standard practice. "And that's critical," she adds.
It has been a few months since the one-year anniversary of Floyd's death; new variants of COVID continue to wreak havoc on vulnerable sections of the population, and Frazier, now an honorary Pulitzer Prize winner, has been living a relatively quiet life off-line. While it may no longer be surprising that a video posted online could spark an international movement, what is surprising is that a young woman like Frazier would be given proper accolades. For far too long, Black women have been relegated to the sidelines — be it at work, in school, or in the beauty space. That beauty brands are finally beginning to take women like Frazier seriously is a step in the right direction. While there is still so much work to be done, hopefully it won't take another tragedy, or another brave young Black woman like Frazier, to spur brands into action.