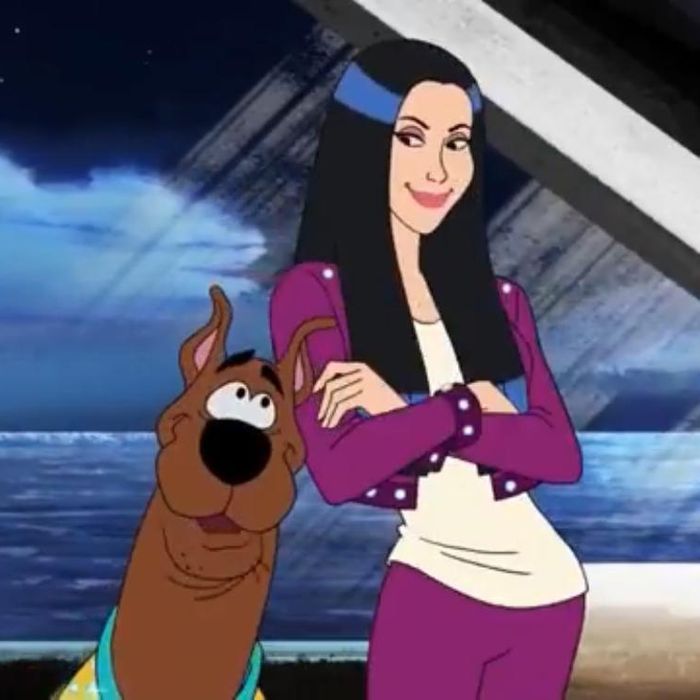 Cher on the upcoming season of
Scooby-Doo and Guess Who?
Photo: Boomerang/Warner Bros.
It's a good time to be an animated celebrity. Anya Taylor-Joy was recently cast as Princess Peach. Lindsay Lohan is going to be some kind of … furry NFT? And now we all get the honor of seeing a cartoon Cher hanging out with Scooby-Doo. In related news, I guess they're still making new episodes of Scooby-Doo?
Apparently, there's an HBO Max show called Scooby-Doo and Guess Who? that features a cartoon celebrity guest each episode, hence the show's cutesy title. Previous guests have included Whoopi Goldberg, Bill Nye, Morgan Freeman, Kacey Musgraves, Steve Buscemi, Alex Trebek, and competitive eater Joey Chestnut. Star-studded to say the least!
This season, Cher will be gracing the series with her animated presence, solving mysteries alongside Scooby and the rest of the gang. Based on the pictures Cher has been tweeting, we can expect her episode to feature a cartoon Cher in white go-go boots, Cher giving sage advice to Scooby, and Cher dressed up as a Vegas showgirl alongside Scooby and Shaggy. The caption accompanying the last photo reads "Cher and Scooby sitting in a tree. K-I-S-S-I-N-G." So who knows! Maybe Cher finds love??
Perhaps the most surprising news of all is that this isn't Cher's first time in the world of Scooby-Doo. In 1972, she and Sonny Bono starred in a Scooby-Doo episode called "The Secret of Shark Island." We love a recurring guest!
The third (?!?) season of Scooby-Doo and Guess Who? premieres on October 1 on HBO Max.