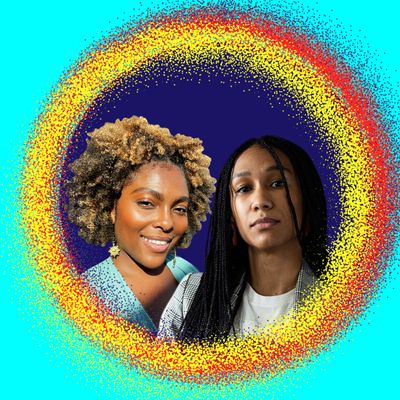 Photo-Illustration: by The Cut; Photos: Courtesy of Emani Jeter, Sanetra Logno/Courtesy of Nicole Cardoza
Emani Mone Jeter is the founder of Beauty Strike, a vegan and cruelty-free skin-care line and spa located in Clinton Hill, Brooklyn. Monet is redefining what beauty looks like: Black owned, locally owned, ethically made. What strikes me most, though, is her investment in the community fridge outside her studio — a free 24/7 resource for healthy food for the neighborhood. This fridge is part of a growing ecosystem of mutual-aid efforts led by small business owners around the city, and across the country, to support those most impacted by a year and a half of disaster, grief, and loss.
With gross disparities in funding, leadership, mentorship, and press, Black-owned business owners are rarely invited to the table. Instead, we build our own — and serve hot meals to nourish and elevate our people. I can't think of a more literal example of that than Jeter and her dedication to the fridge. Join me in supporting her work by donating to the costs of running the fridge here, and keep reading on for our conversation about what community leadership and entrepreneurship could, and should, actually look like.
What inspired you to start a community fridge? We've seen so many of them pop up last year. Tell me a bit about how that came to be.
Well, I'm a licensed aesthetician, and my mom was a makeup artist and my grandma was a cosmetologist. So I grew up seeing two powerful women in my life be these beauty figures, but everything always tied back into the community. My mom, for instance, would go to battered women's shelters and give people makeovers. I grew up with that sense of community. Me doing this, I didn't think twice about it. It was just sort of something that I knew that I should do because I have a platform. A store is a platform to me. Anything that I can do for the community, it's just natural.
How does the fridge get filled and stay running?
Well, I definitely pay that electric bill every month! But thank God for people who donate — we go through plenty of days where the fridge is just emptied and refilled, emptied and refilled. People will come at any time of the day to fill it up, from 7 a.m. to midnight.
Sometimes we have more than just produce, like canned goods. Or breads from local bakeries because these people have to throw this stuff out at the end of the day, and it just doesn't make sense. That creates a lot of food waste, and it's really unfortunate, but thankfully, the bakeries around the area just come and donate to us, and somebody actually gets to use and eat this thing when maybe they couldn't afford an $8 roll of bread.
The great part about it is that we're located between Steiner Studios and a bunch of other production studios. They tend to have an overflow of food, and at the end of a production or end of a photo shoot, they usually come and just give everything they have. Other companies that have heard of the fridge also come and donate things, like Farm to Table. Arizona recently came and filled our fridge with Arizonas. It's always different companies and different people coming to spread the love.
A lot of people think of making community change as having to happen on this really large scale. What oftentimes gets lost is how much of an impact something like just a fridge can make. One fridge in front of one building in Clinton Hill. It's huge.
It's made so many other people in the area want to do the same thing. One of the really avid donors to the fridge, she works with the school system and they recently took a class trip here. They visited the different fridges in the area, and a part of that conversation was them explaining the different ecosystems of each fridge and why it's important for multiple people to do something.
I want to hear more about that — what is it like to do this work as part of an ecosystem?
I feel it really connects, not just people to people, but business owners to business owners. I've met so many different business owners, and I've gotten really great friendships out of it, honestly. Because it bonds us in a different way because we all see that we have this thing in our heart. It's just been a conversation starter.
That's part of this new wave of what being an entrepreneur looks like, especially for people that don't fit the stereotypical white male demographic of an entrepreneur, giving back and doing community work.
I definitely think so. I feel being a Black woman who owns a business, number one, I'm always looking for opportunities to enrich the community. Because I'm very aware that life didn't have to put me in the position that I am now. And that maybe I was once the person who needed a community fridge or my mom was somebody who needed a community fridge.
My mom actually grew up in the foster-care system. So that was very much a part of my childhood. Understanding that mommy didn't have X, Y, and Z growing up. That's why it's important for me to do for you, but also for other people as well, because other people did for me, and now I'm able to do for you and for other people. It's important that as business owners, we understand that people put us in the positions that we're in, not just good luck and hard work and dedication, but people. To give back is just very simple. And it shouldn't just happen once a year.