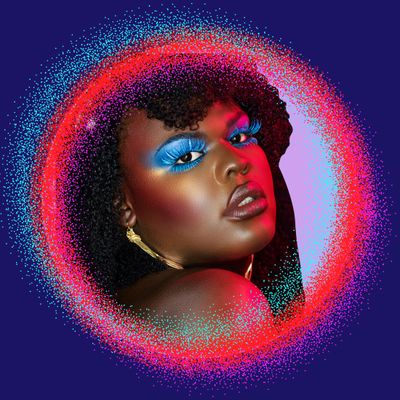 Photo-Illustration: by The Cut; Photo: Courtesy of DDPRO, Photographer Eve Harlowe.
Gia Love is a city girl through and through. For the native New Yorker who grew up in the South Bronx and now calls Brooklyn home, it's the simple things: relaxing bike rides to her favorite Greenpoint smoothie spot, slipping into something cozy to go shopping in Soho for "something really fly to take the town at night," and being in communion with friends on the dance floor at her favorite party, Dick Appointment, the queer, Brooklyn-based dance party created by DJ and cultural event curator Kenni Javon.
Love, a 30-year-old model, community organizer, nightlife fixture, and ballroom mother has already lived many lives, but the one she found over the pandemic-tinged past year and a half made her reconsider her definition of self-care. Quarantine prompted her to be more intentional about extending kindness to herself, she tells me, and, in turn, to others. Which is how we got to the Celebration of Black Trans Women Cookout. "If I haven't done anything or left any legacy on the community, I would like the cookout to be what people remember me for," Love says. "It's my way of saying thank you and appreciating a group of women who have traditionally not been celebrated in the most public way. We deserve the best."
The event was meticulously planned. In the weeks leading up to it, digital flyers with fresh Y2K-inspired animations promoted the cookout and its after-party on social media. Calls were put out and answered for volunteers to serve food, assist with setup, and clean up after roughly 200 guests. Donations for the carefully curated gift bags were collected. Finally, on August 21, the smells of comfort filled Herbert Von King Park in Bed-Stuy: macaroni and cheese, candied yams, greens, fried chicken, baked fish in white-wine sauce, oxtails, Rasta pasta, and more. Colorful decorations and outdoor photo booths brightened the space, while a mix of R&B, hip-hop, dance, and experimental music, curated by Love and DJ Mazurbate and featuring more DJs, like Who Invited Evan, Nas Leber, and Chopstix Mami, set the mood.
For Love, the celebratory gathering was an extension of the affection she feels toward Black trans women and an intentional example of how others can give them their flowers while they're here to receive them. "We can do activism, we can take it to the streets, but we can also celebrate and have fun," Love says. "I'm on that mic, I'm uplifting the girls, letting them know this event is for them and their time to shine. We're experiencing a radical form of joy in a public space where there's Black trans women loving on each other and being loved on by the community."
In a way, Love has been training for this work since she was a teen — in debate club. Throughout middle school and high school, her policy-debating skills were serious, and she attended debate camps and competed nationally at universities like Harvard and UT Austin. Looking back, Love says the experience was fun, but it held up a magnifying glass to the massive racial and socioeconomic disparities between her and many of the other debaters, who hailed from affluent, predominantly white neighborhoods. Growing up, Love also devoured pop culture featuring witchcraft and wizardry, like The Craft, Sabrina the Teenage Witch, Charmed, and Harry Potter. When thinking about it now with more life experience and the language to describe that time, she realizes her interests were all tied to a longing to disconnect from her reality while dreaming of the woman she has grown into.
"I thought existing in this world as I do today was impossible and magic was something that would have made it possible," she says. "It was a dream I was taught to hate at times, to view as something that would lead me down a path of destruction. But this path that I've carved for myself has allowed me to be seen and connect with people all over the world."
There's a calm attached to Love's words as she recaps the things that have led her to where she is. Her words are breezy, self-assured, and thoughtful. It's the sound of finally both feeling and seeing that who you've always wanted to be is exactly who you are today. It's undeniable, it's magical, it's — divine alignment?
"Divine alignment. Yes!" Love says. "Who I am is destiny, and what I'm doing is a part of my destiny."
Still, even two years ago, Love couldn't have imagined having the successful modeling career she enjoys today. Modeling was a foggy childhood wish she had pushed back into the depths of her subconscious; her survival post-transitioning and the needs of her community took its place. "I was also really conflicted at that time in my life," she says, "because I didn't know in what ways I'd be able to really contribute to the world."
As alignment tends to go, what was once a fantasy is now the reality for Love. Her growing résumé includes an appearance on the groundbreaking TV series Pose, beauty ads in Target stores, campaigns for Tommy Hilfiger and Parade, and closing Chromat x Tourmaline's spring-summer 2022 New York Fashion Week show, which debuted a line of swimwear crafted for wide-ranging body comfort and for femmes having the option not to tuck while serving a beach look.
Not that any of it came easily. "What people think about me is not how I feel about myself half of the time," she says. "Even though I always knew I was beautiful, life happened, and I didn't feel beautiful because I didn't see myself. Having the opportunity to be seen as beautiful and be a part of the growing visibility of Black trans women has helped me heal."
But that ever-growing visibility of queer, trans, and gender-nonconforming people hasn't translated to more equitable living conditions or caused drastic decreases in everyday violence. In 2020, there were at least 44 known incidents of trans and gender-nonconforming people being fatally shot or murdered, the majority of whom were Black and Latinx women and femmes. In June of this year, Love took to Instagram, in a series of posts and livestreams that garnered hundreds of comments and over 20,000 views, to share that she had been attacked by two young men in New York City. They spewed homophobic and transphobic epithets at Love, assaulted her with a two-by-four and a brick, broke her phone, stole her purse, and followed her to a second location after the initial altercation, repeatedly threatening her life and claiming they had a gun. Although the assault began at a bar, onlookers and police who were present did nothing to intervene, she says.
What was most overwhelming about the ordeal, she tells me, was the reaction people had after she shared the attack publicly, not the attack itself. "Because what happened, quite frankly, is normal," she says. Many people still conflate fame and visibility with safety and adequate resources. In reality, being on the front lines with a large platform has often made Black trans women even more susceptible to mistreatment.
Coming forward about abuse can feel like a double-edged sword, Love explains, and navigating doing so if you're trans is even more layered. "If I tell you that someone sexually abused me, I'm doing two things," she says. "I'm not only telling you they assaulted me; I'm also telling you that they liked me. And you know how they say when you tell someone's business about their sexual attraction that they can kill you and that's okay — that's the world I grew up in."
This particular form of normalized violence, Love believes, is at the core of why so many Black trans women are silent about "the egregious sexual, physical, emotional, and financial violence" they're regularly subjected to. "One thing a lot of people won't say out loud but they always tell me is 'To be who you are in this society, in this world, you must be filled with so much strength, and I admire you,'" Love says. "Black cis men tell me that all the time — they don't say it in public, though. For me, I just take that with a grain of salt. It goes in one ear and right out another. Baby, if you can't show me love in public and put me on the same pedestal in Times Square in front of the red steps and tell me how great I am — then I don't know. That scares me, actually. That's when the violence comes into play."
The ways in which her community has shown up for Love — from the success of the cookout to the outpouring of support after the attack — have been a blessing. They have nudged her into a more vulnerable space than she's accustomed to, she says, and affirmed the importance of giving others the opportunity to show up for her.
"I take on the responsibility at times of being a leader within my community and being there for a lot of people," Love continues. "But I don't always give people the opportunity to be there for me because I'm one of those people who's like, 'I got it.' Sometimes it's easy to whine and be like, No one supports me, but it's like, Girl, you don't let nobody support you because you're too busy trying to do it for yourself."
As our conversation winds down, I ask Love what the childhood version of herself would be most proud of in her life today. She pauses for a moment.
"I think the kid version of me would be proud that I'm a Black trans woman who's unapologetic and flawed but willing to definitely deal with my issues and work towards being a better person," she says. "That's one of the greatest accomplishments I've ever achieved in my life."