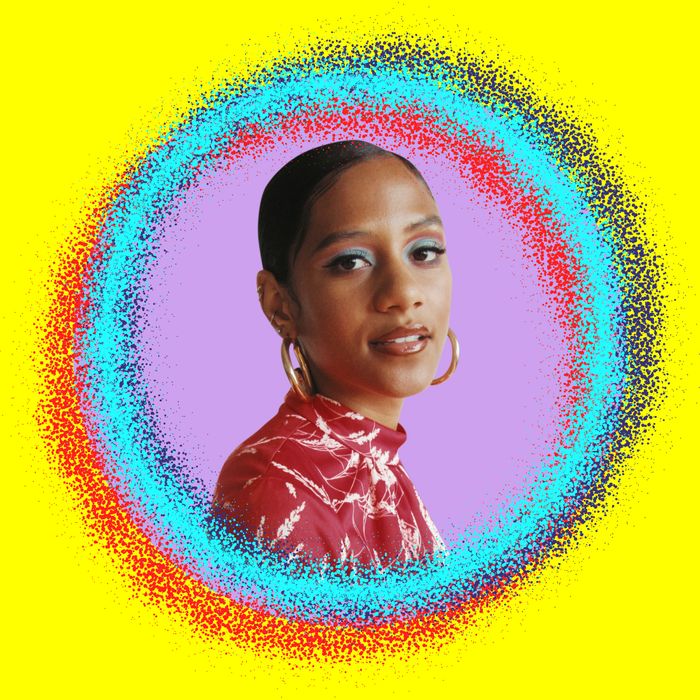 Photo-Illustration: by The Cut; Photo: Elissa Salas/Courtesy of Djali Alessandra Brown-Cepeda
Djali Brown-Cepeda didn't grow up surrounded by a bunch of happy family photos. "I was longing for the Black and Latinx experience — the one cookouts, parties, thousands of aunts, uncles, and cousins playing games at the family reunion," the native New Yorker tells The Cut. It was this lack of archival imagery at home, and similarly the lack of representation of Latinx people in historical photos of New York that tell the origin stories of the now rapidly-changing neighborhoods she grew up in, that inspired her to create NuevaYorkinos.
Brown-Cepeda started growing her tribe, now 31,000 strong and counting, on Instagram two years ago, posting archival images that she sourced from Latinx friends and family in New York City. Her first ever image posted is a photo of her mom sitting on steps in Inwood in 1989. Once the page started to gain traction she started accepting outside submissions. Now, she accepts submissions via email or DM from any Latinx people from the city who have images or videos taken within the five boroughs before 2010. (By the way, submissions should include the names of the subjects and their country of origin, a story to accompany the photo, and the name of the person submitting.)
In the short time since she's started, she's documented over 850 stories of Latinx people in New York City. The Instagram page is an emotional, impactful historical record in which Brown-Cepeda, as well as her community, can see themselves, see their ancestors. She isn't just documenting history; in a sense, Brown-Cepeda is creating it.
Historical photographic archives tend to be exclusive, Brown-Cepeda says. "I don't ever want people to feel like they can't share their story, I'm creating a platform for everyone to be able to share," she adds. It's especially important to Brown-Cepeda that as gentrification changes the New York she grew up in, all of that rich history is documented and preserved.
This sort of work runs in the family: Brown-Cepeda's mom is a documentary filmmaker and her paternal grandmother is a law librarian and historian. Today, Brown-Cepeda is a herself filmmaker, a career that she's been training for her whole life. "It was engrained in me early on to know the right history and to tell history so that the new generations know and so that I know," she said. Her goal now through both filmmaking and NeuvaYorkinos is to continue reminding people of "who we are, who we've been, and who we will continue to be."
"I feel called to use visual media to help tell stories that have been overlooked or purposely forgotten," Brown-Cepeda says. She's watched as people reunite after sharing a photo of a certain neighborhood, realizing they grew up together or graduated high school together. It's those "coming together" moments that make her proudest..
She's had enough of hearing words like "resilient" and "willpower" when it comes to describing communities of color. That's not what her platform is about — it's about joyfully celebrating where we came from and where we're going, not "in the face of" anything, just for pure pleasure's sake.
Below, Brown-Cepeda shares some of her favorite submissions with us and why these resonate with her.
Jenay
and
her
Nani,
the
Bronx,
October
1999
"I have a special place in my heart for all the mother-daughter photos I receive through Nuevayorkinos. The Panamanian diaspora here in New York City is incredibly important to the social and cultural fabric of this city. There's so much love and joy that's being expressed through Jenay's little smile: so sweet!"
Bluster
and
his
dad,
Lower
East
Side,
Manhattan,
1970
"This image was submitted by one of my dad's friends that I've known for years. He's an artist whose work speaks to the Golden Age of Hip-Hop era, as a graffiti artist. Coming from machista societies, I really love when men submit their photos and stories and contribute to the archive, sharing personal accounts and tender moments. By sharing these stories, we help dismantle stereotypes; Black and Brown men have many stereotypes working against them, particularly as they pertain to fatherhood, so seeing the tenderness behind this photo and the beauty in the story is something I hold dear."
Tony
and
Carmen
at
a
wedding,
the
Bronx,
1971
"While I love mother-daughter stories as I mentioned, nothing comes close to stories and photos of grandparents. I was heavily raised by mine, and couldn't imagine my life without them. Those of us who've had the privilege of being raised in intergenerational settings understand the importance of our abuelos — they make the world go round!"
Jackie
and
Chelsey
at
Jaime
Campiz
Playground
(known
to
them
as
Green
Grass
Park),
Williamsburg,
Brooklyn,
1990s
"This image is of Jackie and her daughter Chelsey. They've become family, through Nuevayorkinos. The love they share for one another, and the way they've taken my partner and I in as family is something I would've never imagined to come from this project."
Valery's
dad,
Bushwick,
Brooklyn,
1990s
"Valery's story is one that many people who submit share — stories of finding home in a new land after their families make the choice to embark on that journey into the unknown for the betterment of their families and future lineages. Brooklyn is a special place and as it's becoming increasingly gentrified and whitewashed, it's crucial to me that these stories, our stories, continue to be heard. We've been here, we are here, and we're not going anywhere."
Julio
with
his
dad,
Ernesto,
and
aunts,
the
Bronx,
1981
"This image is so quintessentially Latinx New York. I look at this image, and I see not only Julio and his family, but everyone whose celebrated their birthdays in their apartments. From the rollos to the classic bizcocho, when I see this image, I see familiarity."