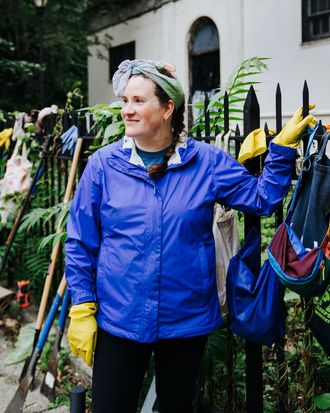 Anneliese Zausner-Mannes is standing at the front of a rapidly forming line, greeting dogs by name and thanking everyone for their patience. The air is pungent. It's 10:45 on a Sunday morning: rush hour for the compost drop-off site she runs on the southwest corner of Prospect Park in Brooklyn. A volunteer is wheeling giant Toters full of compost scraps to a pickup truck one block over. Someone else is bringing empty Toters in to be filled. Dogs are straining to get at the garbage-filled bins while their owners' food scraps get scrutinized by volunteers.
An educator by day and community organizer by … other parts of the day, Zausner-Mannes brings kindergarten-teacher enthusiasm to reducing waste. It's one part energy, two parts patience, and three parts extreme organization: At any given time, she's exchanging emails or Instagram DMs with dozens of stores, companies, nonprofits, and other community groups looking to team up for a recycling initiative or fundraising event. It all comes together here on this corner every Sunday from 9 to 11 a.m., where what started as a tiny composting collection has grown into a community hub where waste reduction meets mutual aid meets dancing to the sounds of Prince coming from the nearby wireless speaker.
The site started in the spring of last year at peak Pandemic: Season One, when the city pulled funding for all curbside and brown-bin compost collection, prompting the municipal compost bins to disappear from the streets and the GrowNYC spots at farmers' markets to shut down. Zausner-Mannes, her neighbor Christina, and Christina's fiancé, Brian, teamed up in June and named their little project Nurture BK. They soon became part of a community of so-called microhaulers — basically, civilians volunteering to collect food scraps throughout New York. The three of them stood on that corner with two black Tuff boxes, collecting 300 pounds on the first day. Then they rented a U-Haul and loaded it up to bring the scraps to a guy named Fred in Gowanus, who was collecting from all the microhaulers and driving everything to a farm upstate that could process it.
By the time fall rolled around, things had gotten easier and also bigger. Nurture BK was finally able to have someone pick up its scraps instead of U-Hauling them to Gowanus itself, thanks to some renewed compost funding from the city. With the little bit of time and energy freed up by those pickups, the group decided to open up a community "fridge table" — a take-what-you-need fold-up table covered in spice jars, baking ingredients, and fresh produce — after noticing totally untouched food items getting dumped into its compost bins. A few months later, it added a flat plastics collection bag. After that, any recycling initiative was fair game: Zausner-Mannes started rotating out various initiatives to upcycle specific objects people were looking to offload: shoes, denim, glass jars, makeup containers, you name it.
A year-and-a-half-plus later, here we are, under a big tent outside the park set up by volunteers every Sunday morning. The compost operation now involves a rigorous, maximum-efficiency system to keep people moving quickly and to make sure the scraps aren't contaminated with non-compostable items. (Think the Trader Joe's line but with smellier food.) People show up with entire wagons full of supplies, stopping at each station to unload their waste while Zausner-Mannes supervises. When I meet Zausner-Mannes on a Sunday in late August — she greets me with a container of cookies ("An immigrant version of biscotti" from her mom, she explains) and a convincing argument for taking home two still-living orchids someone tried to dispose of. Throughout the day, she's like a garbage-obsessed mayoral candidate, chatting up the regulars, introducing herself to passersby asking what's going on, mashing up food scraps between volunteer shifts, and solving a last-minute bin shortage. Keep reading for a minute-by-minute look at her Sunday — like a party diary, but trashier.
8:15 a.m. "Sunday is a solid ten to 13 hours from start to finish. I get up at 7 a.m. and am usually there around 8:15 a.m. I bring a speaker every week, and one of our volunteers, Libby, created a compost playlist that a bunch of volunteers contribute to. In today's queue: Prince, Carly Rae Jepsen, and Lauryn Hill."
8:25 a.m. "As the volunteers start arriving and setting up, I take a video of the fridge table for our Instagram Stories — I try my best to stay on top of the stories. (I never did an Instagram Story before this.) I try to highlight what's happening and post informative stuff, like If you have corn, rip the cob in half because it takes a long time to break down. Sometimes I watch them back, and I'm like, Oh my God, my voice … But I just want to share all this. It's really emotional for me. I want everyone to see how incredible it is."
8:30 a.m. "Volunteers bring over the toters, the bins, and the tents. We store everything in the courtyard of a building over on Woodruff Avenue. We have four black bins outside the tent with a person at each one so that when people form a line, volunteers are checking and sifting through to make sure their food scraps aren't contaminated, that there's no cheese, dairy, rubber bands, twist ties, meat — all the things that cannot be processed. When those fill, we have four silver tins inside the tent, with a few volunteers using scrapers to pound it down and chop it up. The final step is, when those silver tins are as chopped as can be, we dump it all into a big green toter."
8:35 a.m. "We chalk the sidewalk, and someone writes our Instagram handle and Venmo on a board for people who walk by and ask what we're doing. We set up the table for the free fridge. Early mornings are pretty chill."
9:00 a.m. "I'm pulled to a million different things during the next two hours. Being site lead is very much like managing a classroom: seeing what students need help and where the support is and who can do more and trying to balance it out. I'm looking at the site and saying, 'Okay, that's good, that's good, that toter's almost full so we're gonna have to move that, and whoa, the bins in the middle need to be dumped. Oh, no one's chopping — I need to jump in.' I try to move to wherever I'm needed. That's my first priority."
9:10 a.m. "The first toter is full, so it moves to the end of the line and we bring a new one over. We usually fill ten toters."
9:15 a.m. "Someone shows up with a disposable spoon that we're not sure will break down, so I send a voice note to Xander, who processes compost at the salt lot in Gowanus and is kind enough to let me send him messages. I send a lot of voice chats because I don't have time to text responses on-site. I take a picture of it, all sides, and look for certain codes. Xander is also not sure, so he says to keep it on top of a toter and to not break it up. He'll basically see in two months if it gets broken down, and if it comes out whole, we'll know it wasn't compostable. There's so much greenwashing, things that say "compostable" but aren't compostable in nonindustrial sites. Xander says he always knows when it's our toters because they're so beautiful."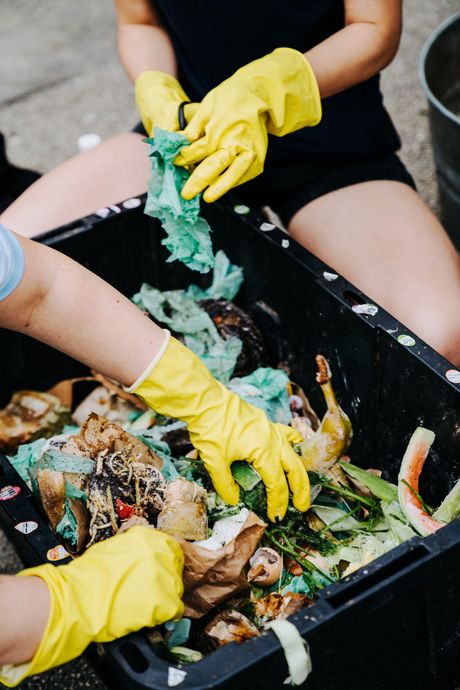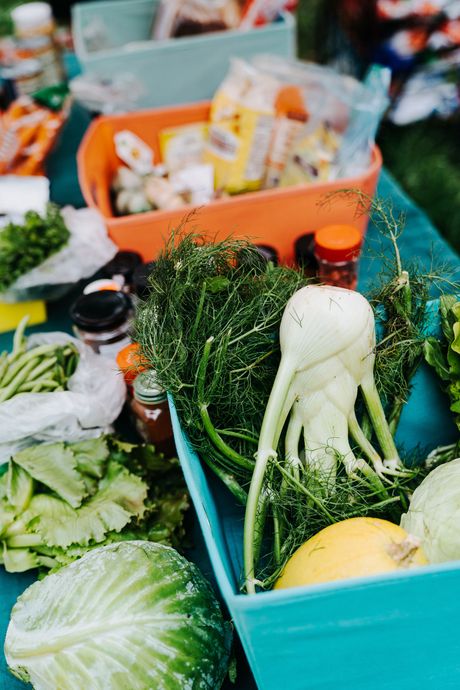 9:30 a.m. "I start talking about crackers with Greta, a new volunteer who joined in the past few months. I recently helped someone clean out their basement, and they had a big bag of yarn that Greta was super-happy to take. She surprised me with crackers that she baked and then I tried to make her crackers in return and they came out horribly."
9:35 a.m. "Toter No. 2 is full."
9:44 a.m. "Toter No. 3 is full."
9:55 a.m. "I remember that Elena texted earlier. She drives the truck for Big Reuse, a nonprofit that runs two compost-processing centers, one in Gowanus and one under the Queensboro Bridge, in partnership with the DSNY and NYC Parks. Big Reuse picks up our toters full of compost and brings us empty ones for the last hour of drop-offs. I don't really see texts when I'm on-site, but I saw her name and then got distracted by a million things. I call her. She says the BQE has horrible traffic, and she won't be here before 11 a.m., which is when we close. This means we only have six toters. Problem-solving mode! We decide to use the extra Tuff boxes once all our toters are full, and if those fill up, we'll go to FreshDirect bags. I start spreading out those extra boxes, moving the filled toters over, and packing everything down even further so we can maximize how much we squeeze in. The priority is Elena being safe and not worrying. This is critical thinking at its best, which is actually my favorite thing. That's not sarcasm!"
10:01 a.m. "The fourth toter is full."
10:12 a.m. "The fifth toter is now full. Lucy comes with a big shopping cart and bag. She's 74 and lives in a building on Lincoln Road. I'm almost positive she did not compost before the pandemic. But she's been composting with us since the very beginning. Somehow she got her hands on one of those brown-bin composting buckets and put it outside her building. All the tenants started composting, and she brings it all every Sunday."
10:17 a.m. "Elena calls with an update: She'll be here in 15 minutes. I tell her to be safe and that the food scraps will wait for her!"
10:37 a.m. "We move to the Tuff boxes. The line is longer than usual."
10:45 a.m. "Joshua and his daughter Violet are here. They started coming when he was redoing his backyard last summer and had a bunch of food waste. He grows vegetables — last summer he brought us a ton of tomatoes. Violet's treat for going out with him and doing compost is going to Dunkin' Donuts, but this week, apparently, her mom has taken her doughnuts. We just got doughnuts from Che, another volunteer, who gives doughnuts to anyone in his building who composts and brings the leftovers to our site. So Violet gets her chocolate doughnut after all. She's the happiest kid."
10:51 a.m. "The line is longer than usual because of the toter shortage. Dumping the tin into a Tuff box is not something we're used to, so everything slows down, but we're doing a pretty good job. During this last rush hour, I'll usually be at the front of the line answering questions unless there's a volunteer to do it. We have so many regulars, a lot of people just know where to line up. I make sure to clear space for Parks to come through with their truck and make sure we're out of the way for the runners. Often I'll just say 'Hey, thanks for your patience' to everyone in line. I know a lot of people by face."
10:54 a.m. "Elena arrives just as we're about to go to FreshDirect bags. I see Libby, who has two empty FreshDirect bags in her hand, look at her friend Chris and yell, 'Go!' She and Chris run over to get the new toters. Meanwhile Karl, our closing manager, comes over to me and tells me how many people he needs to get the equipment back to Woodruff."
11:15 a.m. "Things start to wind down. Taïs, one of our compost volunteers, takes everything that's left over on the fridge table to a community fridge on Rogers Avenue. She and a few others were the ones who came up to me around August last year, and then October with the pumpkins, pointing out how much food waste there was. By the time a third person came to me, I was, like, 'Let's do this.' They really took that on, and they do a food-fridge shift after their compost shifts."
11:24 a.m. "Afiri, a kid who has been coming with his father since the beginning, is still hanging around helping out. Last month, when we were collecting shoes, he asked if he could stay while his dad went grocery shopping, so he was rubber-banding shoes and chatting. He loved it. He lives in the building opposite, and even though his dad says he can just come home, I hold his hand while we cross the street. I'm a New Yorker, and my parents probably held my hand way too long. And you know he's not walking to the crosswalk."
11:33 a.m. "Today, we've also been collecting donated goods for Haiti, which I'm bringing over to Zanmi, a local restaurant organizing the drive, after this. They're too much to carry, so we load up the car."
11:45 a.m. "The beauty products we've collected today for recycling have to go to Nordstrom next, and someone has to come with me because it's a double-park situation. I'll drop those off and try to do a video to turn into something we can post on Instagram. Meanwhile, Julia takes our plastics over to Whole Foods in Gowanus."
3:17 p.m. "If I'm lucky, I get home around 3 p.m. on Sundays. I catch up on everything that happened while I was on-site. I can't really respond to messages there. So I do emails, log all our numbers, get the total weight of what we collected, and put it into the database. Instagram on Sunday is insane, so I respond to the messages there. Elena sends me the weight of our pickup today: 52 tons of food waste, diverted from landfills and going back into the soil."