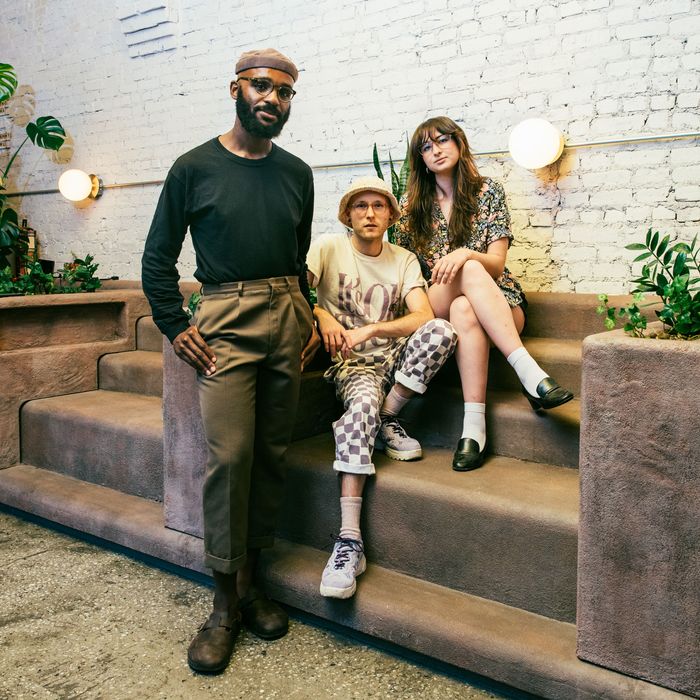 Photo: DeSean McClinton-Holland
The world was on fire," says Daughter co-founder Adam Keita, describing the state of things when he opened his Crown Heights coffee shop with partners Sarah Elisabeth Huggins and Brian Stoothoff. That timing was part of the point. "Last June, everybody was trying to figure out what to do — I could show up to protests and stuff, but what am I economically going to do?" Keita says. "The reality of being in western culture is you have to put your money where your mouth is. And we can't rely on the system; we have to rebuild the walls of our community, and that's by reinvesting in it."
And so Daughter was born. The café — or as the team officially describes it, "a community space focused on a family table concept, a constant dialogue" — opened its doors on April 24. Keita, Huggins, and Stoothoff, who all met while working at Toby's Estate in Williamsburg a couple of years ago and funded their joint venture through personal savings and Kickstarter funding, are, as Stoothoff puts it, "three baristas who opened a shop with a kitchen." Really, it's more of a community hub.
Sure, there's the ethically sourced coffee, the whimsical pastries, and the healthy vegetarian fare you'd expect from your typical Brooklyn café. Less typical: the sidewalk food pop-up events and community-service initiatives, which are a core part of the Daughter mission. The team works with chefs like Erika Costa of Patikim, a Filipino BBQ pop-up, and Anya Peters of Kit an' Kin, a curated Caribbean dining experience, to host weekend events that raise funds for local community organizations. Recently, collaborating with Oatly and Decades Pizza, Daughter set up outdoor brick pizza ovens and Oatly sponsored a latte art competition. The proceeds for the event were split between Heart of Dinner, an organization dedicated to feeding East Asian elders in New York City, and For the Gworls, a Black trans-led collective that raises funds for the Black trans community for rent, gender-affirming surgeries, medical co-pays, and more.
With an iced coffee priced at $4.30, it's not exactly cheap, but Daughter's thoughtful sourcing (from Sey Coffee) more than makes up for it. "The thing that we have invested in, and that we know the most about, is exploitation of labor within farming," Huggins says. "We work with a company that tries to cut down on slave labor as much as possible. Coffee is a luxury item that we are so used to having access to in the U.S. for really cheap, and the realities of that are dark, so ethically we have chosen not to go with the cheaper wholesale products."
Inside, the vibe is cozy with a 24/7 soundtrack, steplike seating designed by New York–based architect Christopher Al-Jumah, painted white-brick walls, and planters used as dividers. The space is long, tall, and narrow with floor-to-ceiling windows that make the interior feel like it merges into the sidewalk. And the ceiling, painted yellow like sunshine, casts a warm glow on the space. Imagine the Brooklyn brownstone stoop you've spent hours Zillowing, pretending you can afford the real estate in the opening credits of a Spike Lee joint, fantasizing about hanging out with friends and waving at neighbors from behind your book. It's like that — only with better coffee.
"If you aren't from the neighborhood, or you're opening places that will not be inherited by people from the neighborhood, you have to reinvest in the community that exists," Keita says. "That means making sure that the block stays clean, that there's some beautification to the block. Not through local government or anything, but from your own budget."