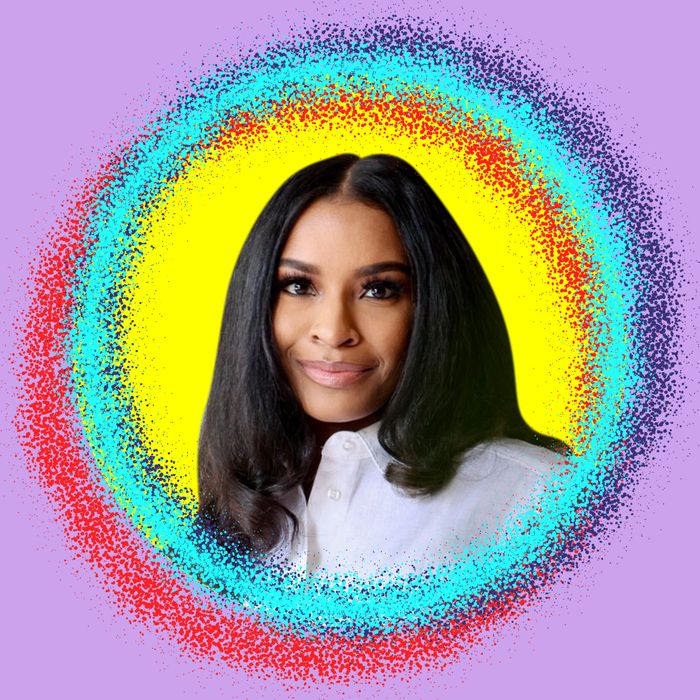 Photo-Illustration: by The Cut; Photo: Sharon Fields/Courtesy of Briana Owens
The first time I stepped into a Spiked Spin class, I let out a literal sigh of relief. I wasn't the only Black girl there. The room was filled with all different body types. There were no weird looks meeting my eyes. I felt like I belonged among this group of women there, that day, to do something for themselves.
The goal during every Spiked Spin class is to, as the brand tagline says, "insult the standard," and to be present in that moment for yourself. The instructors make sure of that, too. It's a workout they talk you through: "forget everything that happened this week, this is your time for you"; "you can do this sis, let's go"; "give your all to the bike." There were so many spin classes —any fitness class, really — before this that made me sweat before that actual workout. The spaces made me anxious, uncomfortable. That is when I wasn't opting to just surrender my class fee and just not show up. Spiked Spin is the complete opposite.
This environment is intentional. Founder Briana Thompson wasn't interested in creating a space for Black women to feel like outsiders. In 2016, she was Spiked Spin's only instructor, growing the brand in New York with a pop-up model and traveling to cities like Atlanta, Washington, D.C., and Los Angeles. Now, she has her own studio, which opened in 2019, with 18 bikes, 11 instructors, and 30 weekly classes. Thompson does still occasionally teach classes, and they sell out instantly. She knows how to push you without being pushy, enthusiasm oozing out of her without being cringey. But for Thompson and everyone else cycling in place, it's not really about Thompson, the instructor — it's about Spiked Spin, the community.
What inspired you to start Spiked Spin?
I loved cycling, the workout that I got from it and the energy that it brought. But I felt like there were no people who looked like me in many of the rooms that I was in. When I was exposed to boutique fitness it really became an obsession. I liked the idea that it was specific — that they know your name and they want to get to know who you are as an individual. On the flip side of that, they didn't see me as an individual. I felt like an outsider in the space and I started to think fitness is the one place you shouldn't have to code-switch.
Wellness is a place where you should be able to bring your most authentic self because you're healing, so when you have to start compartmentalizing and taking away parts of you, then you're not getting the full experience. So Spiked was created to be the celebration of who you are exactly as you are, not when you lose weight, not when you want to get a new outfit, but now. It's like, we're celebrating you in the moment, every single moment that you arrive. And that was really what was important to me. We needed an experience like this and in communities that don't have it. There are all of these under-resourced (I like to call them emerging market) communities that lack access and it's a twofold issue. They don't exist where we live and they don't cater to who we are, I want to do both.
So what does wellness mean to you?
Wellness for me is being whole, and the reason that my approach is so unique is because I identify and understand that everyone needs something different to be whole. What makes me feel like the fullest version of myself may not be what works for you, but whatever that is, it's up to us individually to identify it and bring that to the forefront of life. Wellness to me literally just means wholeness and that doesn't mean fitness or how you eat. It's everything — it's your finances, your relationships, your mental wellness, your physical wellness. And when you lean into all of those parts and understand what you need for all of those realms, you're well. If any of those are out of whack, you're not truly experiencing wellness from my point of view.
You're a new mom, you own a business, and you prioritize your own wellness — um, how?
I think we make a lot of excuses for ourselves and I'm not the one that's going to make excuses for myself. I will allow myself to go through things and feel things, and then on the other side of it, I'm like, Okay, but get back to the money. That's the resilience that I think comes with being a Black woman.
A lot of times people create the narrative that it's negative to be a strong Black woman and I think in certain instances it can be, but for me, I take the greatest part of being a Black woman and the strength that comes with it. That's what I lean into. If my son has to crawl around while I'm in the middle of my workout, I'm okay with that. It may not look perfect every time. If he has to crash a Zoom call for the last five minutes or the first five minutes until I settle him, I'm okay with that and I let other people know that they have to be okay with that because I am balancing all of the things.
Know what your priorities are right now. My son is my priority. Number one before my business, before myself, before everything, because he's in his formative years and I have to make sure that he has everything that he needs. Once you know your priorities and have them in order, then move accordingly. I have a team now who I have my calls with and I make sure the business is running while they focus on the brick-and-mortar. I'm focused on the expansion of where we go next and what that looks like. It's really just getting your ducks in a row and that is the hardest part. Operations is the hardest part that none of us want to do, but it's the part that makes the engine go. Once I know what I need to focus on, I act accordingly.
What motivates you?
You! Seriously, other Black women. Knowing the capacity that we have, an understanding that this is a major responsibility motivates me. It's so much more than me. Like every time someone is like, "I went for a walk today because I watched your [Instagram] Story," or even the simplest things, like, "Oh, I sat down and wrote down three goals that mattered to me this week, because you said that that will help me get through the day." That's a responsibility that I wear and I don't wear it as a burden, I wear it as a gift. Being a Black woman is a gift, I don't see it as a burden. We get to inspire the world in a way that motivates me. Our resilience is like no other, our ability to make something out of nothing. I built Spiked on my back and that's the most liberating feeling because I know I can do anything. That keeps me motivated.