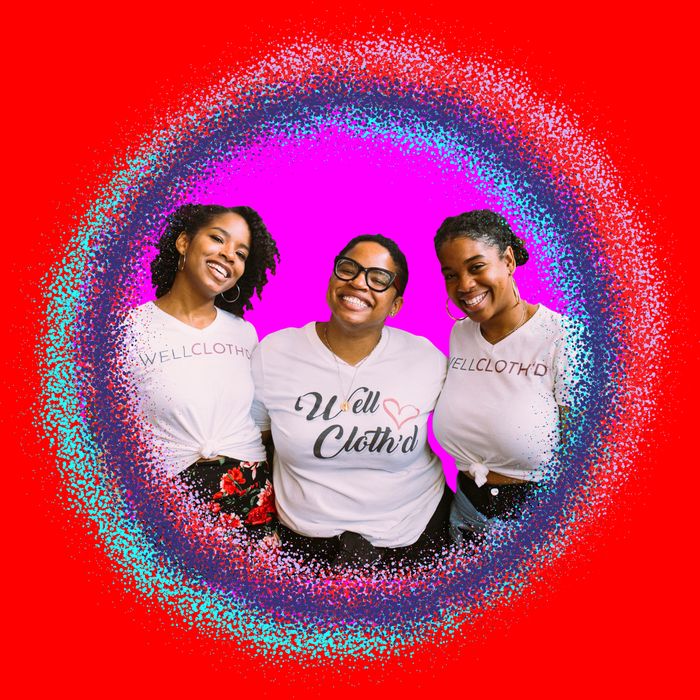 Left to right: Marien Richardson, Jenne Richardson and, Leetah McGee.
Photo-Illustration: by The Cut; Photo: Courtesy of Well Cloth'd Inc.
Chances are, as you read this, your closet is full of clothes and accessories you haven't worn in years. "People shop until they drop and switch out their wardrobe every season," says Jenne Richardson. "Then either hoard things they don't want, or drop things off at Goodwill, while people who really can't afford to choose between eating and clothing themselves aren't even able to go to Goodwill."
Which is why, in the fall of 2017, the Brooklyn native, along with her sister Marien Richardson, both of whom work in real estate by day, and their lifelong friend Savahleetah McGee, a fashion-and-beauty content producer, started Well Cloth'd, Inc. The Black-owned, Brooklyn-based nonprofit provides curated clothing and toiletry care packages to those in need. The idea: Instead of dropping off garbage bags of used clothing to a shelter, they take time to sort through items one by one in order to create an individualized package or shopping experience for each person or family in need.
It all started when they were hanging out in McGee's home. Sitting on the floor of her living room, chatting together as McGee's mother cleaned out her closet nearby, it made them think about how unfair it was that those who need the clothing the most probably won't ever receive it. "We were Forever 21, H&M, Urban Outfitters stans," Jenne Richardson says, "which meant each season we would buy trendy clothes that, though they were in great condition, weren't trendy anymore, so we bought more."
From there, they developed the idea for their first free pop-up shop, Bagging Brunch. Getting the donations was the easy part. "I wish it was more complicated than this, but we called our friends when it came to donations," says Jenne Richardson. "Being in fashion, Leetah had deep ties to numerous people in the industry who were looking to clear out some closet space." Jenne Richardson created an Instagram account for the project and "started blasting the event all over." "At the time, we didn't have an office," she says, "just a small bin in the lobby that BKLYN Commons donated to us. We filled that up in a weekend and it's been on ever since."
The event was hosted at BKLYN Commons (where Jenne Richardson worked at the time) with over 150 attendees and 15 volunteers (i.e., their friends and parents) working the door. Transforming the event space into a boutique-style store, they hung up dresses and turned folding tables into displays for shorts, jeans, sweaters, and more. The founders invited the mothers at CHiPS, a Brooklyn women's shelter they'd volunteered at in high school, and CHiPS referred them a few other organizations to invite as well. "Sitting down and talking with the mothers from CHiPS was when I realized that this is something that's really impactful on people's lives," says McGee. "It's not just us bridging our network together."
Since their first event, they have partnered with schools, shelters, and apartment complexes to bring their pop-up to families and individuals across Brooklyn and Queens. The care doesn't just stop at the clothes for the three women. They've also formed partnerships with organizations like the Metropolitan Museum of Art to provide their clients with workout classes, inspiration-board workshops, résumé-building opportunities, interview coaching, and financial-planning tips.
"The concept is continuous care," says co-founder Marien Richardson. "We want our clients to feel confident. When they decide they're ready to make a change, we need to be there to support them in all aspects. We want them to feel good and comfortable in what they are wearing while they are in the midst of changing their lives. It's a wellness company supported by clothing."