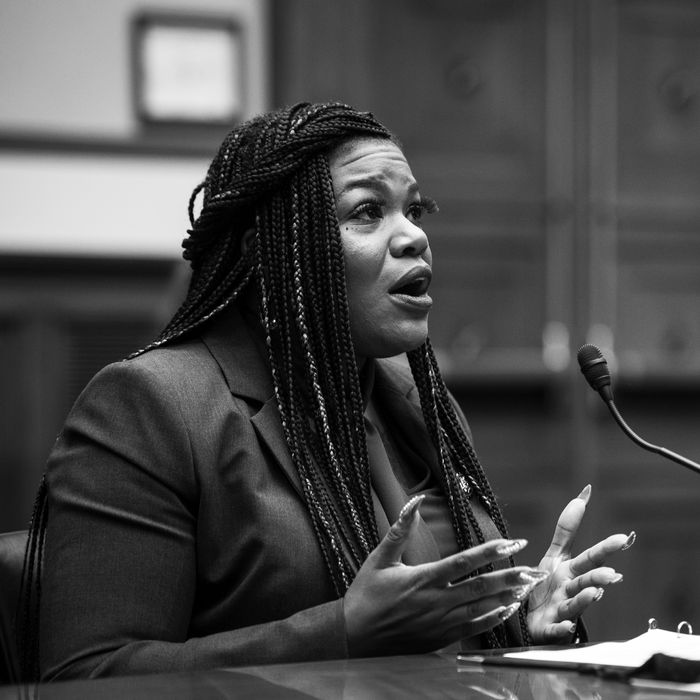 On Thursday, the House Oversight Committee held a hearing to "examine the threat to abortion rights and access" in the wake of Texas's extreme abortion ban. During the hearing, three Democratic Representatives, Cori Bush (Missouri.), Barbara Lee (California), and Pramila Jayipal (Washington), shared their own abortion stories.
Testifying before her colleagues, Bush said that she became pregnant after she was raped at the age of 17 by an older man at a church youth convention. She has previously discussed being raped and abused but has never spoken of her abortion until now. She explained that she was able to get an abortion without having to "jump through a bunch of hoops."
"I had so much going on that I didn't need all these other things in the way of me getting services," she said. "Choosing to have an abortion was the hardest decision I had ever made. But at 18 years old, I knew it was the right decision for me," adding that it "was freeing knowing I had options."
"To all the Black women and girls who have had abortions or will have abortions, we have nothing to be ashamed of," Bush said. "We live in a society that has failed to legislate love and justice for us. But we deserve better. We demand better. We are worthy of better. So that's why I'm here to tell my story."
Lee said that she became pregnant at the age of 16, explaining that, attending a Catholic school in El Paso, Texas, she knew nothing about sex and had been told that "if you didn't have your period, you should take quinine pills, sit in a tub of water, or use a coat hanger."
Her mother had noticed something was wrong, and when she found out that Lee was pregnant, she asked if Lee wanted an abortion. Since it was in the 1960s, before Roe v. Wade, her mother's friend suggested a back-alley clinic in Mexico. In the 1960s, septic abortions were extremely dangerous and could be fatal, especially for African American women, so Lee said she felt like one of the lucky ones.
"Yes, members, this is my story," Lee said. "As hard as it is to talk about it, I hope that regardless of your personal views, it will help you understand that people deserve a right to make their own reproductive decisions about their lives, their bodies, and their futures."
Jayapal said she decided to have an abortion after she was already a mother, calling it the hardest decision of her life. At the time, her child, Janak, had health problems and was still experiencing seizures when she became pregnant again, so when the doctors warned her she could be susceptible to high-risk childbirth and that the pregnancy might turn out similarly, she realized she could not do it again.
"It is simply nobody's business what choices we as pregnant people make about our own bodies," said Jayapal. "We are making the connection to something that is so critical for every family across America, for every pregnant person across America."