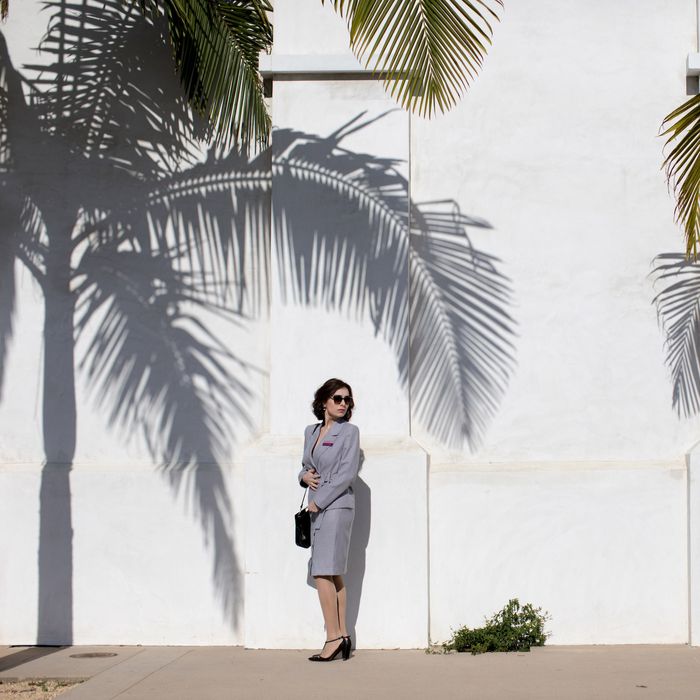 Diana Markosian,
First Job in America
, 2019.
Photo: © Diana Markosian
"Casting my mother was like finding a soulmate," 32-year-old photographer Diana Markosian says of her autobiographical Santa Barbara photo series. The initial casting call was for brunette women in their mid-30s. "It really felt like I was dating them. I would take them out to coffee and just try to figure out what their life story was and understand whether they would understand the layers and the nuances that characterize my mom. I think it wasn't so much acting out scenes but having the empathy to relate to my mother — and to the sacrifices and decisions she made." After searching for more than a year and auditioning more than 200 people, she met with an actor from the former U.S.S.R., and after learning about her background, knew she was the one. Then, equipped with her mother's 1996 Olympus camera, a camcorder, and her family's actual clothes from the '90s, she went about staging scenes from her childhood spent in Moscow, Santa Barbara, and Yerevan, Armenia.
"The idea of memory is beautiful until you're confronting it," she said of the way her own recollections converge, splinter, and even conflict with members of her family. "Then it becomes a maze of perspectives."
In Santa Barbara, on view now at the International Center of Photography (and kicking off the fall season in their new building), the artist reimagines her early years in the U.S. in the aesthetic of the titular 1980s soap opera — the first American television show to air in Russia, and one that fascinated her as a child growing up in Moscow. She was enthralled by the world inside the show, with its sun-kissed beaches, glossy-haired housewives, and low-stakes conflicts. And then at age 7, it became her reality.
In the wake of the Soviet Union's collapse and the dissolution of her marriage, Markosian's mother, Svetlana, escaped with her children to Santa Barbara, California, where she married an American man she met via a classified ad. The artist was motivated to understand not just how her mother managed to leave her father behind and lie about it, but to cultivate a relationship with a man 30 years her senior. As a child, the artist loved her stepfather, and within a year started calling him "dad." (She auditioned 64 men for his role; actors were tasked with improvising lines while driving from LAX to Santa Barbara, and writing love letters to lure her mother to the U.S.)
"I saw my father being replaced," the artist explained. "My mom was trying to move forward, but what it felt like to me was just betrayal — of  me as a kid, her daughter, by removing my dad from my life." But by telling the story now from her mother's point of view, Markosian describes to me how she started seeing her parents "as people, not just as a mom or a parent." In luminous photographs — which appear in the artist's first book, released last fall from Aperture —  her mother is aloof and melancholic, often gazing out of the frame. She is seen in an idyllic garden or en route to a Palm Springs vacation — but a deep sense of loneliness haunts even the most beautiful landscape in all of its empty spaces.
"There's not a lot of cities like this in America that feel very romantic, stuck in time, and removed," the artist says. Santa Barbara is less than 100 miles from L.A., and residents are mostly white and Latinx; there are very few Armenians or Russians. "People would speak to me in Spanish," she said, of her early years in California. "It was jarring. I felt so out of place. Our life in Russia faded, along with my father, and nobody in my family really questioned it."
The project offered a route to reconnect with her biological father, whom she hadn't spoken to in nearly two decades — and whose Super 8 footage of the family ultimately entered the series. "I had no images of myself growing up," she said. "These images filled in gaps and almost provided a timeline that was ruptured."
There is an image of the family's apartment building in Yerevan, Armenia, where they lived before moving to Moscow in the early '90s, which didn't have running water or electricity. (To procure drinking water, they had to trek across train tracks and lug heavy buckets up nine flights of stairs; they were four people squeezed into a one-bedroom apartment.) Her mother talked about her first marriage as a mistake, but when Markosian met her biological father as an adult, she told me, "I realized that was just her pain. I started to understand why my mom fell in love with him and why she married him." Indeed she renders her father, also played by an actor, in flattering, incandescent light.
In a collaborative script that the artist sent to her brother and parents for review, there's a scene in Moscow where she wrote a line for her father: "I love you, I love you so much." In pencil, her mother crossed it out and added to the margins: "I'll come back later." The process of revision, Markosian says, epitomized how she "lived out her parents' relationship. As a kid you really get this burden of experiencing your parents' reality," she said. "And that's what it felt like I was choosing to do again." (Her parents haven't spoken in 25 years; for Markosian's next project, she is uncovering her father's infidelity.)
These photographs vivify the artist's ongoing quest to make sense of her family's conflicting narratives about who they are to each other. "Coming to terms with the fact that you could be on the same airplane, sitting beside each other, and experiencing something completely differently was powerful," she said. "The moment we respected each other's version is when we got it right. It becomes less about the truth, and more about being heard in your family." Though her early years in the U.S. were marked by upheaval, alienation, and profound loss, she isn't interested in blame or bitterness. Instead, she casts her mother in a forgiving, even admiring light.
When I meet Markosian at a bakery on the Lower East Side, she is preparing for her exhibit and helping her mother to coordinate online furniture shipments. After years away, her mother is returning to Santa Barbara — incredibly, to the same street their family lived on in the '90s. (There is an enchanting but ominous photo of it in the exhibit: a hazy, fog-tunneled road that is punctuated by bougainvillea.) "Santa Barbara is my mom's home," she said. "It's not where I would choose to be, but that town shaped me. It brought me up."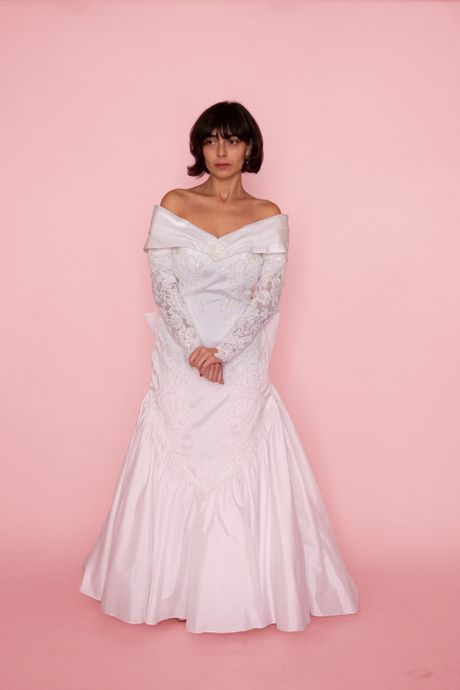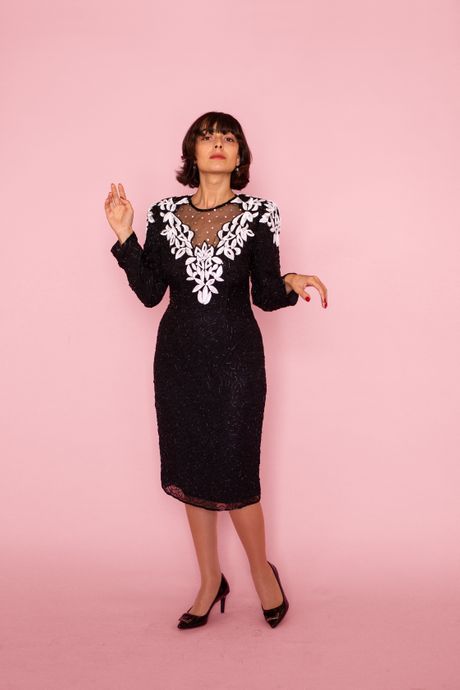 Markosian is, understandably, frustrated with how her mother's story has been received recently. In one article, she's even referred to as a "mail-order bride." "It's so disrespectful," Markosian says. "And the story is so much more nuanced than that. You know, my mom bought her own ticket to America. I saw my mother accept her decisions, I never saw her become a victim of them. Also, my mom was not set up for poverty. She had a Ph.D. in economics by 30."
Ultimately, these images ask the viewer: Who gets to become an American — and at what cost?