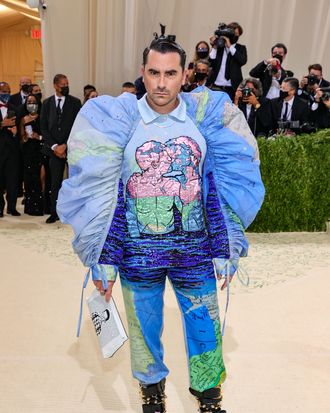 Photo: Theo Wargo/Getty Images
Dan Levy, creator and star of Schitt's Creek and possessor of impeccable skin, wore what I can only describe as a winged polo to the Met Gala last night. The outfit, a Loewe number designed by the brand's creative director Jonathan Anderson, featured an outline of two men kissing layered over a background of world maps. It was accompanied by a set of enormous sleeves, puffed within an inch of their lives and ruched with a ribbon at the wrists.
The designer explained on Instagram that the bespoke design was inspired by a piece of artwork by the late artist and LGBTQ activist David Wojnarowicz. The source material, named for a homophobic cartoon Wojnarowicz had found, places a drawing of two men kissing in the middle of the ocean, surrounded by maps of the world and overlain with photos of the artist and his friends.
For Loewe's design, Wojnarowicz's drawing was hand stitched with beads onto a polo with a map backdrop. In the post explaining the outfit's backstory, Anderson recalls that his brief for the project (presumably given by Levy?) was to imagine what a "gay superhero" might wear.
It must be said: Anderson did his homework. Per the wise words of Pixar's preeminent superhero costume designer Edna Mode, he refrained from adding a cape to Levy's outfit (which, as far as Met Gala standards go, would not have been out of the ordinary). Instead, he opted for these oversize sleeves, which I'm convinced have some aerodynamic qualities. While I'm not sure this checks out scientifically, I can certainly appreciate their resemblance to wings at the very least. Congratulations to Dan Levy for test-running the first ever couture superhero costume!