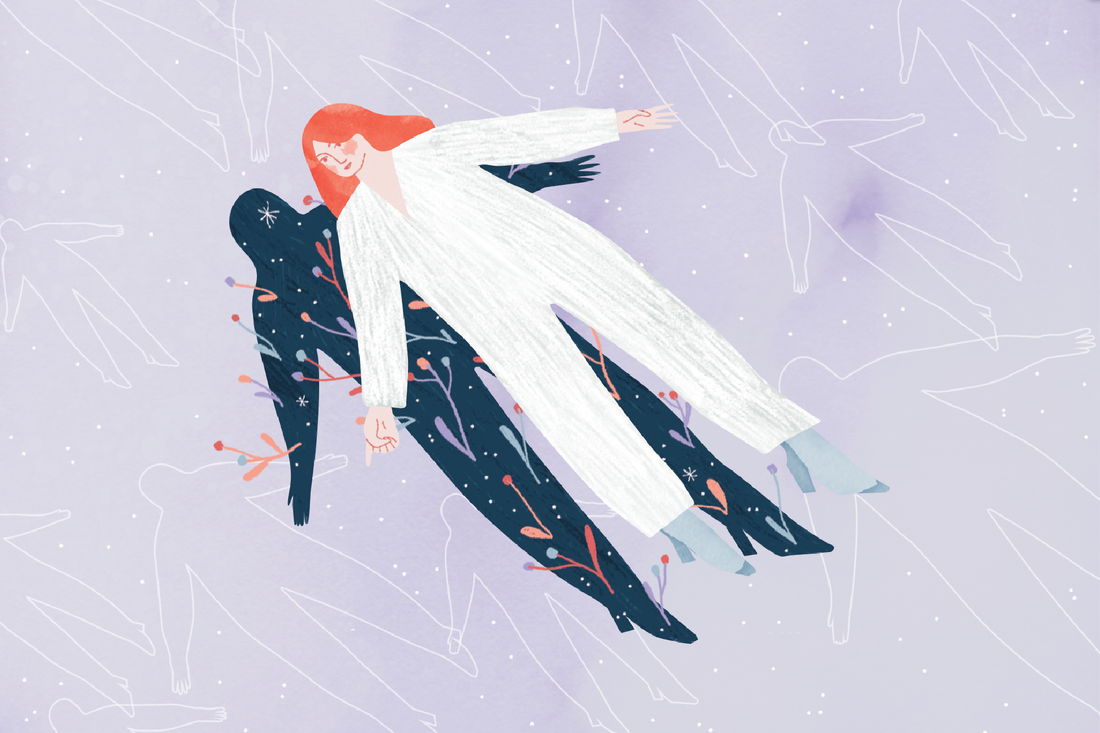 Illustration: Ashlie Juarbe
Content warning: This article discusses depression. If you're in a crisis and need immediate help, please seek professional medical attention. The National Suicide Prevention Lifeline is at 1-800-273-8255.
Everyone has good days and bad days, and all of us certainly hit low points in life. But for people experiencing depression, "feeling down" is more than noticing a hint of sadness when a friend cancels plans or your partner lets you down with the daily division of chores.
For people who feel isolation, hopelessness, or sadness most days for at least two weeks straight, it's possible that depression might have set in, according to the National Institute of Mental Health. It can happen to anyone, and it manifests differently in each person — mentally, physically, and emotionally. Although symptoms vary widely, one thing's for sure: If you're struggling with depression, you're not alone. According to the World Health Organization, more than 264 million people worldwide suffer from depression, with women being twice as likely as men to develop the condition.
Even a decade ago, seeking professional help for mental health wasn't something people talked about (as readily) in public. But as pandemic lockdowns rolled on in 2020 and stress spiked around the world, perhaps one silver lining was that mental health conversations were pushed to the forefront. In the U.S., studies show younger generations are more likely to receive treatment or to go to therapy — and there's a cultural movement to talk more openly about mental health. Today, there are more styles of therapy and treatment-support options than ever before, including deprexis®: a type of online therapy using techniques based on cognitive behavioral therapy (CBT) and artificial intelligence (AI) to help give each person a customized approach to dealing with depression.*
In the spirit of talking more openly about depression management, we checked in with three Vox Media staffers who were about a month into a 12-week experience with deprexis® to see how things were going. Read on for their honest take.
How Digital CBT Works
If you're new to CBT, it's a gradual therapeutic process that's rooted in the theory that people can help improve their mental well-being by changing their thought patterns. The deprexis® program includes 10 content modules called "chats," which cover a variety of important topics like cognitive modification, lifestyle modification, mindfulness, problem solving, interpersonal skills, positive psychology, and more. You don't actually chat with anyone live while using deprexis®: You can complete the program at your own pace, at home. (That said, deprexis® is designed to complement — not replace — treatment with a real-life professional, who might recommend talk therapy, medication, or other treatment options.)
A typical deprexis® session walks people through multiple-choice questions, guiding interactions that simulate real-life scenarios. Some are text-based, whereas others are audio-directed. "Deprexis® felt like a 'choose your own adventure,' where you answer different prompts, which would then deliver tools or resources to manage depressive thoughts," says Dave.**
Through progressive questions, deprexis® uses AI to guide the session based on a person's selections. For instance, one staffer was prompted to visualize depression as a person: "It presented different [hypothetical] scenarios that might happen at a party, like spontaneous karaoke, and how I would react in those situations," says Anne. "It helped me gauge my overall state of mind and mental health without having to specifically articulate my day's moods or thoughts. I thought it was a far better way to assess where I mentally was, at the moment."
There are also guided meditations and mindfulness exercises. "But if I felt particularly down or agitated about learning [breathing] exercises on a certain day, the tool would respond with answers to help ease my tension or apprehension," adds Lauren. After each interaction, deprexis® offers tips to help manage specific behaviors and provides an overall progress analysis.
"Mood Checks" Over Time
On a regular basis, deprexis® will do a check-in on an individual's feelings and keep track of answers over time. After a person has completed more than one mood check, it shows a "mood graph" with values from 0 to 24. A score under 8, according to deprexis®, indicates a diminished and depressed mood, an 8 to a 16 indicates a moderate mood, and a score over 16 indicates a very good mood. Additionally, it does a progress check every two weeks using the "Patient Health Questionnaire," a.k.a. PHQ-9 — the same type of questionnaire a real-life healthcare practitioner would use in a mood check.
Our volunteers will have access to deprexis® for 12 weeks (the recommended time to get the full benefits, according to the manufacturer), and people can log in as often as they want during that period. "I could realistically log on three times a week, but I also liked receiving a daily text message [to keep up with my self-care]," says Anne. "For example, one text read: 'How do you win the tug of war with your depressive, demanding thoughts? Just drop the rope and walk away.' It was nice to have a reminder to pause and think of something in a different way without having to log-on to a full session every day." So, whether someone has 10 minutes or a full hour, the program allows individuals flexibility to engage for longer or shorter time periods.
What the Science Says
Type "depression" in any app store, and you'll get a variety of programs that range from daily affirmations to journaling to virtual therapy. "I was hoping deprexis® would be a little boost of calm — almost like a reminder to stay present in my mind and quell symptoms associated with [depression]," Anne says. "But honestly, I wasn't entirely sure how it would be different from a mindfulness or meditation app." Not every app or platform has the science to back up claims that they'll help improve depression symptoms. However, in a clinical study commissioned by the brand's manufacturer and conducted by an independent clinician, people who added deprexis® to their care plan were 12 times more likely to see an improvement in symptoms, compared to people who didn't. In this case, an "improvement" was defined as a 50-percent difference or better in self-reported symptoms.
At its core, the program is more than mindfulness exercises (though these practices can certainly help manage stress levels and emotions). It was developed by a cross-functional team of psychologists, physicians, software engineers, and communications experts, and though it's not a replacement for in-person counseling or other types of treatment, it can be a valuable addition to therapy. There's the digital benefit of more anonymity, and when you want to engage, it's comforting to know you'll have access right at your fingertips.
Curious About Digital CBT?
For people experiencing depression of any kind, nothing will be a magic wand to make it go away, and consulting with a real-life expert is a crucial first step. For people already being treated for depression symptoms, deprexis® aims to help provide a powerful picture of one's mental state and to help suggest coping strategies along the way.
"I didn't know much about deprexis® going into it, but I figured it couldn't hurt to try something new," says Lauren. "[Traditional] therapy has felt perfunctory, my normal coping mechanisms haven't been working, and I've felt stuck in a slump where I was unable to pull myself out. Deprexis® went through a whole list of activities and the different purposes they served — not just for 'self-care,' but also for fun and enjoyment, competence, self-determination, and social control. Having a concrete list in my back pocket helped me break out of my routine."
To get the most out of the program, it's helpful to consistently apply learned techniques to real life. "I discovered from deprexis® how important it is to surround myself with positive reminders to relax my shoulders, focus on my breath, and stay present — for people with [depression,] these things are so easy to forget," says Anne. And Dave adds: "The visualization techniques were particularly helpful in helping me manage depressive thoughts…I loved learning how to 'picture my happy place' by imagining the feeling, smells, sights, sounds, and tastes of a place washing over me. It's a form of visualization that I've tried to reach with separate meditation practices without much success."
Wherever you are in your mental health journey, first, give yourself kudos for recognizing you want to reframe the way you think about life and to identify the steps necessary to nurture your mental well-being. (Taking care of yourself is always a good idea.) And though self-care can look different for everyone, deprexis® is here to help people make it a priority, in whatever way feels right.
*Deprexis® is a web application indicated for the adjunctive treatment of chronic or recurrent depression or depressive disorders as a primary or secondary diagnosis (e.g., as a comorbidity in multiple sclerosis or epilepsy) for patients 18 years of age or older who are experiencing a depressive episode. Deprexis® is not a healthcare provider and does not provide medical advice, diagnosis, or treatment. If you need medical assistance, please contact a healthcare provider directly.
**Names have been changed.
This advertising content was produced in collaboration between Vox Creative and our sponsor, without involvement from Vox Media editorial staff.