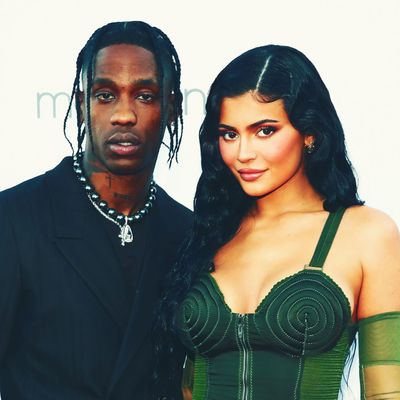 Photo: Andy Kropa/Invision/AP/Shutterstock
It really is baby season. Kylie Jenner has confirmed via Instagram video that she and Travis Scott are expecting another businesswoma— I mean, baby.
Her fans have suspected she's pregnant for a while, hatching a theory over on TikTok. In August, Caitlyn Jenner added fuel to the fire when she made an appearance at a toy store in Quincy, California, and announced that she had a 19th grandchild "in the oven." While "Page Six" confirmed the news that same week, Kylie hadn't announced the pregnancy herself until now. In a montage posted to her Instagram page, Kylie delivers the news to Travis and Kris Jenner, goes to an OB/GYN, holds a dinner party to celebrate, and poses in a sexy pregnancy dress.
Now we can begin to speculate about what form of brand extension we can expect this newborn to take on. Perhaps heading up the Northeast lip-kit distribution team? Alternatively, if her interests lie more in hospitality, she could apprentice with Kylie's tequila line. Or maybe she'll start off at the bottom of the corporate ladder, as we all do, getting coffee and running errands for her 3-year-old sister.
In any case, congratulations to Kylie and Travis! May this baby rise and shine.
This post has been updated.