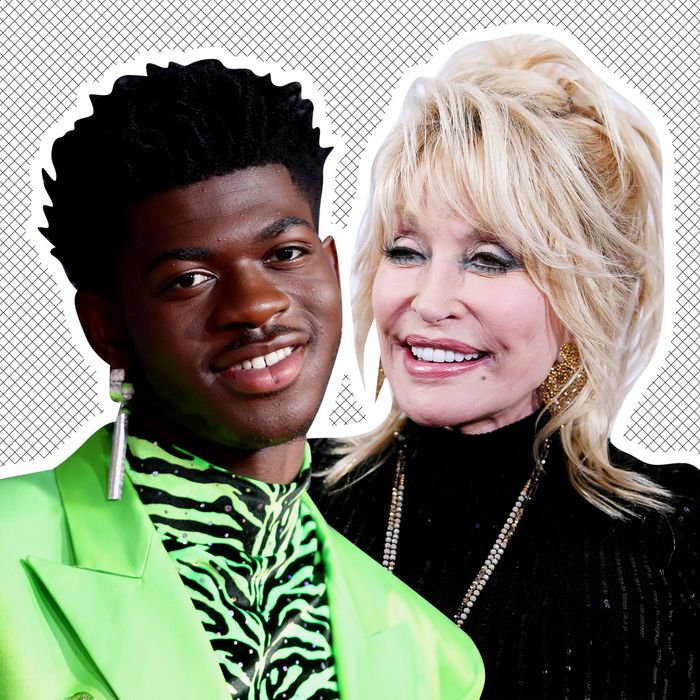 Photo-Illustration: by The Cut; Photos: Getty Images
Unexpected celebrity friendships are the best kind. There's Britney Spears and Natalie Portman. There's Jennifer Lawrence and the Kardashians. And now we have Dolly Parton and Lil Nas X! They've tweeted at each other a total of one (1) time, thus solidifying their friendship in my mind.
Lil Nas X recently performed a cover of Dolly Parton's "Jolene" for BBC Radio 1. A phenomenal choice on Lil Nas's part. In fact, Ms. Dolly Parton herself tweeted her approval of the cover and her love of Lil Nas. "I was so excited when someone told me that Lil Nas X had done my song #Jolene. I had to find it and listen to it immediately … and it's really good," she posted. "Of course, I love him anyway. I was surprised and I'm honored and flattered. I hope he does good for both of us. Thank you." No, thank you, Dolly. Now, give us your version of "Old Town Road." It's only right. Lil Nas responded with a succinct "HOLY SHIT."
BBC Radio 1 is proving to be quite the effective matchmaking service for unexpected celebrity friendships. The British radio program is known for having musicians cover other artists, blessing us with such performances as Miley Cyrus doing Billie Eilish's "My Future" and Harry Styles singing "Juice," by Lizzo. The latter led to Styles and Lizzo performing "Juice" together live, solidifying themselves as having the most wholesome of the unexpected friendships.
So, it's not a complete improbability that this Twitter exchange could lead to … truly anything: Dolly Parton covering "Montero (Call Me by Your Name)," Lil Nas starring in a remake of 9 to 5, the two of them giving us a collaborative album à la Lady Gaga and Tony Bennett. At the very least, they need to meet and blind us with their combined rhinestone power.