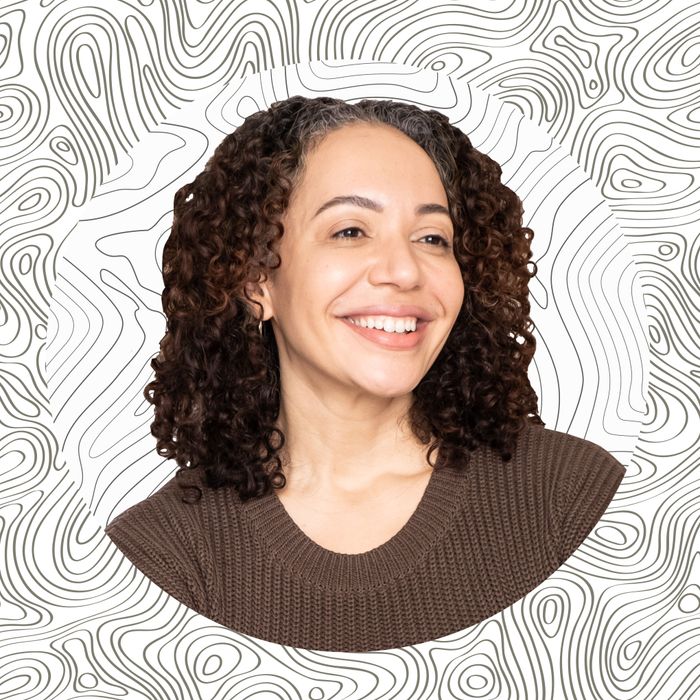 Photo-Illustration: The Cut; Photo: Ira Black
Dr. Chaneve Jeanniton, M.D., is one of only 500 oculofacial plastic surgeons in the world. "Someone needs to come up with a new term for us," says Dr. Jeanniton, who is based in Brooklyn, New York. "This one's just too much." But as she explains it, "I take care of all of the aesthetics of the face, and when it comes down to my surgical specialty, I zero in on eyes. Day-to-day, the things that I'm taking care of are, yes, people with drooping eyelids, but also people that just want some minimally invasive help, whether that's through Botox or microneedling or lasers." Her work stops at the neck.
Over the years, Dr. Jeanniton has built a cult following through her practice Brooklyn Face & Eye and skin-care line Epi.logic — Why Is Your Skin So Good alumni Brooke Devard Ozaydinli and Cayli Cavaco Reck both swear by the brand's Master Plan Collagen Renew Growth Factor Serum, which they describe as "magic in a bottle." Her success comes from an astute attention to detail. "My success is literally measured in millimeters," the surgeon explains. "There's such vulnerability in our faces. Of course, we care about our bodies, but with the face, the ante is up 1,000 percent. That's why this specialty is so profound for me." 
The flip side of Dr. Jeanniton's job is that she is constantly looking for practices that will "calm my nervous system." Below, the Cut caught up with the surgeon about how she deals with the pressure, from skin care to yoga to acupuncture. 
On her definition of wellness: Wellness is so individual. It's really about finding the things that bring you some comfort in a day. The thing that eats at my sense of well-being is anxiety, and I think we're all feeling that more than ever. Finding ways to slow down and not feed into that negative self-talk, that's wellness.
How COVID-19 changed her approach to wellness: I pour so much of myself into my work, and I had that taken away from me [at the beginning of the pandemic]. I had to totally restructure how I thought about myself and how I thought about my life. I needed to figure out how to build my day — which is a weird thing to say — when I couldn't see my patients, and I realized how much of my career was a crutch for the rest of my life. It felt confusing at first, and then it felt liberating, and then again I was like, Get me back to work, get me back to my patients. To be totally honest, I'm still trying to figure out a work-life balance.
On her personal form of meditation: I have a meditation pillow — a whole meditation setup in my bedroom — and it's been sitting there untouched for two years. Every day I swear I'm gonna make use of it, but it's never happened. And this is gonna sound crazy, but for me, operating is a form of wellness because I'm forced to push out the world and just focus on what my hands are doing. It makes me feel so good. In my head, there's 1,000 thoughts all at the same time, but that doesn't happen in the operating room because there's no room for anything else.
I will say that while my field is a great fit for me, it sort of feeds my demons. I can geek out on small details forever, and it's applauded, but at the same time, that's so unhealthy. It can eat at you, and I have the personality where I take it home. I don't wash the day away. Like, I'm doing a case tomorrow morning and later, I'm just gonna stare at my patient's photos because I want to see her in all different angles again.
On her mornings: I am very much not a morning person. I have constructed my life so that I never have to be up early; that's the joy of being an adult with my own business. As much as I like to say that I started my own practice because I wanted to dictate how I took care of patients on my own terms, I also wanted to make my own schedule.
It takes me a while to wake up. The eyes open, but the brain's not there yet. I literally just lie in bed or mindlessly scroll on my phone — depends on the day. When I do get up, I'll run through my skin-care routine and that gives me a lot of joy. I don't cleanse but rather just splash my face with some water. Then I use Even Balance CoQ10 Facial Toning Formula and Daily Dose Vitamin C + Multivitamin Defense Serum from my skin-care line Epi.Logic for antioxidant support and to keep my hyperpigmentation at bay. For sunscreen, I've been loving the Bioré UV Aqua Rich Watery Gel SPF50+ PA++++ and use that as my last step.
The coffee shop on the top of my block, Bittersweet, I'm convinced has the best coffee ever. The lines are around the block these days, and I will devote the time to stand there. They have their own homemade almond milk, and it's divine; I get iced triple almond-milk lattes in the summer. Sometimes I run through my emails while I'm in the line so I feel somewhat productive, but I try to not do that because I'm like, "Chaneve, you're pre-caffeinated. Should you really be sending out messages in this state?" [Laughs.]
I do eat breakfast, but I'm one of those people that's not hungry immediately. For me, it's more important to get coffee before I actually start eating, but I've been getting Sakara deliveries. There's also a really great chef, Mary Beth Romeo of Meal Collective, in my neighborhood. She's a bit more paleo-focused, and she does yummy frittatas that I get delivered, so I'll either have that or a Sakara muffin.
On surgery days: When I was young and naïve, I had a special routine before operating. Now that I'm a little bit more seasoned, I realized that if you shake things up too much, you're out of your own element, so I try to keep my routine as similar as possible. If I can keep myself constant, that's when I do my best work.
I love music in the operating room, but I hate being the person that dictates the music. I'm that pain in the butt who's just like, "You guys, we're not listening to anything!" They ask, "What do you want?" I'm like, "Whatever you want." [Laughs] At the surgery center that I'm operating at, the person that's in charge of the stereo has great taste, and it's awesome. I would love if they would put on rap, but no one does because they're so used to catering to the older white, male surgeon. I tell them, "Just don't play classical, and don't play country, and we're all good."
On sunscreen: I hope that at this point we all understand how important sunscreen is. I love, love, love EltaMD's UV Clear Facial Sunscreen Broad-Spectrum SPF 46. That's been my BFF for ages. My eyes are also starting to open to what's going on in the world outside of the U.S. because the FDA is so incredibly behind on our options. I've been trying out the Bioré UV Aqua Rich Watery Gel SPF50+ PA++++. It's totally transparent.
Sunscreen around the eyes is totally necessary because the eyelid skin is so thin, and it's so much more prone to the effects of UV damage. But there's no magic recipe — a lot of products say "do not apply it around the eyes" because in order for a sunscreen to say it's for the eyes, you have to test it specifically on that area, and a lot of companies don't want to deal with that obstacle. Finding the right one comes down to sensitivity. With a chemical sunscreen, if you get it really close to the eyes, it's possible that they're going to react and tear up and get irritated. Most people are going to have better luck with a mineral physical product around the eyes, but then they might have a white-cast problem. The only company I know that has actually put in work to specifically address the eyes is Supergoop! They have little eye-shadow pots with SPF. I have patients that no matter what they try, there's nothing they can tolerate. In that case, you just have to be better about the non-sunscreen methods: hats, sunglasses, and UV avoidance.
On how she moves: I'm an old fogy now, but I got into yoga around my med-school age, so around my early 20s. How I got into it was so random. I hate winters. Like, I hate, hate, hate winters. I remember passing by a yoga studio that was a heated Bikram studio, and it mentioned how many degrees the room was. It was like, "Practice in 104-degree heat!" It was the depth of winter, and I was like, "Wait, how warm is it?" I signed up for an unlimited, 30-day pass just on how warm they touted the room to be. I went every day, sometimes twice a day, and I would go early and stay late to sit in that room. Then I fell in love with the practice.
During the pandemic, I went so deep into yoga. My teacher is Maria Cutrona. I used to practice with her in person, and then when she was available through Zoom, it was me and Maria every morning. Anything that forces me to focus on my breathing and not think is a godsend. With girlfriends on a Saturday, we'll go for a yoga date and practice together and then meander around our neighborhoods and catch brunch if we're hungry.
Back in the day, when these joints were a little younger, I used to do CrossFit. Post-pandemic, I felt myself losing muscle mass. It happens to all of us as we get a little older, and now that I'm in my 40s, I'm so aware of not being as strong as I used to be. But the thought of going back to CrossFit and doing a burpee just made me shudder. I just can't; I'm not going down on the ground and jumping back up. Then I remembered that my CrossFit gym has a special little training powerlifting series. It's just slow, controlled, quality lifts and movements under the eyes of a really intelligent coach. I was like, "Yes! Sign me up." Every time I go, I'm scared again. I'm like, "I can't do that," but I go and I do it. My coach's name is Jeremy Fisher, and he has such an amazing way of coaching — he's so motivational without being cheesy. My favorite thing he's ever said to me: We were setting up to do a deadlift the other day, and he could sense that I was a little bit nervous. He was like, "Think of it as the introvert's lift. You literally pull everything in, and then with your feet, push the world away." I was like, "Oh!" That speaks to me.
On cosmetic procedures: Botox and fillers are such a touchy subject. I feel the struggle every time I'm counseling a woman. Like, "I want to feel good about my face as I age. Why is it that I can't just totally accept the changes that are happening?" Or some people will say, "My daughter's at an impressionable age. What example am I setting for her?" It's tricky. And clearly I'm biased, right? But I really want to come to a place of truth with my patient; it's not just about the needle in the face.
It's something that I have to grapple with personally. What is it that I'm doing when I inject myself with Botox and fillers. Is it age denial or is it a beauty treatment? I really don't think I'm denying my age. I'm comfortable going gray; I just don't like when I lift my brows, and I look like a Shar-Pei. I think that's different. Also, I'm hopeless with makeup. I can't figure it out. I never could, and I don't see it happening for myself. So Botox and fillers are my own form of taking care of my face. That's "the truth" I've come to for myself.
On acupuncture: I've recently started with a lovely acupuncturist, Joanne Hsieh of One World Acupuncture, in my neighborhood. Our appointments are an hour and a half long, and I don't think it's meant to be part therapy, but she totally indulges me. She's a woman who also has her own business, and we're around the same age, so we sit and chat and connect about the things we're going through. There are the obvious needles, but she also does some moxibustion, so there are nice smells in the room. The needles themselves are not painful. Kind of like little bug bites, so not that bad. How I describe Botox injections to my patients, it's like, "Listen, it's not something you want to do all day long, but it's tolerable for the short amount of time you're there." It's the same with acupuncture.