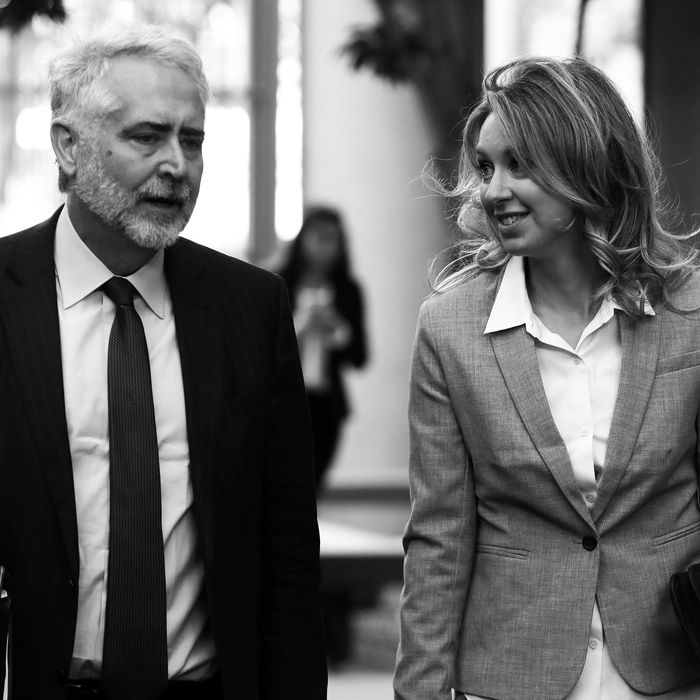 Photo: Justin Sullivan/Getty Images
Every new detail of the Elizabeth Holmes trial is somehow more unbelievable than the last. There's Theranos as a whole, Holmes's failed blood-testing company that procured hundreds of millions of dollars from investors despite its proposed technology never actually working. There are the bizarre lies Holmes perpetuated about her own life and persona, from allegedly faking her deep voice to calling her husky dog a wolf. There's the Elizabeth Holmes fangirls, complete with black turtlenecks and blonde hair in low buns. But it is the nearly 600 pages' worth of private messages, obtained by CNBC, between Holmes and her then-boyfriend and former Theranos COO Ramesh "Sunny" Balwani that have to be my new personal favorite.
Let's start in November 2014, when Holmes and Balwani were talking about the full moon. (Already off to an incredible start.) Holmes texted her boyfriend this message: "My new life as of this night and forever more: — total confidence in myself best business person of the year — focus — details excellence — don't give what anyone thinks — engage employees in meetings by stories and making it about them (ie prepare well)." Best Business Person of the Year is both the most outlandish and underwhelming aspirational title. Why limit yourself to just this year? Why not just go for it and manifest being Best Business Person of All Time Ever?
Then, according to CNBC, Holmes texted Balwani ten minutes later: "No response?" Devastating! This prompted Balwani to respond, "Awesome. U r listening and paying attention …" There is nothing that turns me on less than a man on the precipice of 50 typing the letters/words "u r."
In another series of messages from May 2015, Holmes texted Balwani a little poem: "You are breeze in desert for me. My water. And ocean … Meant to be only together tiger." I hate it here!!! She added, "Madly in love with you and your strength." Then, 15 minutes later, Balwani replied, "I am tired today. Spending so much time on bullshit and none on software or things that build our product." She texted him poetry and called him her ocean and he essentially responded, "… okay."
Nosy gossip aside, the hundreds of messages, spanning from June 2011 to July 2016, are meant to show that Holmes and Balwani were well aware of the state of their failing company, something they've insisted is not true. These texts also reveal the lavish lifestyle the two were leading — planning trips to Vegas that included dinner at a three-star Michelin restaurant and spending thousands of dollars on hotel rooms — presumably off of Theranos funds. However, these messages are complicated by Holmes's allegations of abuse against Balwani. Holmes claims she was psychologically, emotionally, and sexually abused by her then-boyfriend. Balwani's lawyers say he "categorically denies" these allegations.
Both Holmes and Balwani face ten counts of wire fraud and two counts of conspiracy to commit wire fraud. Holmes's trial began last month, while Balwani will face a separate trial next year. Both have pleaded not guilty.