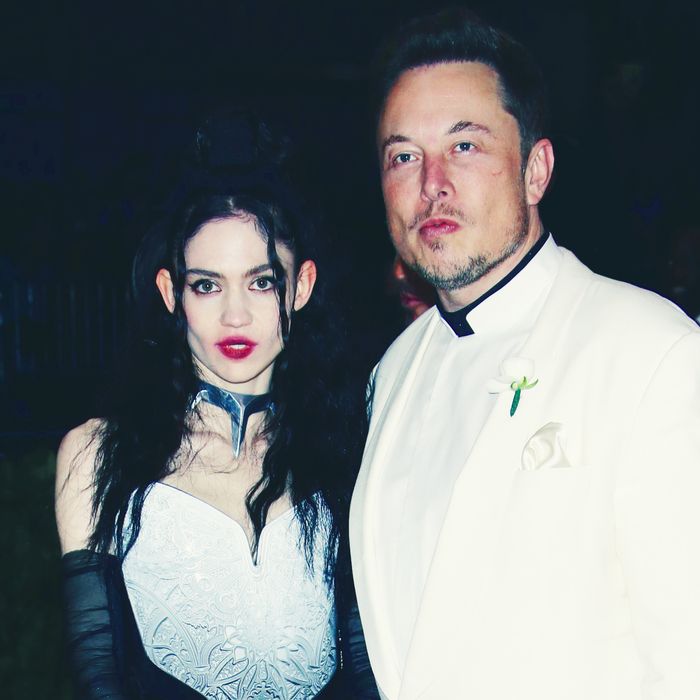 Back when Grimes and Elon Musk were … fully together?
Photo: Matt Baron/Shutterstock
The Break Up With a Billionaire trifecta is now complete … maybe. According to "Page Six," Elon Musk and Grimes have (kinda, sorta) split. "We are semi-separated but still love each other, see each other frequently and are on great terms," Musk told the tabloid. The two have been together for three years and share a 1-year-old son, the already-infamous X Æ A-Xii. Musk said he and Grimes will continue to co-parent their son together.
The reason for the semi-split? "It's mostly that my work at SpaceX and Tesla requires me to be primarily in Texas or traveling overseas and her work is primarily in LA," Musk said. "She's staying with me now and Baby X is in the adjacent room." So, I guess they're still living together platonically? Or maybe by "semi-separated" he means Grimes will continue to do the brunt of parenting their son while he … I don't know, is a meme personified?
Grimes has also been keeping herself plenty busy. She's currently one of the judges on Alter Ego, a new reality singing competition in which all the contestants perform as their "dream avatar." It is apparently many people's dream to be a hot, computer-generated alien and have skin that's blue or green! Nick Lachey, Will.i.am., and Alanis Morissette (who is blonde now??) are also judges. If I try to explain any more of this show, I will pass away.
Anyways, the (former?) couple was seen together just last week at the Met Gala. However, only Grimes walked the red carpet, carrying a sword made out of an AR-15 and asking for a green card. Musk reportedly joined for dinner.
Not sure whether condolences or congrats are in order. Perhaps Musk will clear things up by posting a message on his big, dumb space billboard.