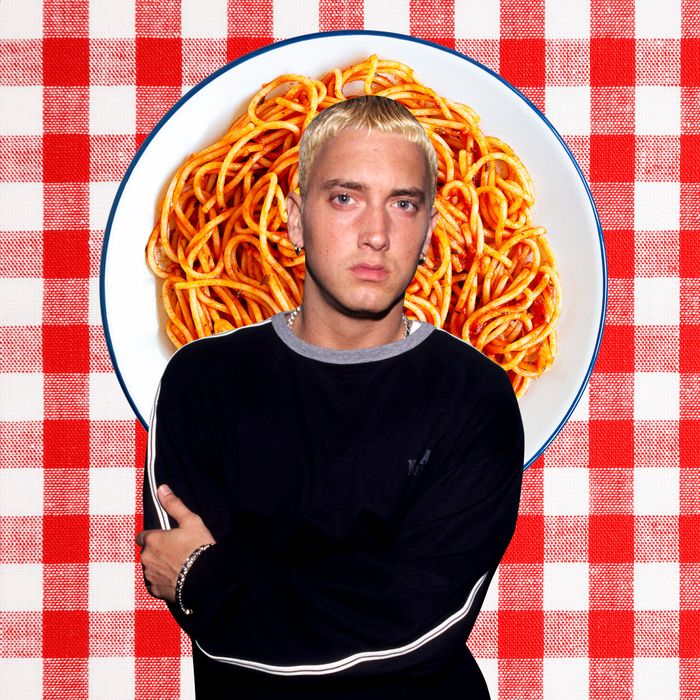 Photo-Illustration: by The Cut; Photos: Getty Images
It is with great pleasure that I tell you Eminem is opening a restaurant. It is with even greater pleasure that I tell you the restaurant is called Mom's Spaghetti. Delizioso!
The name, of course, comes from the opening line in Eminem's "Lose Yourself": "His palms are sweaty, knees weak, arms are heavy/There's vomit on his sweater already, Mom's spaghetti." Will there be puke-themed merch? One can only hope!
Opening Wednesday, September 29, the restaurant will be located in Detroit, the rapper's hometown. The menu only has five items: Mom's Spaghetti, Mom's Spaghetti With Meatballs, a 'Sghetti Sandwich (a pile of spaghetti plopped between two slices of bread), pop (midwestern for "soda"), and water. The restaurant will offer limited seating, but customers can place orders at the restaurant's walk-up window. You heard it here first, folks: Spaghetti is now an on-the-go food.
This isn't the first iteration of Mom's Spaghetti. In 2017, Eminem had a pop-up version of the restaurant at Detroit music venue the Shelter. In 2020, he sent spaghetti to frontline workers at Detroit-area hospitals, each container emblazoned with a "Mom's Spaghetti" sticker. (Unfortunately, cooked spaghetti in Tupperware looks absolutely disgusting, but it was a kind gesture nonetheless!) Now, the restaurant is getting a permanent location in the alley next to Union Assembly, a local restaurant partnering with Eminem for the concept.
As far as names of celebrity-owned restaurants go, Mom's Spaghetti is top-tier. It's certainly better than Toby Keith's I Love This Bar & Grill and significantly less confusing that Criss Angel's Cablp. Great work, Eminem. Mom would be proud.