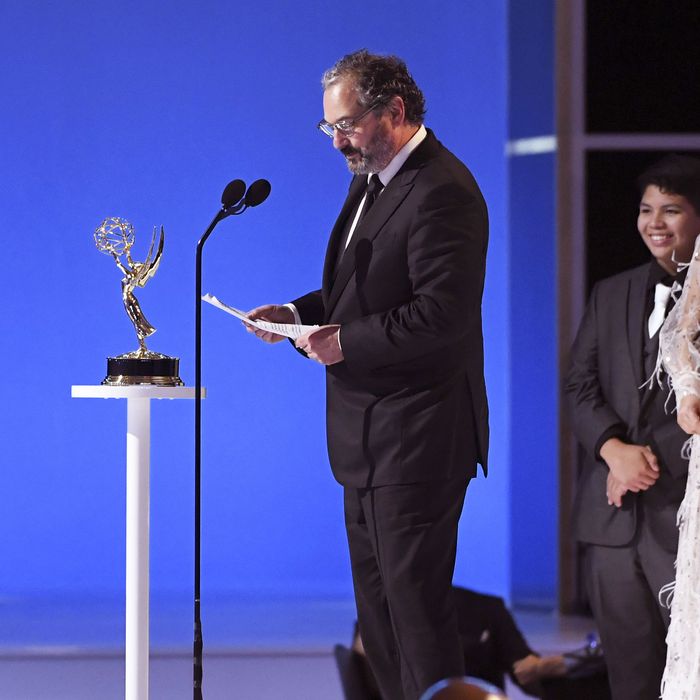 Scott Frank,
The Queen's Gambit
director.
Photo: Phil McCarten/Invision/AP/Shutterstock
Public speaking isn't for everyone! Yes, even those who work in television. Every year, there is at least one speech that leaves me wanting less. The winner at the 2021 Emmys for Most Unnecessarily Long Speech has to go to The Queen's Gambit director Scott Frank. Frank won the award for Outstanding Directing in a Limited or Anthology Series or Movie for his work on the Netflix series, which stars human-angel Anya Taylor-Joy. And the moment he pulled out his multipage speech, we all knew what was coming.
"I wish I could stand up here and mention every single one of you," Frank said. "But I would need a lot more time and that's why God created IMDb." Haha! So fun! It's always a great move to graciously acknowledge your team, end on a joke, and see yourself off. Of course, he did not stop there. Frank proceeded to give a speech that was interrupted by the music intended to cue him to wrap it up three entire times. And he responded by demanding the music be cut? Sir! Enough!!
There are so many, much shorter speeches he could have given. For example, "Thank you for this award! I yield my remaining time to Jean Smart." Or maybe, "So cool! I love it! Bye!" Nevertheless, he insisted on talking for a very long time.
This is not to downplay what is an incredible personal accomplishment. It's a big moment! However, until you are Debbie Allen winning a Governor's Award, you do not get to control time.