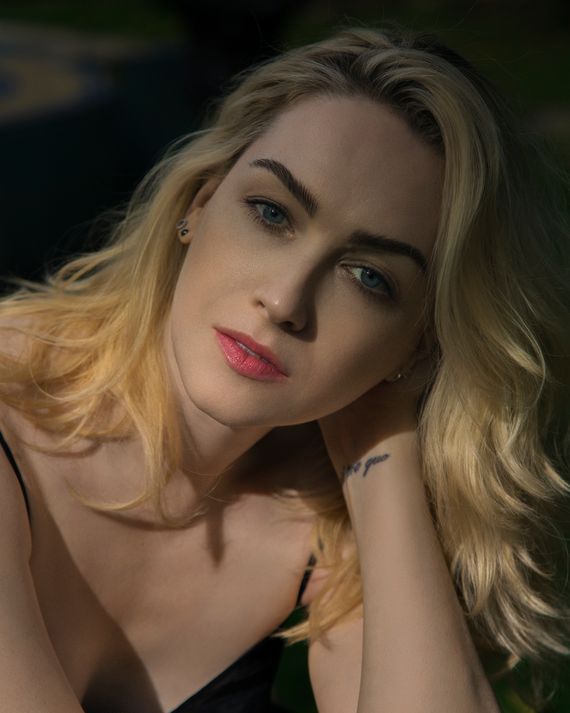 Photo: Gabrielle Magdaleno
Just a few weeks ago, L Word fans at watch parties lost their minds seeing Rosanna Arquette make a surprise midseason cameo at Shane's bar. Like most of the show's stunt casting, the iconic actress's appearance was kept under wraps, with Arquette reprising her role from the original series, a bored, rich "straight" woman named Cherie Jaffe whose love affair with androgynous heartbreaker Shane (Kate Moennig) ended so badly, the latter shed actual tears for the first time in her fuckboy existence.
But ten years later, when Cherie popped in the L Word's reboot Generation Q, it wasn't Shane she was going down on in the bar's back room — it was Tess, the hottest new member of the new generation played by Jamie Clayton.
Though not a series regular, Tess has become a new fan favorite. A leggy blonde jane-of-all-trades who doesn't need a drink to have a good time, Tess is a sizzling scene-stealer with sex appeal and a sense of humor who, in her spare time, deals cards at secret stud-poker parties hosted by a Lena Waithe–esque character played by Lena Waithe.
In a soaptastic series where most of the characters lead dramatic, self-involved lives, Tess stands out as grounded and unselfish, thanks in part to Clayton's cool delivery. On a show of hot messes, Tess is just plain hot.
It's no surprise, then, that viewers might project some specific fantasies upon Clayton and ask, quite candidly via Twitter, if Clayton likes women.
"Of course I do!" Clayton responded to a recent tweet. "But, I think what you're asking is who I sleep with, right? If so, the answer is no, I'm straight."
Then came the inevitable fallout.
"Did it hurt? Jamie Clayton saying the words 'I'm straight'?" bemoaned one fan.
"She's too hot to be straight!" commiserated another.
The original poster apologized for putting everyone through "so much distress in the community."
This is not exactly a new concept, as mostly straight women have played the queer women roles on television (such as most of the original L Word cast, including Jennifer Beals). And Clayton, who is indeed too hot to be hetero, finds the messages sweet.
"Like, trust me, if sexuality was a choice, I would not choose men," she said with a laugh.
Clayton, a fan of the initial L Word, insisted she was up for anything. "We got to talk about what we were comfortable with and what we weren't comfortable with, and I was like, 'You can do whatever you want to me!'" Clayton said, and the way she laughs, I trust she's quoting herself verbatim.
Clayton is dolled up and chic in a top of thick sheer stripes — white, pink, and purple — with tousled blonde hair and trademark Delevingne brows. She's video-chatting with me from a Serbian hotel room between shoots of a top-secret movie project and tells me she watched all six seasons of the original L Word at least twice before being cast on the show.
"I was a fan of the show, and now I'm on it, and I'm opposite Kate," Clayton said giddily, like she's still pinching herself.
Kate Moennig's Shane is one of the originals to return for Generation Q alongside Beals's Bette Porter and Leisha Hailey's Alice. The fervor for the show rested largely on the three originals coming back for the sequel not only as stars but executive producers. The new, younger cast had equal screen time but more work to do in order to endear themselves to fans. And while all three had active sex lives, Shane, in particular, supplied a lot of The L Word's steamiest sex scenes as a hyperactive Casanova who appealed to women of all orientations.
It was thanks to Clayton's chemistry with Moennig that her role was expanded. Originally cast as a recurring character for only a few episodes in season one, Tess spent most of her screen time helping Shane, a salon owner and hairdresser, transition to bar owner — someone seasoned in the service industry willing to show Shane the ropes of management and event production. For classic L Word fans, Dana's (named after the show's most beloved dead group member) is the new Planet — the center of the action, from karaoke to cunnilingus.
"It was a smaller part and the role was actually a little different when I went in to audition," Clayton said. "And then Kate and I just really hit it off, and so I got more episodes during season one. It's a great thing when it happens for any actor, you know, but you just get there and then they start seeing the chemistry and the fans' reactions, and you get to start doing a lot more — there's just so much I love about Tess."
So despite Shane having hooked up with Tess's girlfriend (such a Shane thing to do!), Tess stuck around, seeing her character develop into a key player who now appears in every single episode of season two. A recovering alcoholic, Tess's sobriety is a sizable part of her story line, as is her mother's failing health and Tess's need to monetarily support her through the bar and any other work she can pick up. And as of last week's episode, the will-they, won't-they tension between Tess and Shane has officially entered romance territory as the two shared a steamy kiss in a freak rain shower.
But what sets the role apart for Clayton, and for trans actors more generally, is that Tess is cisgender, a decision made in part by Clayton's early casting conversation with showrunner Marja-Lewis Ryan as well as the show's producers and casting director.
"I said, 'Is this character trans?' And they said, 'We don't know,'" Clayton said of the audition. She explained how they talked more broadly about trans actors and the kinds of roles Clayton and her peers are generally given opportunities to play. In part, Clayton said she was interested in playing roles outside of the trans narrative.
"And then weeks later when I found out I got the part, Marja called me to tell me that I got it, and she said, 'I want you to know that we really appreciate the conversation that you had with us. We listened. We want to have more of those conversations with you,'" Clayton recalled.
Still, some fans inevitably find a trans narrative in Clayton's portrayal and her visibility is a boon to those who are searching for trans lesbians where there are otherwise few (HBO's Euphoria the most notable). The L Word does have one regular trans man character, Micah, played by trans actor Leo Sheng, and Bette and Tina's teenage daughter has a girlfriend named Jordi, played by trans actress Sophie Giannamore who, similar to Tess, doesn't discuss her gender identity onscreen.
"The thing that I love about Tess is that whether she's cis or trans or whatever she is, it's not part of her story, which I really like, because to me at the end of the day, the only difference between a trans character and a cis character is that cis characters aren't going around talking about their gender all the time," Clayton said.
Her breakout role as trans hacker Nomi on Lana and Lilly Wachowski's sexy sci-fi Netflix series Sense8 also had her in a lesbian relationship, so it's to be expected she'd have a rabid queer fan base. Other roles on Designated Survivor and Roswell were shorter-lived and less developed, so when it comes to playing a trans woman in a relationship with a cis man onscreen, there are very few opportunities, and Clayton has yet to have one.
"I mean, there are barely any trans characters on television, first of all, and then to have any in a successful relationship is even fewer," she said. "To have that be a heteronormative presenting relationship is nonexistent."
Trans-centric shows Pose and Transparent both had story arcs for trans women in relationships with heterosexual cis men, but neither were particularly successful love stories with focus or longevity. Films like Tangerine and A Fantastic Woman offer differing perspectives on these relationship dynamics but there has yet to be a significant show or film offering a portrayal that would more closely mirror a trans woman like Clayton in her dating life.
"The older I get and the more successful I become, dating has become harder and harder and harder," she said. "I've come to the understanding that cisgender heterosexual men in America —  there's a resistance with trans women because we're not seen as women. Cisgender heterosexual men, I have come to believe, really live their lives for the acceptance and approval of other cisgender heterosexual men."
Clayton has been in several great relationships, but she's also been ghosted by several men who can't handle what their best friend or a transphobic family member has to say. "They're just very worried about what their friends are going to think," she said.
On this note, I ask Clayton to confirm that at least Keanu Reeves is one of the good ones, and she's happy to oblige. In 2015, the actress was spotted outside of the Chateau Marmont giving a motorcycle-straddling Keanu Reeves a kiss good night, her first brush with the paparazzi.
"He's phenomenal," she said, insisting their peck was nothing but a friendly good night after grabbing drinks with their mutual friend, Sense8 and Matrix creator Lana Wachowski.
"We were just chitchatting and drinking and drinking and drinking," Clayton said with a smile. "And then we walked out together and said good night to each other. He's an absolute gentleman and absolute fucking sweetheart who was so sweet to me. So flirty, so nice."
I suggest that maybe it will take someone like Reeves or a similar cis guy actor of his stature to play a role opposite her, and she is grateful I'm broaching the subject at all. Hollywood is still difficult terrain for trans actors to find not only respectful and decent roles, but groundbreaking in any way other than the character being written as a trans person. On Sense8, Clayton was the first trans actor to be a series lead; on The L Word, she's the first trans woman, period. And while it's nice to be first, what Clayton wants is to play all kinds of roles, like "iconic queer person" Alan Cumming, who appears in projects as wide-ranging as Romy and Michelle's High School Reunion to The Good Wife to a Marvel movie and Cabaret on Broadway.
"I just want to have the opportunity to play all different kinds of characters. I don't think that trans people should only play trans or gay people should only play gay," Clayton said. "With trans people, when we come out and we are proud of ourselves and we say, 'Oh, by the way, this is who I am,' then I'm only ever allowed to audition for parts that are trans. And then cis people get to do it all."
Like many other minorities, trans people have had to find themselves in cis characters onscreen, and Clayton sees her playing a cis role as no different. So even though Clayton herself may be straight, she wants fans to see whatever they want in her characters.
"It's art, we all interpret art in different ways," she said. "I want to make room for other trans people who are in Hollywood to come in. I just want us all to have the opportunity. I feel like I'm finally getting that, and it makes me really, really happy. And I want other people to feel the happiness that I'm feeling, and to know that I'm also very proud of my transness at the same time."