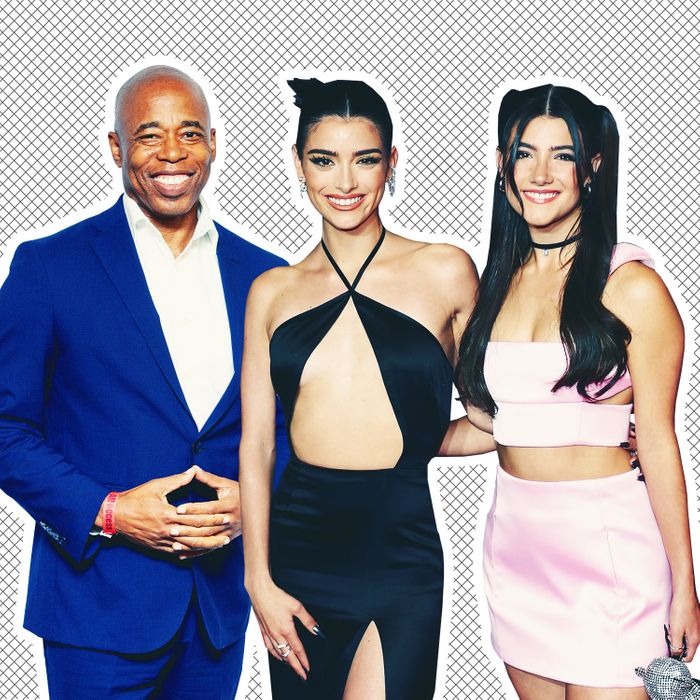 Eric Adams, Dixie D'Amelio, and Charli D'Amelio
Photo-Illustration: The Cut; Photos: Getty Images
How do you do, fellow kids? Asking on behalf of New York City mayoral candidate Eric Adams, who reportedly put in some hours canvassing the youth vote — which has so far proved elusive for him — last weekend. "Page Six" reports that he "spent time with famous TikTok sisters Charli and Dixie D'Amelio" at the members-only club Zero Bond. He was there on Friday and Saturday night too, but on Sunday, "he discussed the importance of the continued economic recovery of New York City, specifically calling out nightlife, the future of New York City and his vision for revitalization plans to get the city back to its roots once again," according to a "Page Six" source.
Revitalization? Roots? What does that mean, boosting the Police Department and escalating a so-called war on crime? Renewed investments in the city's old political machines? I wasn't there, so I can't tell you; all I can say is that Adams was accompanied by a "PR mogul" for Sunday's appearance and that both Paris Hilton and Stassie[baby], best friend of Kylie Jenner, are said to have attended.
The program appears to have been pretty much the same all weekend: On Friday, notable guests included Foodgod (Jonathan Cheban), Nets star James Harden, and reality-TV personality La La Anthony. Another "Page Six" informant reports that he schmoozed "various owners and leaders of different businesses and industries, talking about how he plans to bring back New York city and bring jobs back." On Saturday, he spent another five hours (!!) at the club, making "a speech to applause from the room" and meeting "all the titans of New York nightlife," per the source. So maybe more of the rich-person vote than the youth vote.
Anyway, not to be outdone, current mayor Bill de Blasio was spotted on the Met Gala's beige carpet on Monday night, looming for the cameras as the NYPD arrested Black Lives Matter protesters outside. Adams, meanwhile, only managed an after-party.