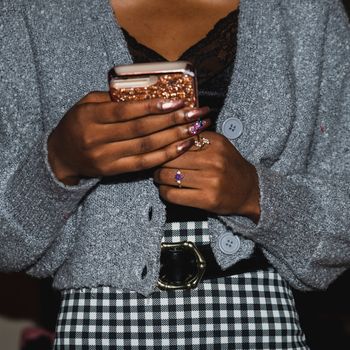 For several months now, Facebook execs have been kicking around an eerie product idea few people seem to want: Instagram for Kids. Given the negative mental-health outcomes the app's youngest users already report, lots of parents, lawmakers, and almost all the nation's attorneys general have lobbied the company to please not. But up until last week, when the company paused development on that idea, Facebook persisted — the youths are a lucrative market! — even though its own research reportedly confirms that for teens, Instagram outpaces other social-media platforms when it comes to fostering feelings of anxiety, depression, and body dysmorphia.
"We make body image issues worse for one in three teen girls," reads a slide from a 2019 presentation of corporate data, according to The Wall Street Journal. The internal documents came courtesy of a corporate whistleblower, Frances Haugen, who left the company in May of this year. Haugen told the Journal she focused on election integrity and the spread of misinformation but felt the company was resistant to proposals that would improve safety on its platforms even before it disbanded her team. (In a statement to the Journal, a Facebook spokesperson denied these claims, saying: "We continue to make significant improvements to tackle the spread of misinformation and harmful content. To suggest we encourage bad content and do nothing is just not true.") Haugen began gathering documents from Facebook Workplace in December 2020, and will testify on the Instagram issue in front of Congress on October 5.
Apparently, Facebook has been investigating Instagram's adolescent impacts for about three years, and the findings have painted a bleak picture. "Teens blame Instagram for increases in the rate of anxiety and depression," another slide stated. "This reaction was unprompted and consistent across all groups." Numbers from 2020 indicated the same: "32 percent of teen girls said that when they felt bad about their bodies, Instagram made them feel worse … Comparisons on Instagram can change how young women view and describe themselves." Among teens who reported experiencing suicidal thoughts, 6 percent of U.S. users and 13 percent of U.K. users attributed ideation to Instagram.
The Journal reports that about 40 percent of Instagram users clock in under 22, and that about 22 million teens use the app daily. For this group, corporate research suggests that Instagram poses a unique problem in terms of social comparison, or the tendency to measure oneself against the standard set by other people's posts. While TikTok leans on performance and Snapchat promotes cartoonish filters, Instagram is where people go to document their best moments, often edited for maximum impact. Then in comes the algorithm, the same villain that may have led you to believe everyone went to Greece without you this summer: Similar to TikTok, it notices what content engages you and for how long, then tailors your Explore page accordingly. The Journal identifies this feature as a uniquely damaging Instagram feature: One 18-year-old who spoke to the paper said she developed an eating disorder after falling into fitness wormholes every time she opened the app. "When I went on Instagram, all I saw were images of chiseled bodies, perfect abs, and women doing 100 burpees in ten minutes."
While the research notes that not every young user who spends time scrolling reports the same problems, it also suggests that many link their self-esteem issues directly back to Instagram. In one survey of U.S. and U.K. teens, 40 percent reportedly said they started feeling "unattractive" around the same time they started using Instagram; about 25 percent said it made them feel "not good enough." Many said that using the app created anxiety around friendships and social activity, but that many teens are "unable to stop themselves" from logging on.
What's especially discouraging, though, is that Facebook publicly downplays Instagram's potential for making people depressed, even though it has the data. "The research that we've seen is that using social apps to connect with other people can have positive mental-health benefits," CEO Mark Zuckerberg told Congress in March of this year, while in May, Instagram head Adam Mosseri said adverse effects on adolescents' well-being were probably "quite small." One in three teen girls isn't an insignificant portion of users, though it is a strong argument against the forthcoming Instagram Junior. Here's hoping their pause on that product launch becomes a full stop.
This article has been updated.