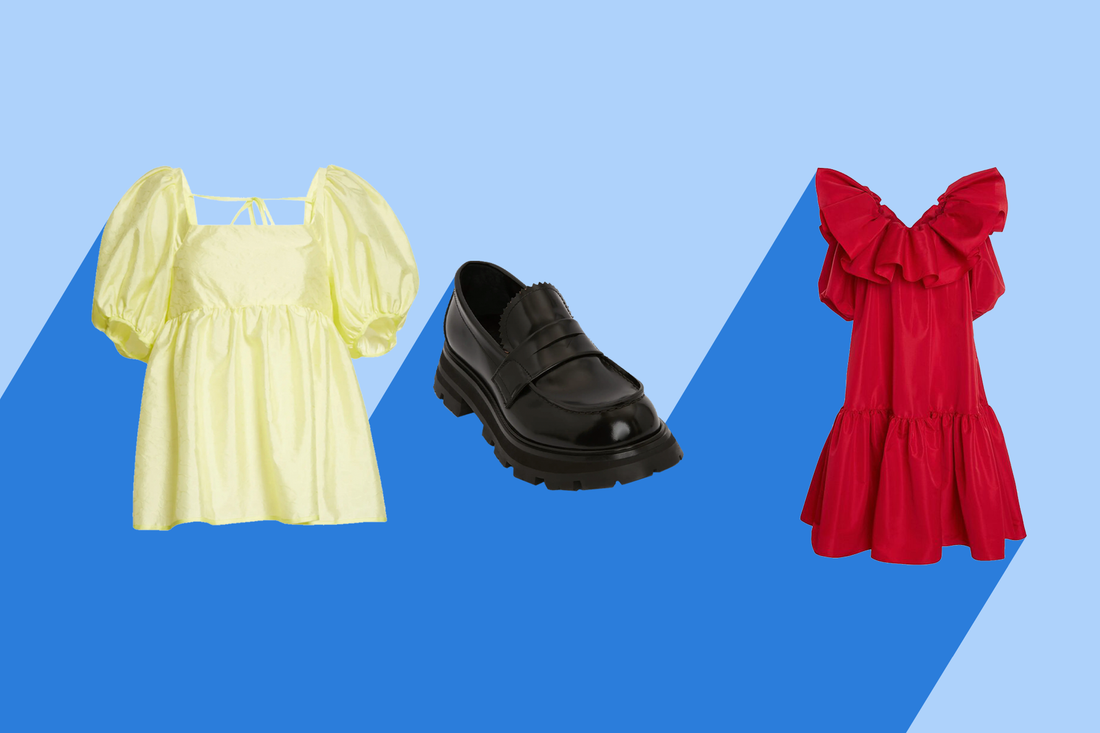 Photo-Illustration: Ashlie Juarbe
Fall is when our closets come alive. Everything's in rotation — you can layer your slip-style silks, and throwing a faux snakeskin jacket over pajamas makes for the chicest bodega run your neighborhood has ever seen. And no one loves a good fall outfit as much as fashion editor, stylist, and all-around cool girl Michelle Li, who chatted with us from Copenhagen Fashion Week about the designer pieces she's coveting for our favorite season.
Li's quirky and whimsical style has taken a lifetime to cultivate — and now that we're ready to give our closets a fall refresh, she wants us to fully embrace standing out and making a statement — because where's the fun in looking like everyone else? Gone are the days when only what's in trend is cool: Now, a good outfit is one that's wholly you. "It makes you want to look twice, keep looking, save it into your memory, and make it your own. You want to know more," Li says. "I can look at it, and I immediately understand your personality and who you are."
From a puffy Saint Laurent bag you'll want to take a nap in, to a Molly Goddard rainbow-striped sweater vest made for layering, all of Li's unique picks can be found at Nordstrom. Read as Li breaks down the best of fall shopping, and get ready to turn heads — even if you're just running to the corner to pick up some oat milk.
Alexander McQueen Wander Loafers
"I love a chunky loafer. That rounded toe, and the front lip's zigzag detail makes it really special. I can already see it with a pair of really nice, chunky white socks, and feeling really bold. It's a modern take on a loafer, but it has that chunky, punk style to it."
Alexander McQueen Ruffle Puff Sleeve Drop Waist Midi Dress
"This dress is amazing. Throw it on and go to brunch, and have everyone look at you — but in a really good way. It's definitely a statement-making dress."
Saint Laurent Toy Loulou Matelassé Leather Crossbody Bag
"I love these puffy, overstuffed-looking bags right now. The black one feels the most inviting to me. It's nice because it can be a clutch but it can also be a crossbody bag. There are just so many options, and that's what makes it a great investment."
Saint Laurent Opyum YSL Ankle Strap Sandal
"They're such a classic. This is the pinnacle YSL shoe. If you're going to wear heels, wear ones that are going to make a statement."
Sacai Skirt Front Suit Pants
"I've always wanted these pants. I'm becoming a trouser girl, and I really love how these seem like classic pants, but then they have a little skirt in the front. They're so simple, but still so interesting."
Molly Goddard Blair Stripe Lambswool Sweater Vest
"Sweater vests are going to be really big this fall, and I'm still trying to figure out how I would style them. I automatically go to a really big t-shirt underneath, or a button down. There are just so many options."
"These pants are incredible. Fun pants Friday, for sure. These are just not what you expect. I would definitely do a dress-over-pants situation here. A really fun short mini dress with some pants over it."
Laura Lombardi Noemi Butterfly Pendant Necklace
"I love a little butterfly. That motif is becoming really popular because of the Y2K, '90s comeback. It's so playful and sweet. It reminds me of my childhood."
Cecilie Bahnsen Bjork Balloon Sleeve Top
"I love a balloon sleeve. I love everything Cecillie Bahnsen does. This top is just so cool. I could wear it with so many things and even better, it feels like summer. When winter comes around, and you're missing summer, you can just pull out this top and wear it with a cool long sleeve turtleneck and call it a day."
This advertising content was produced in collaboration between Vox Creative and our sponsor, without involvement from Vox Media editorial staff.