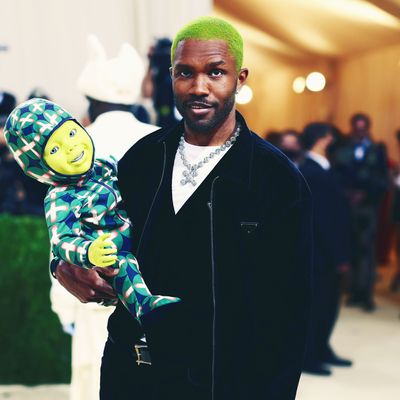 Photo: John Shearer/WireImage
Two hours into the Met Gala red carpet on Monday night and I was falling asleep. Sure, we got some dramatic moments — like Lil Nas X pulling a Lady Gaga and changing three times on the red carpet. But mostly, the theme of "American Independence" was a snooze. I wanted something surprising … Something maybe a little freaky … Something powerful enough to take my breath away … What I wanted, apparently, was Frank Ocean carrying a tiny robotic green baby.
His name is Cody. Is he a direct descendent of Shrek? A rare American Girl Doll? A high-fashion accessory version of dad-core?? I have no idea. All I know is that I love him, and that he is wearing custom Homer, which is Frank Ocean's new American luxury company.
See: All the Looks From the Met Gala
Ocean has taken liberties with the Met Gala theme in the past. For the "Camp" exhibit in 2019, for example, he wore a plain black Prada look not dissimilar from the one he wore this year, which didn't seem very camp on the surface. Maybe we'll get an explanation for his cursed companion tonight; maybe we won't. He did say something to Keke Palmer about American "movie magic," and he was wearing a bootleg Dreamworks hat. Either way, I'm fully awake now, and grateful for the jolt. If nothing else, the move was a genius plus-one loophole. (Met Gala tickets are very expensive.) And if he wants to leave early, he can just be like, "Sorry, bed time!"