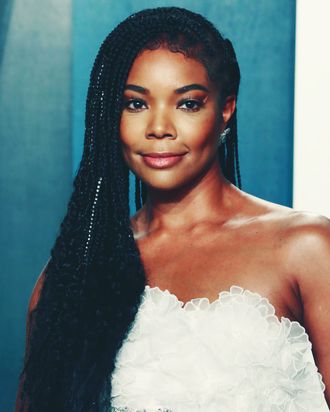 Photo: Matt Baron/Shutterstock
In her new book, You Got Anything Stronger?, actress Gabrielle Union is as vulnerable as ever. She talks about mental health, confronting racism in Hollywood, and learning her husband, Dwyane Wade, had fathered a child with another woman while the two of them were on a break. "To say I was devastated is to pick a word on a low shelf for convenience," Union writes, acknowledging that she has been relatively silent about the experience until now. "I have not had words, and even after untold amounts of therapy, I am not sure I have them now. But truth matters."
She and Wade started dating in 2008, eventually taking a break in 2013, during which Wade fathered his now 7-year-old son, Xavier. Wade has previously said that telling Union he was having a baby with someone else was the "hardest thing [he's] ever had to do." Wade also has two children — Zaire, 19, and Zaya, 14 — from his previous marriage that ended in 2007. Additionally, Wade is the guardian of his 19-year-old nephew, Dahveon. After Wade and Union got married in 2014, they struggled to get pregnant, and Union was later diagnosed with adenomyosis, a form of endometriosis that often causes infertility.
Union has been open about her experiences with IVF and miscarriages, and, in her new book, notes that both were made more painful knowing Wade got someone else pregnant. "The experience of Dwyane having a baby so easily while I was unable to left my soul not just broken into pieces, but shattered into fine dust scattering in the wind," she writes. "With desperate hands, we gathered what we could to slowly remake me into something new."
Eventually, Union says Wade suggested surrogacy. "I looked at D with an instantaneous white-hot rage," she writes. "Astonishment, really. I was fighting with my husband about what was best for my body?" Later, she recalls him saying, "As much as we want this baby, I want you. We've lost too much in our relationship for me to be okay with encouraging you to do one more thing to your body and your soul."
In 2018, Union and Wade welcomed their daughter Kaavia James via surrogate. You can read Union's full essay about her experience with infertility and surrogacy here.