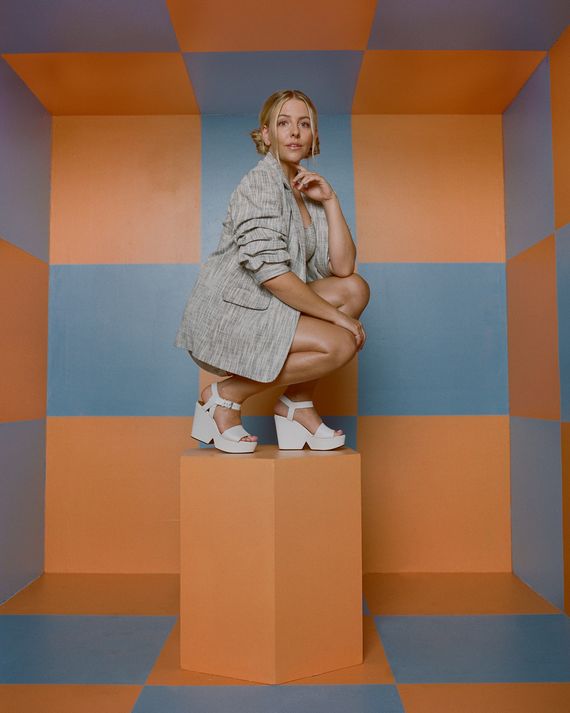 Heléne Yorke has a lot to celebrate. It's a perfect breezy late-summer evening, and the 36-year-old actress is dressed in head-to-toe Rachel Comey (or as she calls them, her "vagina pants") and sitting outside Long Island Bar in Brooklyn, home to what she insists is the best burger in New York City. But that's not why we're ordering a pair: Really, she has just always wanted to order the menu's two-burger special, which comes with a bottle of Champagne.
Yorke is just back from a honeymoon in Spain with a "lovely man" (his name is Bary) she first met IRL at a different bar two years ago. The I-just-got-married glow is still shimmering all over her face. Also deserving of a toast: The critically acclaimed second season of her show The Other Two just wrapped and — off the record — was picked up for a third season. "I literally asked my manager, 'Am I allowed to talk about that?' And he was like, 'You're not.'"(The news was officially announced a few days later, so we're good.)
The Other Two, which is about two down-on-their-luck adult siblings whose younger brother blows up à la Justin Bieber, premiered on Comedy Central in January 2019. The series quickly grew a cult following, mostly thanks to its spot-on pop-culture references (hello, that Call Me By Your Name homage), which come from the brains of SNL alums Chris Kelly and Sarah Schneider. Yes, there's a stacked cast of comedy stars (Molly Shannon! Ken Marino!) and fun cameos (Debi Mazar! Andy Cohen!), but the pillars of the show are Drew Tarver (Cary) and Yorke, who plays Brooke Dubek. In season one, Brooke, a slightly selfish former dancer, is completely adrift and ready to try to use her younger brother's newfound fame for, um, something. With the great writing of the show and Yorke's wonderful performance, Brooke's messiness, while funny, comes across as heartfelt and multi-dimensional. By the end of season one, Brooke is finally finding her footing working as an assistant manager for her younger brother's singing career.
The show was unsurprisingly picked up for a second season — which began filming in February 2020. Can you guess what happened next? Yorke describes the cast as having been "bright-eyed and bushy-tailed" heading into filming. Then, the world shut down. The Other Two remained in TV hell until the cast went back to finish shooting nearly a year later. In the meantime, while The Other Two was technically on Comedy Central, for whatever reason it was impossible to find on streaming. Then, HBO Max bought The Other Two along with a few other Comedy Central shows in August 2020, which Yorke now jokingly describes as a "fire sale." But last summer, right after HBO Max had launched, when they learned that the infant streaming platform had bought the show, they were understandably worried. "It was a full limbo. Was I on the show? Did I need to do something new for a living? Every time the job is over, I [feel like] my career is over," she says.
That feeling is something that Yorke has clearly thought about a lot — it takes longer than one might expect to get to whatever "making it" looks like. "I feel embarrassingly seen by all of the Brooke stuff because Sarah and Chris know me so well," she says. Season two finds Brooke finally seeing what "making it" looks like from getting on Variety's "30 Under 30" list (she is later kicked off because she turns 31) to speaking on a women's panel where she tries to start a chant about how "women can suck." Still, the reason her arc is incredibly satisfying is that, to a degree, you get to see Brooke win. She wears fabulous suits, is surprisingly great at managing both her mother and brother, and finally gets acknowledged (if you watch, you know) by one of her peers in the industry, Alessia Cara.
"Everything that really sucks is so funny," she says laughing. "My greatest comic influence is all the dumb shit that happens."
But while Brooke is certainly killing it, the show acknowledges just how much it can suck to finally arrive in the place you thought you wanted to be. She's sick all the time, constantly working, can't find time to date or get her roots done. "It's one of those things, right? Where you get to a mountaintop, and then you're like, 'I want to go over there,'" she says. "It's hard, and you are still wanting more for yourself, and you sometimes forget to look around."
At this point our Champagne comes in and demands its own chair at the table. After clinking glasses, Yorke starts thinking out loud, making a parallel between her own career and Brooke's. "You set out to do something, and you get it, but it's fucking rough," she says. "You want to be an actress and to feel how amazing it is to walk the red carpet and go to events. But then you get to these events, and you are exhausted and don't know anybody there and the snacks are too small."
Yorke moved to the city in her 20s to pursue acting, working odd jobs like the Physique 57 front desk to make money (she also got free exercise classes). Women would come into the fitness studio to sign up for classes, and she'd put their information into the computer … and then pore over the imagined details of their lives. "I would look at their address and age — I was always so interested in where people were at at certain times," she says. "I became sort of obsessed with them in a way that I now feel was so silly. Now, whenever I meet a girl who is 25, 26, 27, I'm like, 'Don't worry!'" Yorke shouts and then laughs.
We're sitting on the sidewalk at a rickety wooden table, with our burgers and glasses sitting perilously on the slanted surface, parades of dogs on their early evening walks pass us by as Yorke wonders aloud to herself, "Who would you be now if you'd hit it early? I think I only am who I am based on the shit that happened to me that fell short. I never had expectations of things to be like, Wow, this is the biggest moment of my career." This reminds her of the time she opened a Susan Stroman show at the St. James Theatre when she was 28; she was so proud of her performance and describes the whole opening-night experience — including wearing a glimmering dress at the Carlyle — as "drinking her own Kool-Aid." Then the reviews came in. "The New York Times review ripped me such an asshole," she says. "It's one of the most devastating things that's ever happened to me, which is so stupid because everyone receives bad reviews, but I did it to myself. To have it torn down for me in that way was easily one of the best things that's ever happened to me."
Over more glasses of Champagne, we talk about Broadway's reopening and the insane streaming roll-out of the upcoming Tony Awards. It is clear Broadway is still in Yorke's blood — she is animated, firing off the names of various shows and actors. And while she jokes that she feels as though she didn't accomplish that much while in lockdown, she actually has been writing with actor and writer Max Jenkins, her best friend and, Yorke jokes, the "only person" her husband is threatened by. Yorke and Jenkins met when filming High Maintenance where they played the toxic friends that the Guy had as "Assholes" in his phone. Yorke mentions that they both share that idea that all the dumb shit that happens is life is the funniest material. Coupling that concept with their mutual love of musicals, an idea for a show was born. She's excited in part because what they've come up with is "deeply, darkly, dumbly funny," but also because it's something people might not expect from her. "Flexing your creativity and where your life can take you — it has always been taught to us that, as women, our lives end at 40," she says. "It's such bullshit to be told that you are old or you expire. There's so much that's possible beyond that."
As our dinner wraps up and the bottle of Champagne is emptied, Yorke recalls the first scene she shot when The Other Two finally returned from its pandemic-induced hiatus: the finalé scene with Alessia Cara. Before "action" was called, Yorke couldn't stop herself from humming one of Cara's songs into the singer's face because it had been stuck in her head all day. She says, laughing, "It goes back to what we talked about initially, moments that are so silly that you realize you get to order a burger with a bottle of Champagne." "These things come up on us almost like a whisper without us even noticing that they are happening," she says. "It holds so much less weight now than it did when we were 25. If we had done this at 25, our minds would have absolutely been blown."