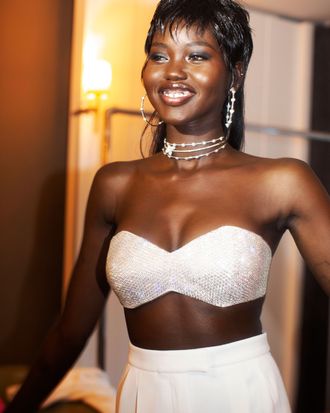 Adut Akech
Photo: Sabrina Santiago
The dress code for last night's Met Gala was "American Independence," so of course it was interpreted loosely. Some people took that to mean wearing a full suit of armor, while others wore little to nothing at all. Model Adut Akech was very literal about her independence. "I think I had one of the easiest outfits of the night, for sure, in terms of movement and freedom and not being restricted," she said of her bedazzled white Michael Kors Collection suit, which was originally shown on the spring 2021 runway.
This was Akech's third Met Gala; in previous years, she had worn traditional ball gowns. "I just wanted to do something different this year," she said. "I was really looking for comfort, but second to that, I wanted to stand out. I knew everyone was going to wear big beautiful gowns, so we went with a clean, cool, edgy suit. The rhinestones added a fun kick to it." When Justin Bieber took the mic for his performance during dinner, she was ready to dance.
Akech's clean white suit also allowed her hair and makeup to shine. The mullet is about as American as it gets, and she and her hairstylist, Latisha Chong, looked to Rihanna for inspiration as well.
"I felt like a badass last night," Akech said the next morning. After dinner, she slipped out to Rihanna's after-party for a bit to pay her respects. "It was great to see everybody back in good spirits and dressed up," she added. "The energy in the room was really great. It felt like everyone was bonding again after all this time."
She was having so much fun in her suit and mullet that she stayed out until 4 a.m. "But I didn't leave the house until like 3 p.m., so it was fine," she said.