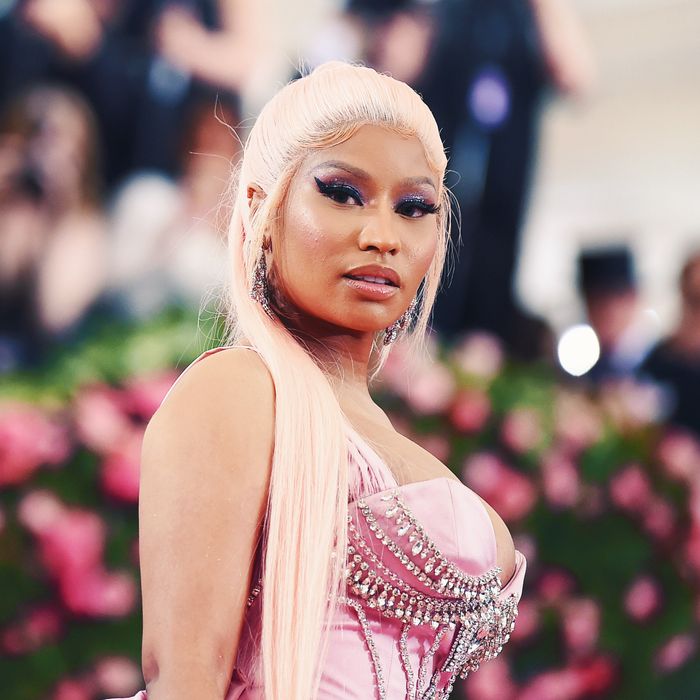 Nicki Minaj
Photo: Jamie McCarthy/Getty Images
Predictably, maybe, the Met Gala gave us Much to Think About: Who is Frank Ocean's robot baby? What is Camila Cabello doing in this video? Can ringwraiths be fashion? Is this the natural consequence of elevating politicians to celeb status? Which model-slash-"Christian wife" could Gawker's blind item about fake vax cards possibly refer to? And of course, should a person worry about their testicles puffing up like agitated blowfish if they have received a coronavirus vaccine?
From that grab bag of curiosities, global health officials have chosen to address the balls query. Their answer: A resounding no, none of the available vaccines have been linked to testicular swelling or impotence, as rapper Nicki Minaj claimed in tweets explaining her absence from fashion's biggest night. In order to attend the Met Gala, guests had to show proof of vaccination, and Minaj didn't want to get vaxxed for the occasion. In making that announcement, she also made a wild reference to her Trinidadian cousin's friend's supposedly inflated nuts, which … I will let the experts take it away.
First up: England's chief medical officer, professor Chris Whitty, who fact-checked Minaj during Prime Minister Boris Johnson's news conference on Wednesday. "There are a number of myths that fly around, some of which are just clearly ridiculous and some of which are clearly designed just to scare," Whitty said. "That happens to be one of them. That is untrue." Though Whitty added that Minaj "should be ashamed" at how widely she had spread misinformation, she appears amped to be on Johnson's radar. In other disappointing news, it turns out she is a fan!
Anyway, moving right along: Terrence Deyalsingh, Minister of Health for Trinidad and Tobago — the alleged location of the suspiciously inflamed balls — has also called bullshit on Minaj. "One of the reasons we could not respond yesterday, in real time, to Miss Minaj, is that we have to check and make sure that what she was claiming was either true or false," Deyalsingh said at a press conference on Wednesday. "Unfortunately, we wasted so much time yesterday running down this false claim," he continued, only to confirm that "as we stand now, there is absolutely no reported such side effect or adverse event of testicular swelling in Trinidad." Nor anywhere else in the world, at least that he knows of. Prominent doctors Anthony Fauci and Sanjay Gupta have also confirmed this.
So! There you have it: The COVID vaccine does not lead to big, angry balls, but you know what sometimes does? Gonorrhea and chlamydia. Just something to think about.