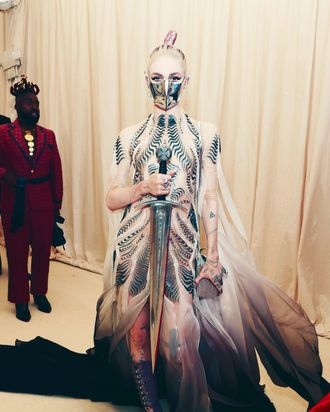 Photo: Arturo Holmes/MG21/Getty Images
Grimes showed up to the Met Gala with a mission: obtaining a green card. The Canadian musician and ardent AI communist arrived on the red carpet inexplicably carrying an enormous sword. Who wouldn't want that kind of energy in America? Through her space-agey mask, she chatted with Vogue's co-host Ilana Glazer about the night's American theme. Within a few seconds, she expertly spun the conversation into a mini green-card campaign directed at Joe Biden.
"I love America," she said. "I know you're not supposed to say that." She turned to the camera to get to her real point: "Please let me have my green card, President Biden." You must respect a woman who knows how to spot an opening.
See: All the Looks From the Met Gala
While patriotism is indeed a little off-kilter these days, I don't blame Grimes for wanting to stay in America. After all, she is no longer publicly anti-imperialist, having romantically partnered with aspiring space advertiser Elon Musk. She needs to be able to hold down the fort for baby X Æ A-12 while Musk is in space. And also, she can't monitor her partner's problematic tweets from all the way up north.
This all being said, it is possible that another country's law might allow their child's name to legally exist. But no matter: Grimes wants a green card, so I say give her a green card! I am convinced this woman is singlehandedly preventing Musk from releasing an EP about Tiger King. Give her whatever the hell she wants.