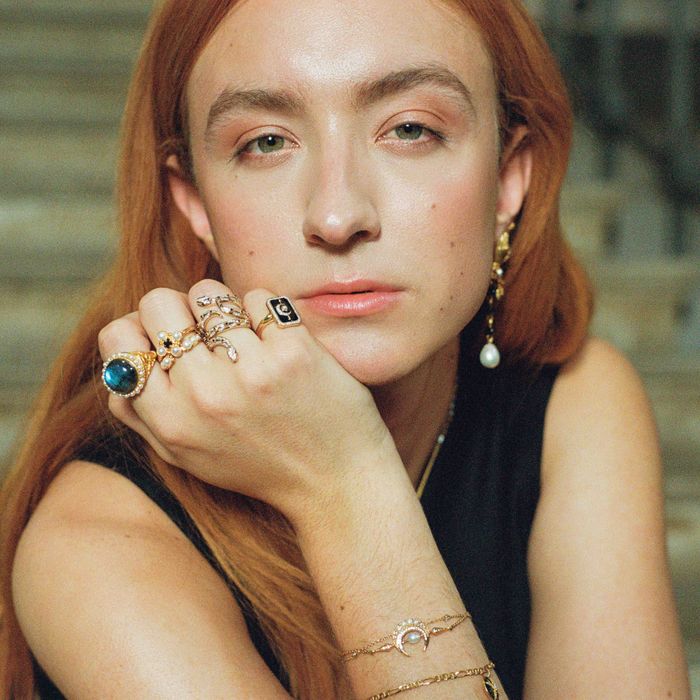 Photo: Courtesy of Missoma
This fall, I'm feeling a wave of hopeless romanticism. Maybe it's the cool air blowing through the city again or maybe it's Kacey Musgraves releasing her Romeo and Juliet–inspired album. Either way, I've been adorning myself with lace-trimmed corsets and billowy silk blouses. One thing I'm missing, however, is a trove of lavish gold and pearl jewels.
Harris Reed, a designer who lives in the world of romanticism, debuted a jewelry collection in collaboration with Missoma. Since graduating from Central Saint Martins just last year, Reed has become an emerging designer to know. Last Monday, he dressed Iman in an opulent ode to ballroom culture at the Met Gala, and Harry Styles wore one of Reed's tulle-draped designs in the pages of Vogue back in November, when the singer became the first male to appear solo on the magazine's cover.
Conceptualized during lockdown with Missoma founder Marisa Hordern, the collection fuses Harris's signature gothic aesthetic with his love of flea-market trinkets. His modus operandi is always, as he calls it, "romanticism gone nonbinary." That means traditional gothic symbols are given new life as heirlooms of fluidity and inclusivity. The dual-gender butterfly seen throughout the collection, for example, represents the journey to accepting the true versions of yourself. Other period elements include serpents, daggers, Georgian hands, lockets inspired by the ceiling of London's Royal Opera House, and labradorite gemstones that feel otherworldly.
"As a designer who mostly works with demi-couture and VIP clients, not everyone can buy a Harris Reed gown," he said in a statement. "But they can have a Harris Reed x Missoma gold necklace or ring to keep for years and years to come. This is my way of being able to give everyone a little bit of the Harris Reed fantasy."
The collection ranges in price from $64 to $8,396. So if you're also ready to be transported to the dark, romantic world of Harris Reed, there are plenty of beautiful trinkets to choose from (49 demi-fine pieces and 15 fine pieces, to be exact) on Missoma's website.