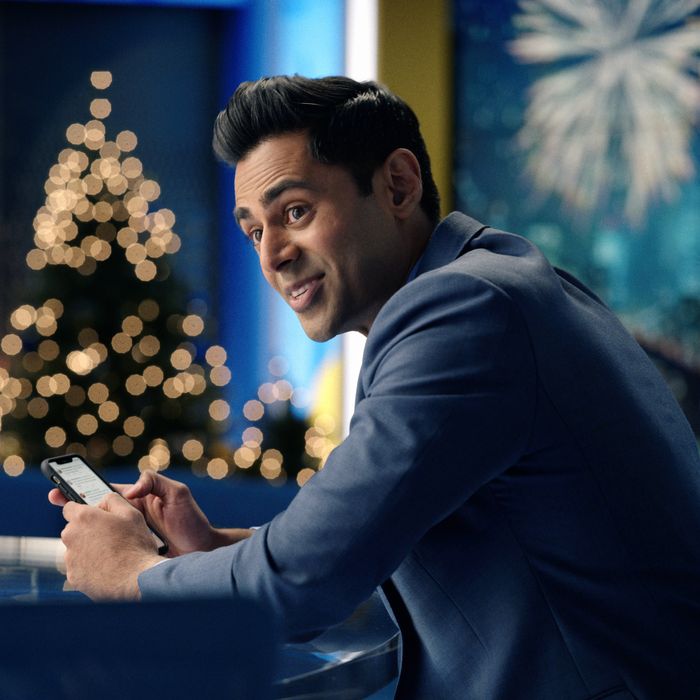 Comedian Hasan Minhaj is now on his third gig being a "news anchor," following his tenure on The Daily Show With Jon Stewart and Patriot Act with his new role on season two of The Morning Show. Minhaj plays Eric Nomani, a charming co-anchor who shares the desk with Bradley Jackson (a.k.a. Reese Witherspoon). He ends up taking the coveted primetime news show slot Bradley's been vying for and ends up on less-than-friendly terms with both Bradley and Alex Levy (played by Jennifer Aniston).
This is Minhaj's first traditional acting role, but as entertaining as he is, that's not why he's doing it. He's in it for the commentary. Shortly after sexual misconduct allegations against former NBC anchor Matt Lauer came out in 2017, The Morning Show's first season, which premiered in November 2019, followed the aftermath of a TV news network whose high profile anchor Mitch Kessler (played by Steve Carell) was exposed for the same. It's these kinds of roles that most appeal to Minhaj — ones that allow him to occupy "spaces that have deep cultural relevance." Season two continues that work by further opening up swept-under-the-rug details about Kessler's friends and allies like Alex and their role in the allegations. All this pans out with the looming threat of an incoming COVID-19.
Minhaj spoke to the Cut about how he chooses these projects, what it means to mentor new generations of diverse talent, and how much has changed for Hollywood's South Asian and Muslim narratives.
So you're back to being on a pretend television news set. 
The desk is same height. The distance between you and the camera is the same. It literally felt like I was at The Today Show or The Daily Show. And, believe it or not, a lot of the suits that Eric wears on the show are from my The Daily Show wardrobe.
Wait, you still have your suits from The Daily Show?
Oh, I stole them. I'm a notorious thief of wardrobe. If I'm on set and wardrobe lets us have something, I'm like, "Hey, can I keep these socks?" They'll be like, "Okay." Or I'll be like, "Hey, I already wore these shoes. Can I keep these shoes?" That's the dirty secret nobody tells you about show business.
So about that very charming video of your audition — did you know it was going to be a singing role?
No, I did not. I wouldn't have gone out for it. I can't sing. There are other actors who can sing. But when I saw on the sides [script pages actors are given to audition], they said, "Eric, he's a young, charming, charismatic, new host at The Morning Show. Will require singing and dancing."
But then, I thought to myself, "Wait a second. If Michael Strahan was doing a morning news segment, would he be a good singer? No. But him trying to sing would be endearing or charming.'
Did you have to do any sweet talking to convince your mom to be in the audition video?
My mom was into it. She loved it. My sister wasn't. She was like, "You know it's my wedding day. We're getting ready for the valima (typically a closing event in Muslim weddings), right?" And I'm like, "I know, but I think I could really get this." I always bring my parents to stuff. They love coming to tapings. They love to come visit set. They love coming on tour, and just visiting and seeing me.
So is acting something you're looking to do more of?
The biggest thing that I'm trying to do is stuff that stretches culture and stretches myself. It's something that Riz [Ahmed] has talked about a lot, and I really admire and respect what he's done in that space. But just choose interesting projects that our community never thought was possible. And one of the things that I think that's really existed for our community specifically is, for the longest time, we've been deemed culturally irrelevant. And I've done my best to try to be in spaces that have deep cultural relevance. That's my world. I don't work in public health like [my wife] Beena, I'm not a doctor like my mom. So for me, The Morning Show, the reason why it was so interesting is I already had a natural knack and ability being at The Daily Show, Patriot Act.
I'd been playing a fake TV anchor for seven years, but it's a deeply culturally relevant show. And being in those spaces is really important to me in that one. And then the second part, the second choice that I always make is, hey, is it something that would excite even 15-year-old Hasan?
I want to talk about the Pillars Fund Artist Fellowship, which helps Muslims get into film and TV — I know you and a bunch of other Muslim actors are helping out with that. How have you seen the landscape for people trying to make an entrance change, since it was your time?
I was actually talking to Maitreyi [Ramakrishnan, Never Have I Ever actress] about this. And, so many of the themes of Homecoming King were basically like, "Hey, here's the story of New Brown America." And I was bridging these two worlds, like an act. One of the shows, there's this run that I do about Hindus and Muslims. Hindus believe this, Muslims believe this. It's so much of explaining who we are and what our culture is. And I think I didn't think that was important at that time. I think what we're now seeing in the narrative is, "Hey, these characters just are." And we're picking up from there. There is no cultural explanation of who they are and why they're there. And you're not seeing it through a foreign lens, through a window of, "Hey, who are these people?"
The conversation of representation is still very much in its infancy, but we're starting to grow up a little bit. Younger generations are building on the back of the work that already exists.
And I mean, I think for me, I benefited. I actually just did this Instagram Live with this amazing actress, her name is Sheetal Sheth. She's one generation, one kind of art class above me. Sheetal was doing amazing work about South Asian sexuality. She did this amazing movie [I Can't Think Straight]. She was anchoring the film as a South Asian lesbian, doing really groundbreaking stuff. And in a lot of ways I've told Sheetal this. I'm like, "You were ahead of your time. The community wasn't ready. America wasn't ready. We weren't ready." And I tremendously benefited from the work that she did. Kal Penn, Russell Peters. They broke down a lot of doors for me in a way that … I've never experienced the things that they had to experience in Hollywood. We're continuing to evolve, and change, and push boundaries.
It's really wild that in the 20 years since 9/11, so much has changed about Muslims in the media. It's not just not war movies in Afghanistan filled with stereotypes.
The ethnocentric focus of it isn't through the primary white American gaze. It's cool to see us have agency in our own storytelling. Did your parents immigrate in the 1980s?
Yeah. 
My theory is that we came of age. We're now finally of age, old enough to have established ourselves in our careers, and we have enough distance from our childhood and our past to be able to now tell those stories. Because we've lived through them. And so now it's really cool. And I will say this, it's been pretty awesome — again, we have a long way to go — but even as I'm now developing new projects and working on new things, as I've worked with other executives in these spaces, it's been really cool to see people from our community, people of Asian American descent, Muslim, a variety of different backgrounds. The rooms that I'm walking into are more diverse. And that's really cool.